Antarctica In-Depth Voyages
Visits Antarctic Peninsula, South Shetland Islands, Weddell Sea
Length of Travel: 13 Days
Itinerary in Brief
Day 1: Ushuaia, Argentina
Day 2: Embarkation
Days 3-4: Drake Passage
Days 5-10: Antarctic Peninsula & South Shetland Islands
Days 11-12: Drake Passage
Day 13: Disembarkation
Itinerary Map
Detailed Itinerary
Day 1: Ushuaia, Argentina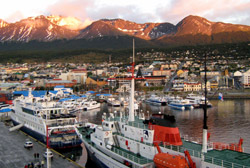 Your gateway for this expedition is Ushuaia, Argentina. Nestled within the Tierra del Fuego archipelago, Ushuaia offers you a small-town feel but has many shops, museums, cafes and restaurants to enjoy before your voyage. The nearby national park and Martial Glacier are must-sees and offer plenty of hiking and outdoor activities.
Day 2: Embarkation
Embarkation begins in the afternoon at the port in Ushuaia. Enjoy the evening sailing through the Beagle Channel.
Days 3-4: Drake Passage
The adventure begins with a 400 mile crossing of the passage that bears the name of the 16th century English explorer Sir Francis Drake. The ship is at home in this part of the Southern Ocean. Take in daily lectures from your expedition team and keep an eye out for the first sightings of icebergs, whales, and albatross following in the ship's wake.
Days 5-10: Antarctic Peninsula & South Shetland Islands
Experience some of the most unique wildlife viewing and inspiring scenery in the world as you set foot on the Antarctic continent.
Attempt two shore landings per day (weather conditions permitting), and encounter gentoo, chinstrap and Adélie penguin rookeries, Weddell, crabeater and leopard seals, and orca, humpback and minke whales in the cold Antarctic waters. The peninsula also has a remarkable human history. During the voyage you will learn about some of the most important and dramatic expeditions to this remote corner of the world.
Days 11-12: Drake Passage
Today begins the journey north to our home port of Ushuaia. Review the highlights of your Antarctic experience with our lecturers and staff. Keep your eyes open on the observation deck for some final whale sightings.
Day 13: Disembarkation
Disembark in the morning.
Upcoming Trips with this Itinerary:
2021-22 Antarctica
Adventure Options

Adventure Options

Adventure Options

Adventure Options

Adventure Options

Adventure Options

Adventure Options

Length of Travel: 12 Days
Itinerary in Brief
Day 1: Fly Punta Arenas to King George Island
Days 2-4: Antarctic Peninsula
Days 5-7: Weddell Sea
Day 8: Elephant Island
Days 9-10: At sea northbound
Day 11: Falkland Islands (Islas Malvinas)
Day 12: Disembarkation in Port Stanley, Fly to Punta Arenas
* Special Notes
*Plan to stay in Punta Arenas one night before voyage and one night after to allow for flight delays.
Itinerary Map
Detailed Itinerary
Day 1: Fly to King George Island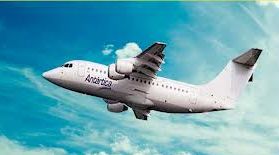 Our journey commences in Punta Arenas, located in southern Chile, where we board our two-hour flight across the Drake Passage to Antarctica. Upon arrival at the King George Island in Antarctica, we embark our ship via Zodiac inflatable crafts.
Days 2 - 4: Antarctic Peninsula
Overnight we have navigated across the Bransfield Strait and awake to the towering peaks of the Antarctic continent. For the next three days we have a varied itinerary exploring the Gerlache coastline of Antarctica. If ice conditionsallow, we cruise through the Lemaire Channel. Planned visits might include Paradise Harbour, Orne Harbour, or Andvord Bay, or a cruise through the Errera Channel to visit the penguin rookeries at Cuverville Island. We chart a course towards Antarctic Sound – the gateway into the icy Weddell Sea. Along the way we hope to make a visit at Deception Island.
Days 5-7: Weddell Sea
Navigating into the Weddell Sea, we see the vast sweep of the Antarctic icecap for the first time and will find ourselves increasingly surrounded by tabular icebergs. These gargantuan icebergs break from the ice shelves and drift north on the currents. This always makes for exciting navigation and stunning photographic opportunities. If weather conditions co-operate we spend the night camping in Antarctica.
Day 8: Elephant Island
Point Lookout, on the southern tip of Elephant Island, is home to an impressive chinstrap penguin colony. Macaroni penguins also breed here and are a species we have yet to encounter to date. If conditions permit we may visit the fabled location of Point Wild on the north coast of Elephant Island. It is here that Shackleton and his men were encamped under their upturned life boats, before five men set off on a rescue mission to South Georgia. Landings at this location are tricky due to the currents and surf on the beach.
Days 9-10: At Sea
Sailing north to the Falkland Islands, the spectacular seabirds are our constant companions soaring above the ship. Our onboard educational program continues and we enjoy interactive presentations and lively discussions.
Day 11: Falkland Islands
Arriving into the Falkland Islands overnight, we explore West Point or neighboring Carcass Island. These locations are best known for rockhopper penguins and nesting black browed albatross colonies. One final highlight awaits –Saunders Island, where we hope to encounter four penguin species living in close quarters, including the mighty king penguin. Charting a course for the port of Stanley tonight, we enjoy a special dinner attended by the Captain of the ship.
Day 12: Disembarkation & Flight to Punta Arenas
This morning we navigate through the narrows and into the port of Stanley. We have time to explore before we make our way to the airport for our return flight to Punta Arenas in southern Chile.
*Plan to stay in Punta Arenas for this night.
Length of Travel: 12 Days
Itinerary in Brief
Day 1: Embarkation
Days 2-3: At sea
Days 4-6: Exploring the Weddell Sea
Days 7-9: Antarctic Peninsula & South Shetland Islands
Days 10-11: At sea
Day 12: Ushuaia disembarkation
Itinerary Map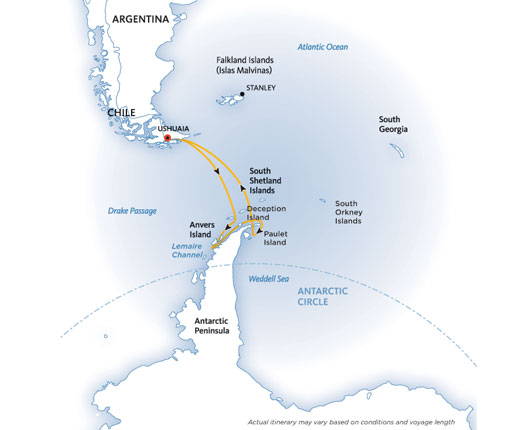 Detailed Itinerary
Day 1: Embarkation
Arriving at the ship in the afternoon, you will be greeted by the Expedition Team and ships officers at a safety and orientation briefing followed by the Captains' welcome dinner. After dinner, relax and take in the mountainous scenery on our early evening sail down the Beagle Channel past Magellanic Penguin, Rock Cormorant, and Sea Lion colonies.
Days 2-3: Drake Passage
Among the wildlife spotting opportunities as we sail south are the Albatrosses, Prions, and Petrels that frequently follow the ship. The Expedition Team will be out on deck as well, looking for the Whales and Dolphins that may also be seen in the area. The team will begin presentations with informative and entertaining lectures on the wildlife, history, and geology of Antarctica. Helpful briefings on environmental regulations and expedition safety will also be held.
Days 4-6: Weddell Sea
The Weddell Sea is known for its abundance of huge tabular icebergs . In some years, the Erebus & Terror Gulf and Weddell Sea are chock-a-block full with ice, making for exciting ice navigation.  Get up at 3:30 in the morning for sunrises unlike anything you've ever seen. Huge tabular bergs break from the Larsen, Ronne, and Filchner ice shelves and combine with one-year-old and multi-year sea ice to produce a floating, undulating panorama of rugged ice scenery.  Hope Bay and the Argentine Station Esperanza, located on the western side of the Antarctic Sound, are possible landing sites. The Weddell Sea represents the center of the Peninsulas' Adelie penguin population. Devil Island and Paulet Island are excellent location to see Adelie penguins.
Days 7-9: Antarctica Peninsula & South Shetland Islands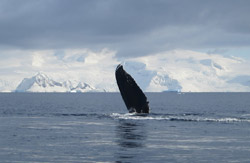 The remarkable history of the  Antarctic Peninsula will also provide you with a type of excitement often only associated with the early explorers. You will have plenty of time to explore this pristine wilderness of snow, ice, mountains and waterways and a wide variety of wildlife. Apart from Gentoo and Chinstrap penguins and other seabirds you are likely to encounter Weddell, crabeater and leopard seals as well as Minke whales and orcas at close range. Expeditions hope to navigate some of the most beautiful waterways: the Gerlache Strait, Errera Channel and Neumayer Channel. Possible landing sites include: Paradise Bay, an aptly named place with its impressive glacial fronts and mountains, Cuverville Island, home of the biggest Gentoo Penguin colony in the Peninsula surrounded by glaciers and castellated icebergs, and the British Museum and Post office at Port Lockroy. Further exploration will lead you to the South Shetland Islands, where you may visit Deception Island or Half Moon Island.
Days 10-11: Drake Passage
Say goodbye to Antarctica and head north across the Drake Passage. Join lecturers and naturalists on deck as searching for seabirds and whales and enjoy some final lectures. Take the chance to relax and reflect on the fascinating adventures of the past days on the way back to Ushuaia.
Day 12: Disembarkation
Arrive to Ushuaia in the early morning and disembark after breakfast.
Upcoming Trips with this Itinerary:
2021-22 Antarctica
Adventure Options

Adventure Options

Adventure Options

Adventure Options

Adventure Options

Adventure Options