Weddell Sea Quest
Weddell Sea Quest
Trip Summary
Dates: February 5, 2025 – February 15, 2025
Duration: 11 Days
About the Weddell Sea Quest Itinerary
The Weddell Sea is a rarely visited, heavily iced and beautiful area of Antarctica that holds penguin rookeries and is home to many seals and marine birds. These trips combine the 'classic' West side of the Antarctic Peninsula with the less visited eastern Weddell Sea. Famous for the ill-fated polar expedition led by British explorer […]
Itinerary Map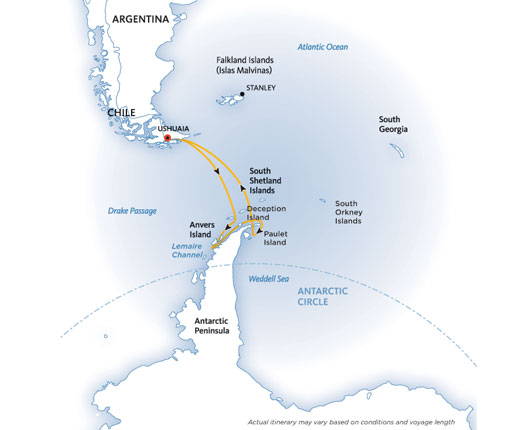 Pricing Information
About the Weddell Sea Quest Itinerary
The Weddell Sea is a rarely visited, heavily iced and beautiful area of Antarctica that holds penguin rookeries and is home to many seals and marine birds. These trips combine the 'classic' West side of the Antarctic Peninsula with the less visited eastern Weddell Sea. Famous for the ill-fated polar expedition led by British explorer Ernest Shackleton, the Weddell Sea is known for amazing ice formations and a variety of wildlife. Take this trip to journey to a little-known part of Antarctica and pass through the route of Ernest Shackleton. In brief:
Visit the pristine, icy Weddell Sea on the eastern side of the Antarctic Peninsula, as well as the highlights of the western side of the peninsula and the South Shetland Islands
Sail in the waters of the 1914 Ernest Shackleton expedition
Learn about the environment and wildlife from onboard lecturers and specialists
Witness the abundant wildlife – penguins, seals, whales and more!
Detailed Itinerary
Day 1: Embarkation
Arriving at the ship in the afternoon, you will be greeted by the Expedition Team and ships officers at a safety and orientation briefing followed by the Captains' welcome dinner. After dinner, relax and take in the mountainous scenery on our early evening sail down the Beagle Channel past Magellanic Penguin, Rock Cormorant, and Sea Lion colonies.
Days 2-3: Drake Passage
Among the wildlife spotting opportunities as we sail south are the Albatrosses, Prions, and Petrels that frequently follow the ship. The Expedition Team will be out on deck as well, looking for the Whales and Dolphins that may also be seen in the area. The team will begin presentations with informative and entertaining lectures on the wildlife, history, and geology of Antarctica. Helpful briefings on environmental regulations and expedition safety will also be held.
Days 4-6: Weddell Sea
The Weddell Sea is known for its abundance of huge tabular icebergs . In some years, the Erebus & Terror Gulf and Weddell Sea are chock-a-block full with ice, making for exciting ice navigation.  Get up at 3:30 in the morning for sunrises unlike anything you've ever seen. Huge tabular bergs break from the Larsen, Ronne, and Filchner ice shelves and combine with one-year-old and multi-year sea ice to produce a floating, undulating panorama of rugged ice scenery.  Hope Bay and the Argentine Station Esperanza, located on the western side of the Antarctic Sound, are possible landing sites. The Weddell Sea represents the center of the Peninsulas' Adelie penguin population. Devil Island and Paulet Island are excellent location to see Adelie penguins.
Days 7-9: Antarctica Peninsula & South Shetland Islands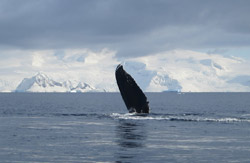 The remarkable history of the  Antarctic Peninsula will also provide you with a type of excitement often only associated with the early explorers. You will have plenty of time to explore this pristine wilderness of snow, ice, mountains and waterways and a wide variety of wildlife. Apart from Gentoo and Chinstrap penguins and other seabirds you are likely to encounter Weddell, crabeater and leopard seals as well as Minke whales and orcas at close range. Expeditions hope to navigate some of the most beautiful waterways: the Gerlache Strait, Errera Channel and Neumayer Channel. Possible landing sites include: Paradise Bay, an aptly named place with its impressive glacial fronts and mountains, Cuverville Island, home of the biggest Gentoo Penguin colony in the Peninsula surrounded by glaciers and castellated icebergs, and the British Museum and Post office at Port Lockroy. Further exploration will lead you to the South Shetland Islands, where you may visit Deception Island or Half Moon Island.
Days 10-11: Drake Passage
Say goodbye to Antarctica and head north across the Drake Passage. Join lecturers and naturalists on deck as searching for seabirds and whales and enjoy some final lectures. Take the chance to relax and reflect on the fascinating adventures of the past days on the way back to Ushuaia.
Day 12: Disembarkation
Arrive to Ushuaia in the early morning and disembark after breakfast.
Welcome Aboard the Ushuaia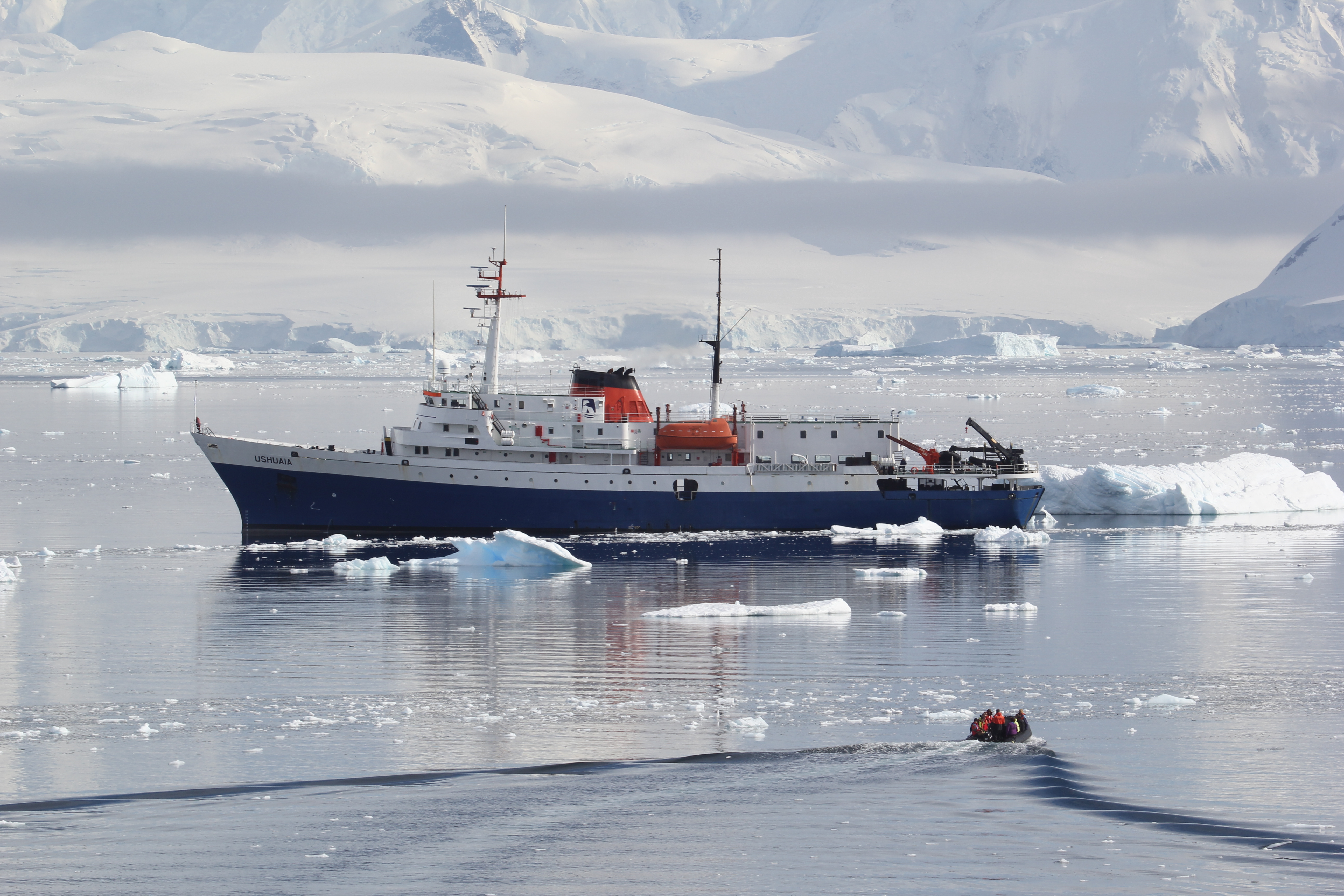 Originally built for the United States agency NOAA (National Oceanographic & Atmospheric Administration), the ice-strengthened vessel Ushuaia is designed for polar travel and Antarctica expeditions. This small cruise ship was refurbished in 2014 to accommodate a maximum of 88 passengers in 44 comfortable cabins and suites. Ushuaia is very well laid out and provides ample deck space and an open bridge policy. The full complement of inflatable landing craft ensures superb landings and wildlife viewing opportunities on the otherwise inaccessible coastline. All cabins include a desk and ample storage space. Public areas feature a large dining room (one sitting), an observation lounge and bar, a conference room with modern multimedia equipment, a well-stocked library, a changing room and a small infirmary.
Technical Specs
Passenger Capacity: 88 (maximum)
Crew & Staff: 38
Length: 84.7 meters
Breadth: 5.48 meters
Gross tonnage: 2,923
Cruising Speed: 12 knots
Max Speed: 14 knots
Zodiacs: 7
Electrical outlets: 110 v
Ice Class: 1C
Shipyard: Toledo, Ohio
Cabins & Amenities
All cabins include a desk and ample storage space. Public areas feature a large dining room (one sitting), an observation lounge and bar, a conference room with modern multimedia equipment, a well-stocked library, a changing room and a small infirmary.
Four Decks
Dining Room (one open seating)
Observation Lounge / Lecture Room, Bar & Library
Panorama Deck
Gift Shop
Infirmary
Changing Room
Zodiacs
Notes
Dates do NOT include one day prior to departure
All expedition rates are per person in US dollars, based on shared occupancy.
Standard twins are available for single occupancy at 1.5 times the share price.

Family special

for both the 2019-20 and 2020-21 seasons: a child (under 16 years) accompanied by two adults travels free of charge in a triple Superior cabin or a triple Suite.