Welcome Aboard the World Voyager
Classified as Polar Category C and Ice Class 1B, our ships are made for experiencing Antarctica to the max. World Voyager has been designed to operate at polar surface temperatures and ice- strengthened to safely bring you to landings amid the Antarctic Peninsula, South Shetland Islands, Falkland Islands and surrounding regions, and cross the Antarctic Circle.
Exploring Antarctica is a life-changing experience and it's even better when you cultivate personal moments with the environment and your fellow travelers. With fewer than 200 guests on every expedition, it's easy to connect with like-minded explorers in an intimate atmosphere. Gather at Water's Edge, sitting just 30 feet above the water line, with craft cocktails poured over glacial ice and watch a whale breach the surface, all while being enveloped in warmth and comfort with heated seating. Cruise amid the ice floes on a Zodiac safari and feel a sense of wonder overcome you as Gentoo penguins swim alongside.
Technical Specs
Cabins & Amenities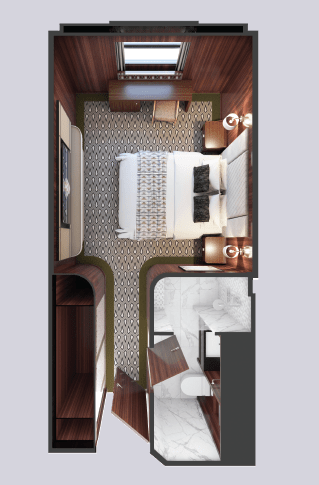 Adventure Oceanview
CAT B2 Veranda
CAT B1 Veranda
CAT A2 Horizon
CAT A1 Horizon
CAT E2 Veranda Deluxe
CAT E1 Horizon Deluxe
Solo Suite
Journey Suite
Discovery Suite
Navigator Suite
The six-deck ship is lined with 98 guest rooms that range from a 183-square-foot stateroom to a 466 square-foot suite, accommodating just under 200 passengers.
THE DOME OBSERVATION LOUNGE
Offering 270-degree and overhead views, The Dome offers the perfect perspective of Antarctica from every angle. Take in the sight of glaciers and icebergs from all around as you swap stories of adventures with your companions. Rugged peaks along the landscape inspire a sense of discovery that leaves you eager to step on shore and explore the Seventh Continent for yourself.
Notes
The Ocean Albatros will start operating the polar regions in NOVEMBER 2023.
Upcoming Trips on the World Voyager
2023-24 Antarctica
Adventure Options

Adventure Options

Adventure Options

Adventure Options

2022-23 Antarctica
Adventure Options

Adventure Options

Adventure Options

Adventure Options

Adventure Options

Adventure Options

Adventure Options

Adventure Options

Adventure Options

Adventure Options