South Georgia Grand Tour
South Georgia Grand Tour
Trip Summary
Dates: Oct 27, 2024 – Nov 13, 2024
Duration: 18 Days
Starts in Puerto Madryn - Ends in Ushuaia.
About the Falklands & South Georgia Itinerary
Rich in history and home to astoundingly diverse and abundant wildlife, South Georgia is often called the Galapagos of the Poles. This epic expedition to remote lands traversed by the legendary explorer Sir Ernest Shackleton gives adventurous travelers the unparalleled opportunity to explore this wildlife paradise and the equally unspoiled and storied Falkland Islands (Islas […]
Itinerary Map
Pricing Information
About the Falklands & South Georgia Itinerary
Rich in history and home to astoundingly diverse and abundant wildlife, South Georgia is often called the Galapagos of the Poles. This epic expedition to remote lands traversed by the legendary explorer Sir Ernest Shackleton gives adventurous travelers the unparalleled opportunity to explore this wildlife paradise and the equally unspoiled and storied Falkland Islands (Islas Malvinas) in great depth. Immersed in this spectacular setting, you'll enjoy unforgettable encounters with historically significant sites and unique wildlife unafraid of humans. Come face to face with thousands of curious king penguins and a sea of fur and elephant seals, blanketing beaches nestled below towering snow-capped mountains. Here, your days will be devoted to experiencing one of the last untamed places on the planet, mesmerized by the magnificent beauty of these rugged and pristine landscapes and the wildlife that call them home.
Detailed Itinerary
Day 1 - Ushuaia, Argentina
You will begin your journey in Ushuaia, a small but bustling port town at the tip of South America. This Argentine town is an ideal gateway for you to explore the southern extent of Patagonia while preparing for your adventure ahead. Get active in the mountains or enjoy handcrafted chocolate at a café in town
Day 2- Ushuaia, Argentina & Embarkation
Embarkation will occur in the late afternoon, after which your vessel will sail down the historic Beagle Channel. Named after the famed ship on which Charles Darwin voyaged, the channel presents great photo opportunities to capture seabirds hovering overhead and seals and sea lions lounging on land. Expect an air of anticipation as you depart—the next time you'll see land, you'll be in a wildlife wonderland!
Day 3 - At Sea
There are many activities to keep you engaged while you're at sea. Learn to identify seabirds gliding alongside the ship, attend dynamic presentations by your Expedition Team, relax in our polar library or simply spend some time out on deck. You will also be prepped on safety procedures for Zodiac cruises and shore landings, so you can make the most of the adventure that awaits.
Days 4 & 5 - The Falklands
Upon your arrival in the Falklands (Malvinas), your camera will get its first real workout capturing the abundant wildlife and rugged feel of this subAntarctic region. The archipelago contains two main islands—East Falkland and West Falkland—which you will explore during daily Zodiac excursions and landings.
The archipelago is home to thriving Magellanic, gentoo and rockhopper penguin colonies, and if you're lucky, you may even spot king penguins, too! Your team of specialists will be sure to educate you on the local flora and fauna as well.
You can expect to see black-browed albatrosses on West Point Island. Originally known as Albatross Island, West Point has been identified as anImportant Bird Area for its several significant bird species, including the endemic Cobb's wren and Falkland's flightless steamer duck. Despite its grim-sounding moniker, Carcass Island (named after HMS Carcass, which surveyed the island in 1766) rewards with spectacular scenery and wildlife, including gentoo and Magellanic penguins. With no predators, the island's songbird population has flourished, creating an aural experience unlike any other.
Stanley, also known as Port Stanley, is another favored landing site, as the charming town offers a unique British outpost feel. You'll be free to explore, grab a pint at the local pub or visit numerous churches and museums.
Days 6 & 7 - At Sea
Sailing south to South Georgia, you'll officially enter Antarctic waters once you cross the Antarctic Convergence, an invisible biological boundary encircling the continent. This meeting of oceans, where the cold Antarctic waters mix and mingle with the warmer waters of the Indian, Pacific and Atlantic Oceans, is what creates the abundance of krill that attracts whales and seals to this part of the world. Your Expedition Team will notify you when you cross this invisible yet important line, and also look out for the seabirds and marine life that frequent the area.
Days 8 to 13 - South Georgia
South Georgia was a popular stop for many historic Antarctic expeditions and was once a haven for hunting whales and elephant and fur seals. Today, wildlife populations have rebounded, but you'll still find remnants of old whaling stations and other abandoned outposts scattered across the island.
Although South Georgia's storied history is an important attraction, it is the abundant wildlife that is sure to captivate. Landing sites on the island are varied, largely determined by the weather conditions of your voyage. Whichever landing sites we visit, they'll provide you with wildlife encounters that cannot be enjoyed anywhere else on earth. South Georgia is one of the most fertile breeding grounds in the world for sub-Antarctic wildlife, with beaches blanketed with penguins—king and macaroni penguins, in particular. The island is also a paradise for bird lovers, who will marvel at the plentiful petrels, albatross and burrowing seabirds. With each landing you make on South Georgia—often referred to as the Galapagos of the Poles—you'll discover a new wonder.
One day you may see hundreds of thousands of pairs of king penguins waddling on a beach, and the next day you may visit another beach scattered with thousands of fur or elephant seals. The island's beaches, grasses and mountains all play an important role in the breeding and survival of different species. This fragile, symbiotic relationship is something your Expedition Team will explain while you're here.
A couple of shore landings that best represent what you can expect in South Georgia are Gold Harbor and Cooper Bay. Perhaps the most picturesque site in all of South Georgia, Gold Harbor provides a dizzying amount of wildlife, all in one location. Here, you'll be enchanted by the view of the overhanging Bertrab Glacier to the east, a massive king penguin colony in the distance, an abundance of southern elephant seals and fur seals, and nesting albatross high above in the tussock grass.
Cooper Bay will bring you close to macaroni, gentoo or king penguins, and perhaps even Weddell seals, before you set sail for a scenic cruise through the dramatic Drygalski Fjord, where jagged, sharp peaks rise straight out of the sea.
We also hope to visit truly uncharted waters at King Hakkon Bay, a long, narrow inlet in an area that hasn't yet been fully mapped. This is where the great explorer Sir Ernest Shackleton made landfall in his lifeboat in 1916, searching for rescue for his Endurance crew, who were marooned on Elephant Island. A favorite location of ours is the beach at Salisbury Plain, where assertive fur seals and thousands of curious king penguins are likely to greet us on shore, practically begging you to take their picture. Flanked by glaciers, it makes for a breathtaking backdrop, and photographers will want to capture the surreal spectacle. Not to be outdone, the beaches at Elsehul, Royal Bay, Right Whale Bay and St. Andrew's Bay are also sure to delight, teeming with playful king penguins and fur and elephant seals.
One of the most historic sites you will visit on the island is Shackleton's resting place. You can visit his grave at the settlement of Grytviken, which is also home to one of the first whaling stations established in sub-Antarctic waters. You'll have time to visit the museum, gift shop, church and small research station before sailing to Godthul (Norwegian for "good hollow").
Linking past and present, one landing we'll attempt during the voyage is on the eastern shore of Fortuna Bay. Landing here, surrounded by soaring mountains, you'll head out on the "Shackleton hike," a trek that has you hiking along the final miles of Shackleton's traverse of South Georgia into the Stromness whaling station, where the explorer finally found rescue for his crew. To reach the abandoned station, you'll stroll along a pebbled beach littered with hundreds of fur seals and king and gentoo penguins.
Days 14 to 17 - At Sea
After two weeks of endless wildlife encounters, your journey home begins. Mingle with your fellow shipmates, sharing stories and photos in the lounge. The noisy, busy world awaits your return, so savor the silence of the sea as long as you can, enjoying your final moments on deck, reflecting on all the amazing creatures you've met.
Day 18 - Disembark in Ushuaia
Today you'll say goodbye to your Expedition Team and fellow travelers, disembarking in the morning to catch your homeward flights.
Welcome Aboard the Hondius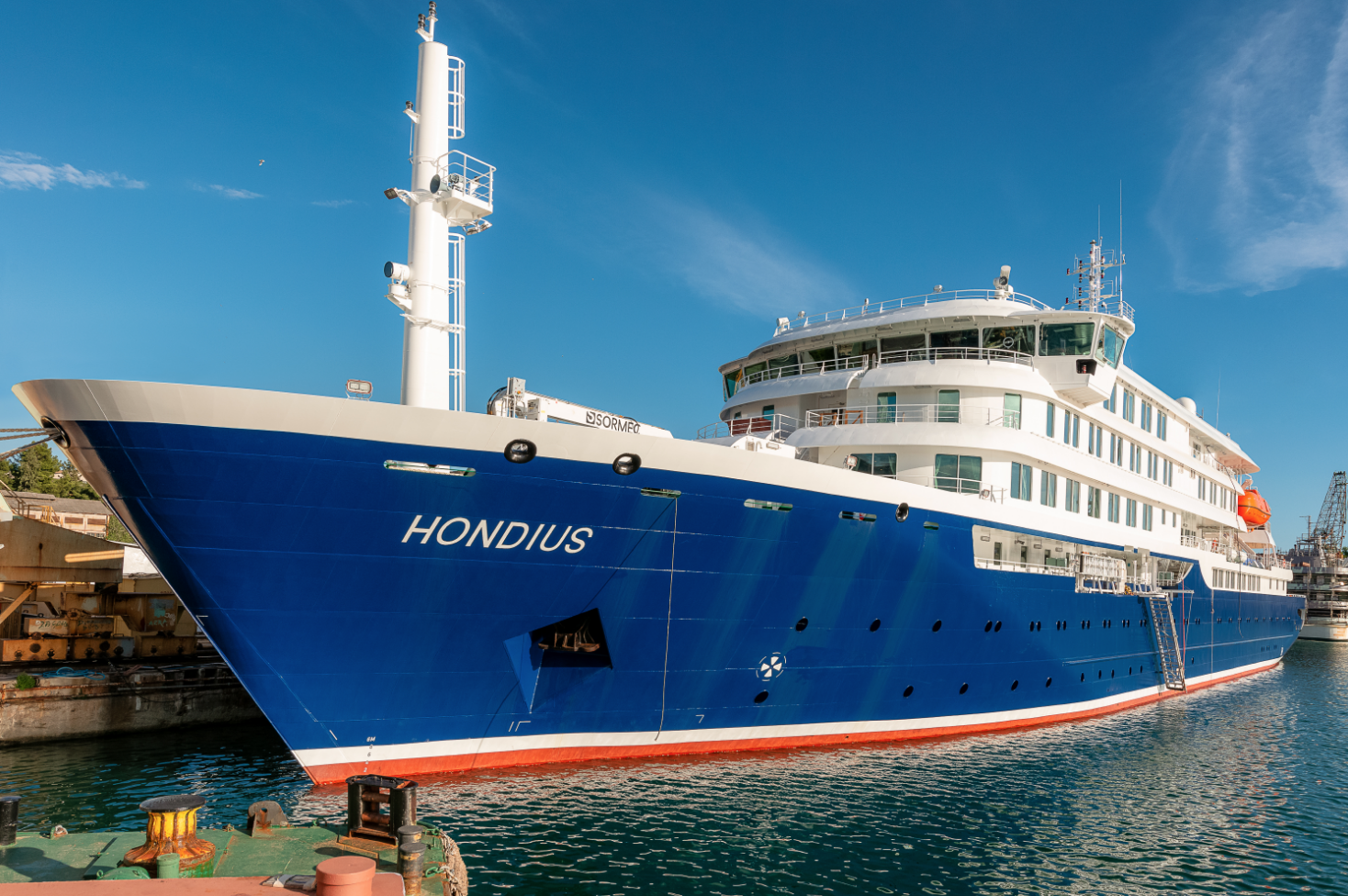 The all-new Hondius, launched in 2019, is designed from the ground up for rapid response to polar weather and wildlife conditions that exist nowhere else in the world. Hondius sets a standard as a structurally and technologically advanced polar cruise ship that not only meets the challenges of the polar regions but optimizes their opportunities for adventure.
As a Hondius passenger, you will enjoy cuisine, surroundings, and service that starkly contrast the rugged world just outside your window. An entire deck is dedicated to (multi-language) lectures and presentations in the presentation theater or the sizable observation lounge, and in combination with a fully provisioned bar and separate library room, provide ample opportunities to socialize and guarantee that what time you spend on board will be spent comfortably entertained. Take your pick of numerous cabins and suites, all custom-designed and impeccably outfitted in stylish mid-century modern décor.
Hondius is one of the first civilian vessels in the world to receive a Polar Class 6 notation, the most advanced category of polar cruise ship to date. When you set foot on Hondius, you are indeed choosing the best of modern marine science. Furthermore, Hondius exceeds the latest green requirements imposed by the International Maritime Organization, using only bio-degradable paints, LED lighting, steam heat, and flexible power management systems to keep fuel consumption and CO2 emission at the absolute minimum.
Highlights:
• Flexible, fast, and fortified. Capable of swift and safe response to fluctuating polar conditions.
• Ideal for land-based excursions. Sheltered Zodiac boarding zone for easier entry into the boats that will shuttle you to shore.
• Elegant, cozy, and surprising. Public areas, passenger lodgings, and cuisine that will fuel your exploration and stimulate your senses.
• Interactive, experiential, and informal. Activities that will engage and entertain you on the ship and off.
• Environmentally friendly technology to help ensure your cruise is higher impact for you, and lower impact for nature
Technical Specs
Length: 353 ft / 107.6 meters
Breadth: 25 ft / 17.6 meters
Draft: 17.4 ft / 5.30 meters
Ice class: Polar Class 6 (equivalent 1A-Super)
Displacement: 5,590 tonnes
Propulsion: 2 x ABC main engines; total 4,200 kW
Speed: 15 knots
Passengers: 176 in 83 cabins
Staff & crew: 72
Registered: The Netherlands
New build 2019
Cabins & Amenities
Large observation lounge
Fully provisioned bar
Library room
Notes
All rates are quoted per person based on twin occupancy.
Single travelers can chose between "single occupancy" at a supplement
of 1,7 x the Twin or Superior cabin rate , or "sharing basis" in Twin, Triple
or Quadruple category at no additional cost.
Adventure options must be pre-booked and paid for prior to start of the trip. Space is subject to availability. Some activities require experience.
Camping – From $210 per night, max 30 people. (2022- 2023)
Kayaking – From $475 per voyage, max 14 people. (2022- 2023)
Snowshoe – No charge but sign up required
All trips subject to possible fuel surcharge.