South Georgia & Antarctic Odyssey featuring the South Sandwich Islands
South Georgia & Antarctic Odyssey featuring the South Sandwich Islands
Trip Summary
Dates: Jan 19, 2024 – Feb 11, 2024
Duration: 24 Days
Falklands, South Georgia, South Sandwich Islands & Antarctic Peninsula
About the Epic Antarctic Adventure Itinerary
This is the most in-depth "do-it-all" voyage: explore the Falkland Islands, South Georgia & Antarctica, all the way south of 66 degrees south. Explore Buenos Aires and Ushuaia, with a convenient charter flight in between, before embarking on the cruise portion of your once in a lifetime adventure. In this diverse expedition, you'll experience the […]
Itinerary Map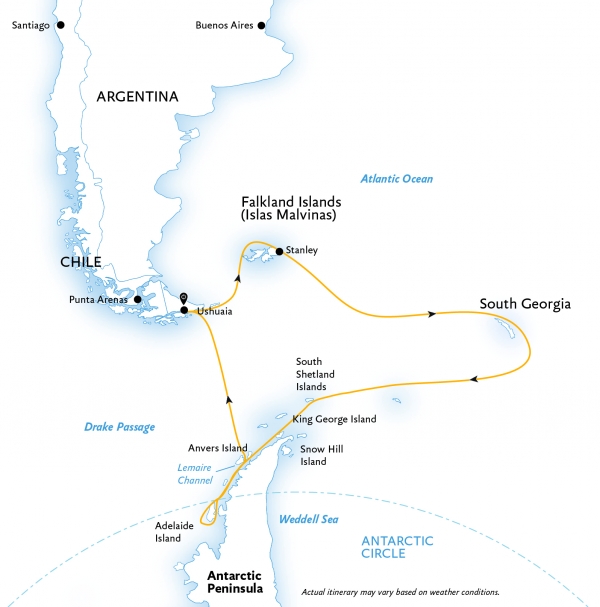 Pricing Information
About the Epic Antarctic Adventure Itinerary
This is the most in-depth "do-it-all" voyage: explore the Falkland Islands, South Georgia & Antarctica, all the way south of 66 degrees south. Explore Buenos Aires and Ushuaia, with a convenient charter flight in between, before embarking on the cruise portion of your once in a lifetime adventure. In this diverse expedition, you'll experience the spectacular flora and fauna of the Falkland Islands (Islas Malvinas) before immersing yourself in the unique history and exquisite, rare wildlife of South Georgia. Whether you're visiting Antarctic research stations, witnessing a sudden minke whale breach from your Zodiac, sharing a magical moment with king penguins, or celebrating crossing the Antarctic Circle with like-minded travelers and crew, you'll know this experience will live on in you forever.
Explore the world's seventh continent on the Antarctic Peninsula by ship, Zodiac and on foot;
Learn about Antarctica's unique geology, history and wildlife with an expert team of lecturers;
See the incredible wildlife of South Georgia, often referred to as "the Galapagos of the South." This includes more than 30 species of breeding birds, including four species of penguin;
Follow in the footsteps of Sir Ernest Shackleton's perilous voyages on South Georgia and pause for a moment at his graveside;
Explore the quaint, British town of Port Stanley in the Falkland Islands;
Crossing of the Antarctic Circle; and
On board lecturers and educational presentations from Polar specialists.
Detailed Itinerary
Day 1: Ushuaia
You will begin your journey in Ushuaia, a small but bustling port town at the tip of South America. This Argentine town is an ideal gateway for you to explore the southern extent of Patagonia while preparing for your adventure ahead. Get active in the mountains or enjoy handcrafted chocolate at a café in town.
Day 2: Embarkation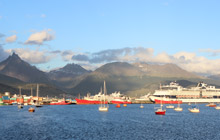 As the ship sets sail in the late afternoon, you will begin your Antarctic journey, passing through the Beagle Channel. The channel opens up to the vastness of the Southern Ocean, where your next land sighting will be along the Antarctic Peninsula. Named after the famed ship on which Charles Darwin voyaged, the channel presents great photo opportunities to capture seabirds hovering overhead.
Day 3: At sea
There are many activities to keep you engaged while we're at sea. You can take advantage of the library of books available on your ship, hang out at the bar chatting to other travelers or spend time out on deck, admiring the sea. Your Expedition Team will also conduct a series of presentations to familiarize yourself with how to prepare for Zodiac cruises and shore landings.
Days 4-5: Falkland Islands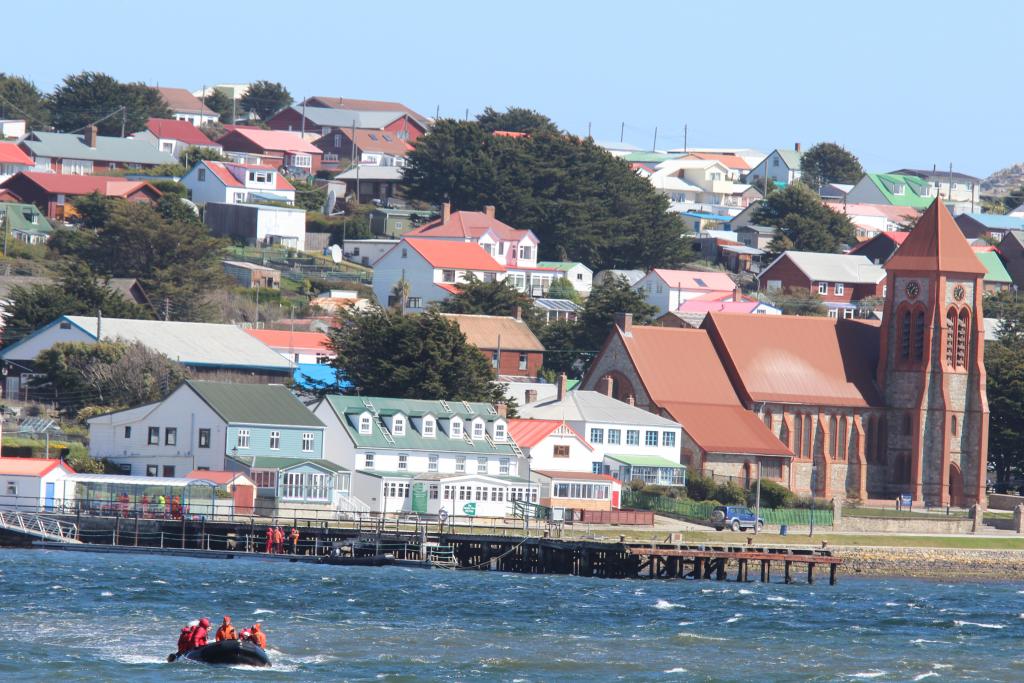 The Falkland archipelago contains two main islands, East and West, which we will explore by Zodiac excursions and daily landings. These rugged islands have a frontier feel to them, especially at Port Stanley—the largest settlement on the islands. It's an interesting British outpost–type place, where you may just as easily wander into a pub as you will a church or museum.
With your camera at hand, our wildlife sightings in the Falklands (Malvinas) should include at least three species of penguins and two endemic bird species—Cobb's wren and the Falkland's flightless steamer duck.
Your team of lecturers and specialists will be sure to educate you on the local flora and fauna so that you have the most memorable time.
Days 6-7: At sea
Enroute to South Georgia you'll cross the invisible biological boundary unique to Antarctica – the Antarctic Convergence. This meeting of oceans is what creates the abundance of krill and marine life that attract large cetaceans such as humpback whales.
Days 8-11: South Georgia
Evidence of the old whaling and sealing heydays is still found throughout the island. You'll be surprised to learn that whale and seal populations were once decimated here, as today their populations are strong, with massive rookeries to be seen.
One significant and historic site that will be of interest is the grave of the great explorer, Sir Ernest Shackleton. Visiting his grave at the settlement of Grytviken, which is also home to an old whaling station and a research station, is a day for reflecting on what it must have been like to be one of the first explorers to this unforgiving, yet beautiful environment.
While South Georgia's history is an important attraction to the islands, it is the wildlife that you and your shipmates will likely find most captivating. Often referred to as the 'Galapagos of the Poles,' South Georgia contains an exceptional quantity of wildlife. Each landing you make on South Georgia will open your eyes to a new wonder of wildlife. One day you may see rookeries with a 100 thousand pairs of king penguins waddling on the beach. The next day we may visit another beach with thousands of fur or elephant seals.
The grasses, mountains and beaches of South Georgia all play an important role in the breeding and survival of different bird and animal species. Your Expedition Team will be happy to share their knowledge of how these vulnerable relationships all play out on the island.
Days 12-13: At sea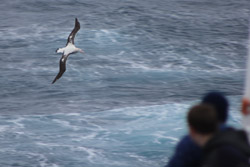 Antarctica awaits, along with its own penguin and seal species. While you're at sea, you can enjoy quiet time or take in presentations by the Expedition Team, who will cover everything from the history and geology of Antarctica to tips on identifying different species and what makes each of them unique.
Days 14-16: South Shetlands & Antarctic Peninsula
The most common reaction to arriving at the White Continent is a sense of reverence and awe. The experience is hard to put into words. You will discover that Antarctica is a land of extremes: at one moment you'll be overcome with a feeling of complete silence and loneliness, the next you'll be laughing at the comical antics of a curious penguin.
Glacier hikes, visits to research bases and, of course, communing with seals and penguins are sure to keep you smiling each and every day. Perhaps you'll catch sight of the fearless penguin-eater, the leopard seal, or come eye–to–eye with a curious minke whale while on a Zodiac. Each day and each landing will present a new collection of creatures to entertain you and keep your camera busy.
If you find yourself wanting more, then perhaps you'll treat yourself by booking our kayaking Adventure Option (reserve in advance when booking your trip) or if you're feeling a bit overwhelmed, a little shock therapy courtesy of a Polar Plunge might be what you need!
Days 17-18: Antarctic Circle
Crossing the Antarctic Circle is an impressive achievement, as most expeditions to the Peninsula do not come close to reaching this far south.
With a toast to the first explorers who ventured here, you can raise a glass of champagne and take pride in knowing you've made it to a part of the world visited by very few people. This is raw Antarctica, home to the midnight sun, with the potential for fantastic iceberg sightings.
Days 19-20: Northbound along Peninsula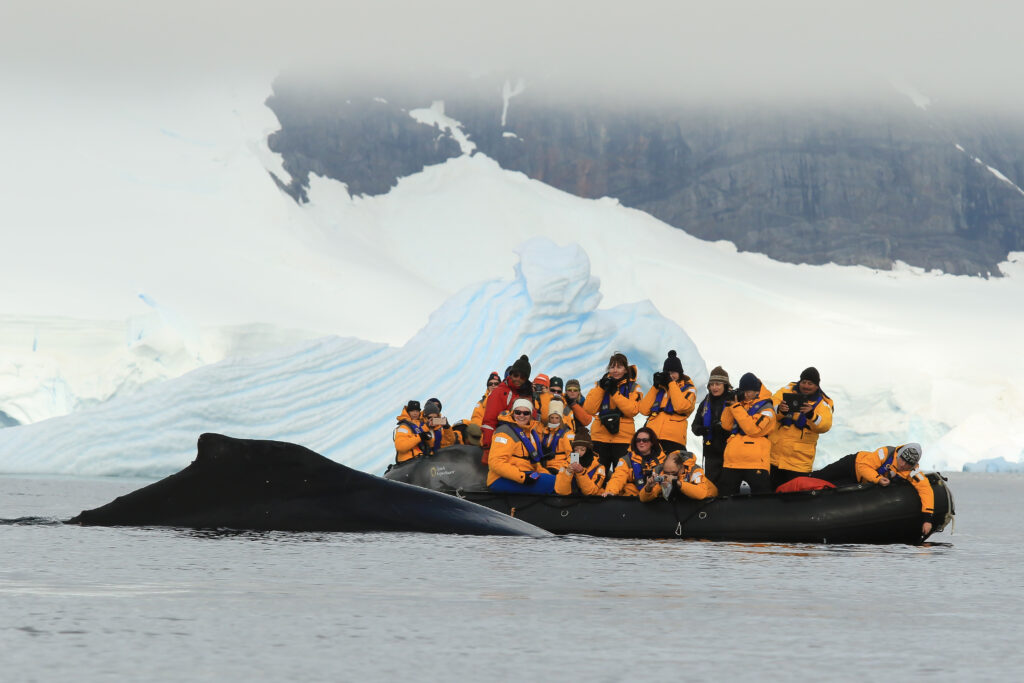 If you haven't had your fill of Antarctic wildlife and icebergs by now, you'll surely be satisfied by the time we return to the Drake Passage. You will continue to journey onto land by Zodiac twice daily as you travel north along the western Antarctic Peninsula.
Your Expedition Team will always be on the lookout for species of penguins, seals and whales that may have eluded you on the journey south.
Days 21-22: Crossing the Drake Passage
After more than a dozen days of memorable wildlife encounters, your journey home begins. Crossing the Drake is your unofficial rite of passage, putting a final stamp of approval on your Antarctic adventure.
Day 23: Disembarkation & Flight to Buenos Aires
We will arrive in Ushuaia in the morning after breakfast. After disembarkation, we will taste a little of Patagonia by touring Tierra del Fuego National Park before we transfer to the airport for the return group charter flight to Buenos Aires.
Welcome Aboard the Sylvia Earle
Due to sail soon, this new ship honours the highly accomplished marine biologist, oceanographer and explorer,  Dr. Sylvia Earle. As the first female chief scientist of the U.S. National Oceanic and Atmospheric Administration, and named by Time Magazine as its first Hero for the Planet in 1998 – this vessel pays tribute to Dr. Earle's long-standing conservation efforts for marine protected areas and ocean wildlife. Dr. Sylvia Earle will be involved in the development of her namesake.
They drew on centuries of collective experience to map out the Sylvia Earle: purpose-built for expeditions to the most remote places on earth. Featuring the revolutionary Ulstein X-BOW®, this allows the ship to cross oceans more comfortably and efficiently, and with expansive observation decks to bring you closer to the environment, inviting communal areas and unsurpassed environmental credentials, the Sylvia Earle offers the perfect base camp for adventures at the outer limits of human exploration.
Accommodating an average of 130-140 expeditioners per voyage, every cabin on the Sylvia Earle has an ocean view and nearly all have balconies. The ship also features a modern lecture lounge, multiple observation areas, Zodiac launching platforms, a restaurant serving excellent meals, a gym and wellness centre, jacuzzis, a mudroom and many other amenities.
Technical Specs
Capacity: 132
Staff: 15-18
Crew: 47-56
Cabins: 71
Decks: 8
Length: 104.4m
Breadth: 18.2 m
Draught: 5.3m
Cruising Speed: 10-12 Knots
Full Speed: 15.5 Knots
Gross tonnage: 7400
Registry: Bahamas
Active Stabilizers
Cabins & Amenities
The Sylvia Earle offers eighty comfortable staterooms ranging from porthole to balcony categories, all with en suite bathrooms and plenty of storage space. All staterooms feature twin or king bedding configuration.
Aurora Stateroom Triple Share (15 – 23 sqm): Located on Deck 3. Porthole, en suite
Can be converted to a Triple Stateroom
Aurora Stateroom Superior (20 – 22 sqm): Located on Deck 7
King or twin beds, en suite
Balcony Stateroom Category C (21 – 31 sqm):Located on Deck 4.
Private balcony, ensuite
Balcony Stateroom Category B (21 – 31 sqm): Located on Deck 4.
Private balcony, ensuite.
Balcony Stateroom Category A (21 – 31 sqm):Located on Deck 4.
Private balcony, ensuite.
Balcony Stateroom Superior (36 sqm): Located on Deck 7.
– Private balcony, ensuite and lounge.
– Some of these rooms are equipped with wheelchair accessible bathrooms
Junior Suite (44.4 sqm): Located on Deck 7.
– Private balcony, ensuite and lounge.
– 1 free pair of binoculars per suite
– 1-hour spa treatment per person (valid on 1-hour massage or facial treatment only)
– Free stocked mini bar (stocked once only)
– Gratuities/tips for crew included – to the value of AUD$15 per person per day
– 1 free bottle of champagne per suite
Captain's Suite (46.3 sqm): Located on Deck 4.
– Private balcony, ensuite and lounge.
– 1 free pair of binoculars per suite
– 1-hour spa treatment per person (valid on 1-hour massage or facial treatment only)
– Free stocked mini bar (stocked once only)
– Gratuities/tips for crew included – to the value of AUD$15 per person per day
– 1 free bottle of champagne per suite
Ship Facilities:
State of the Art Lecture Facilities
Science Centre & Lounge
Library
Mudroom
Swimming Pool & Sun Deck
Sauna, Spa & Gym
Dining
Bars & Lounges
Notes
Flights included for Fly/Cruise itineraries
All Antarctic voyages include one night's pre-voyage accommodation and arrival airport transfer (on selected preferred flights)
Single costs are 1.7 times the twin rate in all cabin categories
Please note that emergency evacuation insurance is mandatory for all passengers joining an expedition to Antarctica.
Adventure options must be pre-booked and paid for prior to start of the trip. Space is subject to availability. Some activities require experience.
Optional Adventure Activities:
Kayaking
Snowshoeing
Ski/ Snowboard Touring
Alpine hiking/climbing
Polar Diving
Stand-up paddleboarding
Shackleton Crossing in South Georgia
Camping  (Free of Charge)
Photography (Free of Charge)
Ask us about pricing for your preferred adventure option!