Shackleton's Discovery: Antarctic, South Georgia & Falklands
Shackleton's Discovery: Antarctic, South Georgia & Falklands
Trip Summary
Dates: Jan 21, 2024 – Feb 7, 2024
Duration: 18 Days
About the Falkland Islands, South Georgia and Antarctic Peninsula Itinerary
Explore the world's seventh continent on the Antarctic Peninsula by ship, Zodiac and on foot. Learn about Antarctica's unique geology, history and wildlife with an expert team of lecturers. See the incredible wildlife of South Georgia, often referred to as 'the Galapagos of the South'. This includes more than 30 species of breeding birds, including […]
Itinerary Map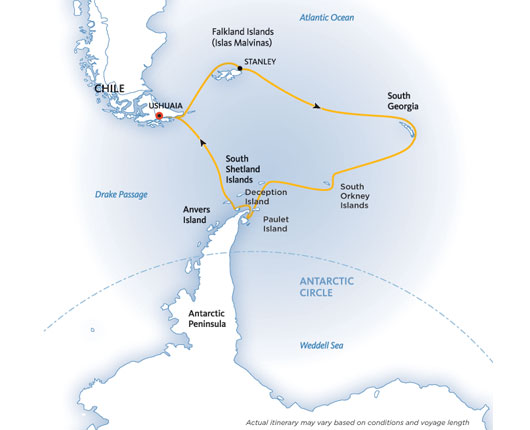 Pricing Information
$34,222 - Balcony D5
About the Falkland Islands, South Georgia and Antarctic Peninsula Itinerary
Explore the world's seventh continent on the Antarctic Peninsula by ship, Zodiac and on foot.
Learn about Antarctica's unique geology, history and wildlife with an expert team of lecturers.
See the incredible wildlife of South Georgia, often referred to as 'the Galapagos of the South'. This includes more than 30 species of breeding birds, including four species of Penguin.
Follow in the footsteps of Sir Ernest Shackleton's perilous voyages on South Georgia and pause for a moment at his graveside.
Explore the quaint, British town of Port Stanley in the Falkland Islands.
On board lecturers and educational presentations from Polar Specialists.
* Itineraries on our website are intended only as a guide and you should consult our team for detailed itineraries on specific voyages.
Detailed Itinerary
Day 1: Ushuaia, Argentina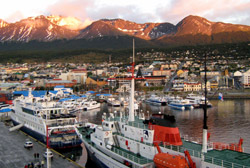 Your gateway for this expedition is Ushuaia, Argentina. Nestled within the Tierra del Fuego archipelago, Ushuaia offers you a small-town feel but has many shops, museums, cafes and restaurants to enjoy before your voyage. The nearby national park and Martial Glacier are must-sees and offer plenty of hiking and outdoor activities.
Day 2: Embarkation
As you embark, the anticipation and excitement grows. Trade your land legs for sea legs, meet and greet your fellow travelers, Expedition Team and get acquainted with your ship. As every Antarctic adventure presents new opportunities and experiences, Embarkation day is just as exciting for your Expedition Team as it is for you. They're onboard to ensure your comfort and safety, as well as help make your wildlife dreams come true.
Day 3: At Sea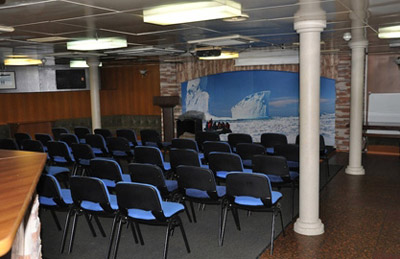 There are many activities to keep you engaged while at sea. Learn to identify seabirds that glide alongside the ship or attend illustrated presentations by your Expedition Team. You will be prepped on procedures for your Zodiac cruises and shore landings as well as be given important biodiversity information for protecting the remote places.
Days 4-5: Falkland Islands (Islas Malvinas)

Upon arrival in this archipelago your cameras will get their first real workout capturing the abundant wildlife and rugged feel of these remote islands. The Falkland archipelago contains two main islands – East and West, which you will explore by Zodiac excursions and daily landings.
One landing that will surely stick out in your memory is at Port Stanley. This unique British outpost has a ramshackle charm to it. The largest settlement in the Falklands, you'll spend your day here visiting churches, museums, wandering around town and perhaps mingling with locals at a typical British pub.
In terms of wildlife, the archipelago is home to a variety of penguin species, including Magellanic, Gentoo and Rockhopper. If lucky, you may spot King Penguins here as well! Also expect to see Black-browed Albatross and many other bird species around the islands, including an opportunity to see the two endemic species; Cobb's Wren and the Falklands flightless steamer duck. Your team of lecturers and specialists will be sure to educate you on the local flora and fauna so that you get the most of a memorable time in the Falklands.
Days 6-7: At Sea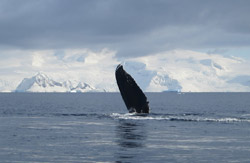 The lecture series and wildlife spotting will continue on the way to South Georgia as you prepare to visit the 'Galapagos of the Polar regions.'
Days 8-10: South Georgia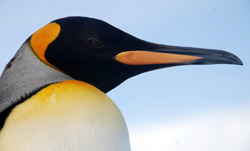 This remote outpost has long been a center for exploratory expeditions and commercial exploitation. Many of first European inhabitants arrived to the island to hunt whales and elephant seals. Populations were once decimated, but thankfully populations have rebounded largely because whaling and sealing in South Georgia no longer exist. You will see many remnants of these past activities; including several whaling stations and other abandoned outposts.
One significant and historic site that will be of interest is the grave of the great explorer, Sir Ernest Shackleton. You can visit his grave at the settlement of Grytviken, which is also home to an old whaling station, the museum and a small gift shop and church and a research station of approximately 20 scientists and support personnel.
While South Georgia's history is an important attraction to the islands, it is the wildlife on South Georgia that you and your shipmates will likely find the most captivating. Often referred to as the Galapagos of the Poles, South Georgia contains an exceptional quantity of wildlife. Each landing you make on South Georgia will open your eyes to a new wonder of wildlife. One day you may see rookeries with thousands of King Penguins waddling on the beach. Another day could take you to a beach with jousting elephant or fur seal beachmasters fighting to retain their harems. The grasses, mountains and beaches of South Georgia all play an important role in the breeding and survival of different species, something that your Expedition Team will be pleased to tell you about during your excursions on this impressive and unique island.
Days 11-12: At Sea
Say goodbye to the king penguins, as your next destination is Antarctica! Your days at sea are filled with seminars from your Expedition Team, who will prepare you for the wildlife that will be greeting you upon your arrival in Antarctica. In between presentations, spend time chatting with your shipmates over a drink at the bar.
Days 13-16: Antarctic Peninsula and South Shetland Islands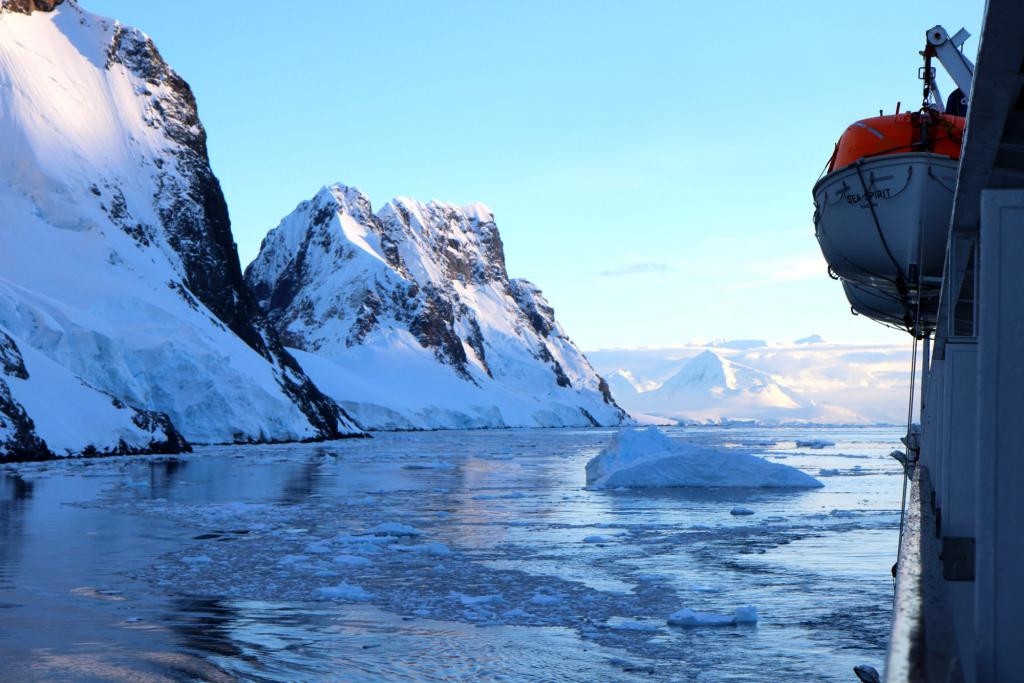 The most common reaction to arriving at the white continent is a sense of reverence and awe. The experience is hard to put into words, as few places are as untouched, unique and enduring as Antarctica. You will discover that Antarctica is a land of extremes. At one moment you'll be overcome with a feeling of complete desolation and silence, at the next moment you'll be inspired by nature as a calving glacier crashes into the brilliant blue sea or a penguin comes waddling by to inspect your footwear.
Guided hikes with the Expedition Team will have you trekking up a glacier, visiting a research station, or consorting with penguin colonies. Chinstrap, Gentoo and Adélie penguins are found here, along with Fur, Weddell, Crabeater and Leopard Seals. Curious whales, such as Minkes, are often attracted to Zodiacs as well, giving you a chance to get within reaching distance of these majestic animals. Each day and each landing will present a new collection of creatures to entertain you and keep your camera shutter busy.
As exciting as the Zodiac excursions and landings are, perhaps you'll treat yourself to an extra special Antarctic experience by partaking in a kayaking excursion.
Days 17-18: Drake Passage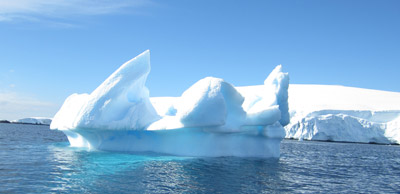 After more than two weeks of endless wildlife encounters, your journey home begins. Crossing the Drake Passage is your unofficial rite of passage, which will complete your Antarctic adventure. Enjoy some final moments mingling with your fellow travelers. The noisy, busy, populated world awaits your return, so savor the silence of the sea as long as you can.
Days 19: Ushuaia
After breakfast aboard the ship, it is time to part ways and say goodbye to your Expedition Team. A transfer to the airport for your homeward flight will be offered.
Welcome Aboard the SH Diana

Designed for premium discovery experiences, SH DIANA can accommodate 192 guests in 96 staterooms and suites, the vast majority with large balconies.
The PC 6 ice-class vessel is fitted with extra-large stabilisers for exceptional passenger comfort, offers spacious 5-star accommodation, and the 125 m-long ship has been specially made to explore the most inspiring and inaccessible places on the planet. SH Diana shares unique design features with her sister ships – SH Minerva and SH Vega – and has a state-of-the-art gym, spa, panoramic sauna, club room, and swimming pool with poolside grill.
This ship also has key differences, including a dedicated presentation, lecture theatre, and onboard Tender boats to take guests ashore in greater comfort than the customary expedition Zodiacs.
Environmental impact
SH Diana is entirely self-sufficient for up to 40 days or 8,000 nautical miles. She is equipped with exhaust gas cleaning, advanced wastewater treatment systems, and special waste storage facilities required for operating in sensitive polar areas. The purpose-designed expedition cruise ship also complies with the latest environmental regulations. Preparations have also been made to implement zero-emission battery technology, allowing SH Diana to operate silently in ports, marine reserves, and other sensitive natural areas as it sails worldwide.
Technical Specs
BREADTH: 75 ft (23 m)
TONNAGE: 12,100 GRT
CRUISING SPEED: 14.5 knots
PROPULSION HYBRID DIESEL ELECTRIC: 4x Medium speed, Polar Class PC6
LIFEBOATS: 2 fully enclosed
TENDER BOATS: 2 (48 pax each)
Cabins & Amenities
Staterooms: SH Diana's 96 staterooms, including 11 suites, are each a superbly comfortable home from home, and all feature panoramic sea views, original works of art, plush couches, premium pocket sprung mattresses, ensuite bathrooms with glass-enclosed rain showers, and Egyptian cotton towels, bathrobes, and sheets. A pillow menu offers customized head and neck comfort during rest. At the same time, a large flat-screen TV, an espresso machine with Illy premium coffee, tea-making facilities with the finest Kusmi teas, and a minibar with refreshments enhance relaxation at any time. In-room dining is, of course, available at all hours.
Sauna with a view: Head to Deck 8 for the best view in the world. After a work out in our state-of-the-art-gym, relax in our sauna or  jacuzzi and take those breathtaking vistas along the way.
The Swan Restaurant: As the main venue for breakfast, lunch and dinner, our 152-seat restaurant serves international and local cuisine focused on quality regional ingredients from the unique destination we visit.
Alfresco Dining & Heated Outdoor pool: On Deck 7 you´ll find a heated outside pool along with pool side seating from where you can enjoy stunning scenery.
The Observation Lounge: After a day of exploration, where better to relax than in the Observation Lounge. Sit back, savor your favorite tipple whilst getting to know you fellow guests:
The Club Lounge: Vibrant and welcoming , The Club Lounge acts as a hub , combining 24 hours tapas inspired dining with panoramic views of the ocean glittering below.
Notes
INCLUDED in all voyages:
Room service 24 hours a day
Coffee, tea, soft drinks & select alcoholic beverages 24 hours a day
Lecture programmes by our experienced expedition team and guest speakers
Onboard gratuities & port taxes
One shore excursion per port of call
Use of Rubber boots for shore landings
Branded Swan Hellenic expedition parker