North Spitsbergen: In search of Polar Bear & Pack Ice / BASECAMP – Ortelius, June 2024
North Spitsbergen: In search of Polar Bear & Pack Ice / BASECAMP – Ortelius, June 2024
Trip Summary
Dates: Jun 25, 2024 – Jul 2, 2024
Duration: 8 Days
Starts & Ends in Longyearbyen - BASECAMP
About the 8-day Spitsbergen BASECAMP Itinerary
The best activity voyage in the Arctic The North Spitsbergen Basecamp cruise offers you a myriad of ways to explore and enjoy this Arctic Region. This expedition allows you to hike, snowshoe, kayak, and learn to take perfect pictures of the polar flora and fauna.
Itinerary Map
Pricing Information
About the 8-day Spitsbergen BASECAMP Itinerary
The best activity voyage in the Arctic
The North Spitsbergen Basecamp cruise offers you a myriad of ways to explore and enjoy this Arctic Region. This expedition allows you to hike, snowshoe, kayak, and learn to take perfect pictures of the polar flora and fauna.
Detailed Itinerary
Day 1: Largest town, biggest island
You touch down in Longyearbyen, the administrative center of Spitsbergen, the largest island of the Svalbard archipelago. Enjoy strolling around this former mining town, whose parish church and Svalbard Museum make for fascinating attractions. Though the countryside appears stark, more than a hundred species of plant have been recorded in it. In the early evening the ship sails out of Isfjorden, where you might spot the first minke whale of your voyage.
Day 2: Route to Raudfjorden
Sailing to Raudfjorden, on the north coast of Spitsbergen, you take in an expansive fjord spilling with glaciers – and maybe even visited by ringed and bearded seals. The cliffs and shoreline of this fjord also support thriving seabird colonies, rich vegetation, and the possibility of polar bears.
Day 3: The massive Monaco Glacier
Depending on the weather, you could sail into Liefdefjorden and cruise within sight of the 5-kilometer-long (3.1 miles) face of the precipitous Monaco Glacier. The waters in front of this glacier are a favorite feeding spot for thousands of kittiwakes, and the base of the ice is a popular polar bear hunting ground. If ice conditions prevent sailing here early in the season, an alternate route along the west coast of Spitsbergen can be implemented.
Day 4: Highlights of Hinlopen
Today you sail into Hinlopen Strait, home to bearded seals, ringed seals, and polar bears. At the entrance there is even the possibility to spot blue whales. After cruising among the ice floes of Lomfjordshalvøya in the Zodiacs, you can view the bird cliffs of Alkefjellet with their thousands of Brünnich's guillemots. On the east side of Hinlopen Strait, you may attempt a landing on Nordaustlandet. Here reindeer, pink-footed geese, and walruses are likely sights. You can take an alternate route if ice prevents entry into Hinlopen.
Day 5: Stop at the Seven Islands
The northernmost point of your voyage may be north of Nordaustlandet, in the Seven Islands. Here you reach 80° north, just 870 km (540 miles) from the geographic North Pole. Polar bears inhabit this region, so the ship may park for several hours among the pack ice before wheeling around west again.
Day 6: Sailing the continental shelf
While retracing your route west, keep watch for polar bears and elusive Greenland (bowhead) whales. About 40 nautical miles west of Spitsbergen, you sail the edge of the continental shelf. Here fin whales forage during the summer in the upwelling zones (where cold, nutrient-rich water wells up from below the sea's surface) that run along the Spitsbergen banks. At the mouth of Kongsfjorden, you have a good chance of sighting minke whales.
Day 7: Reindeer, foxes, and so many seabirds
Walruses sometimes haul out in Forlandsundet, your next stop. Alternatively, you might sail into St. Johns Fjord or south to the mouth of Isfjorden, landing at Alkhornet. Seabirds nest on these cliffs, Arctic foxes search below for fallen eggs and chicks, and reindeer graze the sparse vegetation. You arrive in Longyearbyen later at night.
Day 8: There and back again
Every adventure, no matter how grand, must eventually come to an end. You disembark in Longyearbyen, taking home memories that will accompany you wherever your next adventure lies.
Welcome Aboard the Ortelius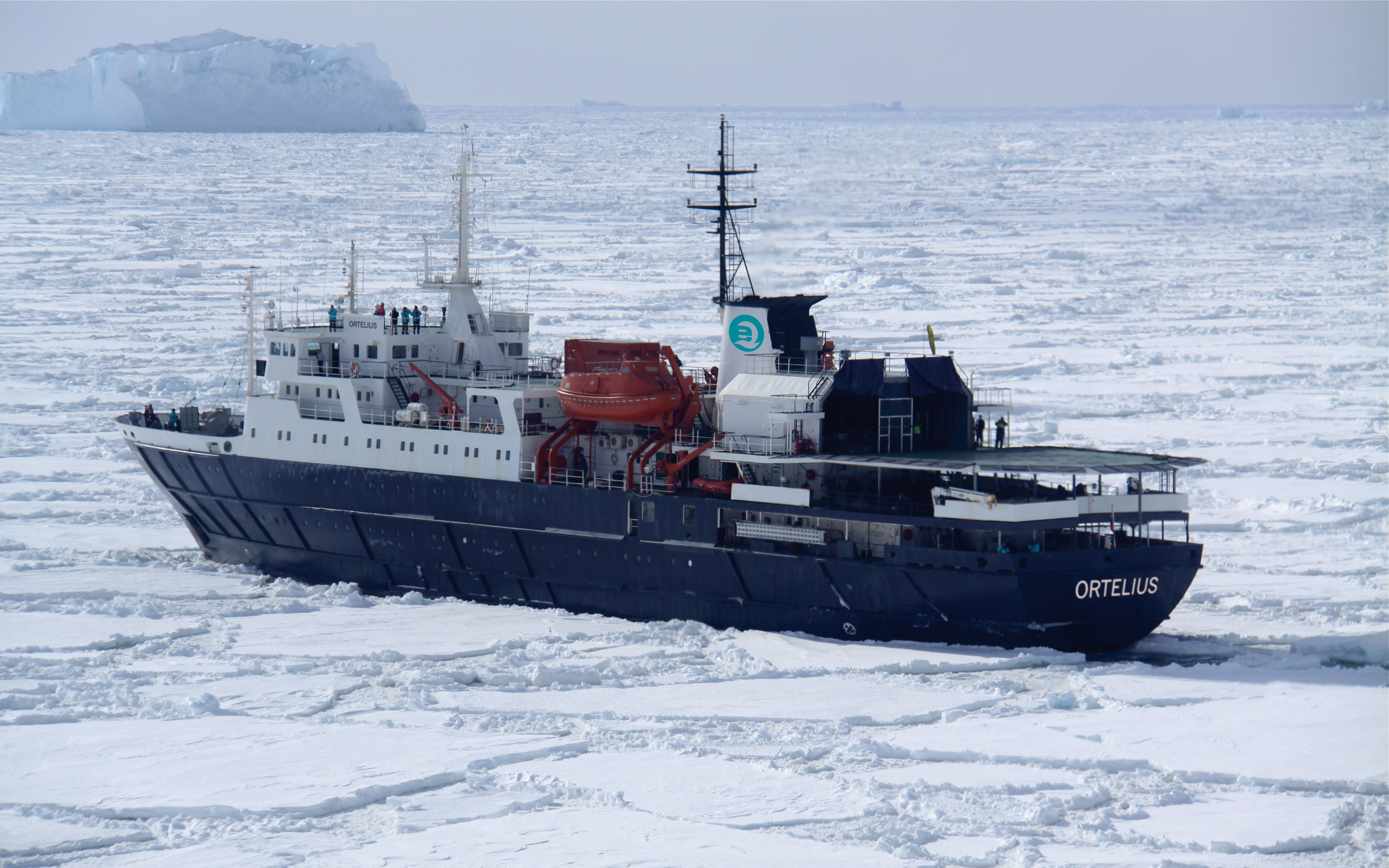 The ice-strengthened vessel Ortelius is an excellent vessel for Polar expedition cruises in the Arctic and Antarctica, capable of visiting  remote locations such as the Ross Sea and Franz Josef Land in the Arctic. Ortelius was built in Poland in 1989 and worked as a special purpose vessel for the Russian Academy of Science.
The vessel has the highest ice-class notation (UL1 equivalent to 1A) and is therefore very suitable to navigate in solid one-year sea ice and loose multi-year pack ice. Ortelius is a great expedition vessel for 100 passengers with lots of open-deck spaces and a very large bridge which is accessible to the passengers. Ortelius offers a comfortable hotel standard, with two restaurants, a bar, lecture room and a sauna.
Though our voyages are primarily meant to offer our passengers an exploratory wildlife program with as much time ashore as possible, Ortelius offers all the comforts of a standard hotel ― along with a bar and lecture room. Flexibility assures maximum wildlife opportunities. As such, Ortelius carries 10 Zodiacs with 60hp Yamaha engines.
Technical Specs
Passengers: 116
Staff & Crew: 47
Length: 91.25 meters
Breadth: 17.61 meters
Draft: 5.8 meters
Ice class: UL1 (equivalent to 1A)
Displacement: 4575 tonnes
Engines: 6 ZL 40/48 SULZER
Speed: 12 knots (14.3 knots max)
Ortelius can accommodate up to 116-123 passengers and has an abundance of open-deck spaces. It is manned by 22 highly experienced nautical crew members, 19 hotel staff, eight expedition specialists (one expedition leader, one assistant, and six lecturer-guides), and one doctor.
Cabins & Amenities
Two restaurants with open seating
Bar / observation lounge
Elevator
Internet access
Private facilities – sink, toilet shower, hairdryer and bathrobes in every cabin
Multi-purpose presentation room with state-of-the-art equipment
Stabilizers for smooth sailing
10 zodiacs onboard
Notes
Rates are per person, based on twin share. Single Supplement for twin cabins is 1.7 times the twin rate.
Mandatory Emergency Evacuation insurance is required on all trips.
Camping – From USD$190 per night, max 30 people
Kayaking – From USD$465 per trip, max 14 people
Snowshoe – no charge but sign up required
Adventure Activities for the "Base Camp" voyages are free of charge
There is always a possibility of an added fuel surcharge if marine oil prices raise significantly.
SHIP CAPACITY UPDATE: Starting with 2020 Arctic & 2020-2021 Antarctica Season, the ship capacity will be reduced to 108 passengers  & no triple cabins will be available. We can accommodate three passengers traveling together in a Superior Cabin + a sofa bed.