East Spitsbergen – Summer Solstice – Hondius, June 2023
East Spitsbergen – Summer Solstice – Hondius, June 2023
Trip Summary
Dates: June 21, 2023 – June 28, 2023
Duration: 8 Days
About the 7-day Spitsbergen Highlights Itinerary
A Spitsbergen Classic trip provides you with the opportunity to get a taste of everything the Arctic has to offer, from polar bears and walrus to spectacular mountains and glaciers.  You will have the opportunity for hiking on shore as well as exploring and enjoying the beauty of Svalbard from zodiacs and your vessel. Pack in […]
Itinerary Map
Pricing Information
About the 7-day Spitsbergen Highlights Itinerary
A Spitsbergen Classic trip provides you with the opportunity to get a taste of everything the Arctic has to offer, from polar bears and walrus to spectacular mountains and glaciers.  You will have the opportunity for hiking on shore as well as exploring and enjoying the beauty of Svalbard from zodiacs and your vessel. Pack in all the excitement of an epic long arctic cruise into only seven days with the Spitsbergen Highlights: Expedition in Brief itinerary. In just a week, you'll cruise through the pack ice up to 80°N along the west coast of Spitsbergen like an explorer of long ago, on a constant search for wildlife. Though this rocky island is covered in mountains and glaciers, the towering cliffs and fjords play host to a surprisingly thriving and varied ecosystem. Exploring as much of the area as possible will provide optimal opportunities to spot the most iconic of arctic wildlife, the polar bear. The Arctic has been inspiring explorers for centuries, and our expeditions offer the chance for you to discover why.
Detailed Itinerary
Day 1 - Arrive in Oslo, Norway
Your Arctic voyage begins in Oslo, Norway's vibrant capital city. If you arrive early, there are many museums, restaurants and green spaces to keep you busy before retiring at your included airport hotel.
Day 2 - Embarkation Day in Longyearbyen, Svalbard
This morning, the group will transfer to the airport and board our private charter flight to Longyearbyen, Spitsbergen's largest settlement, where you'll have some time to explore before embarkation. As your ship sets sail, enjoy great vistas of the mountainous landscape that serves as a backdrop for this historic town.
Day 3-6 Exploring Spitsbergen
You'll sail around the shores of this magical island, constantly searching for polar bears and other natural wonders. Covering western Spitsbergen, your expedition will afford ample opportunities to view immense glaciers, deep fjords, soaring mountains and unique flora and fauna.
Sailing north into Krossfjord, have your camera handy, ready to capture some of the best glacier calving in Spitsbergen. Deep in the fjord, the highly active Lilliehöök Glacier awaits. Listen in awe to the growling as big chunks break off into the icy waters below. A Zodiac excursion to nearby Ny London, an abandoned mining settlement, provides an ideal place for a guided walk. Encounters with wildlife, such as the indigenous Svalbard reindeer, are possible here.
After cruising overnight, wake up to the stunning sight of the magnificent Monaco Glacier, another prolific iceberg producer. To make this even more thrilling, help your Expedition Team to scan the shorelines and ice edge for marine mammals. Possible landing sites include Texas Bar, Worsleyneset and the Andoyane Islands (where polar bears have been known to roam). At 80°N, you'll reach a walrus sanctuary on the tiny, crescent-shaped Moffen Island. Watching from the water as large groups of these lumbering giants jockey for space is an unforgettable experience, so be ready with your binoculars.
At Smeerenburg you can see the remains of an abandoned settlement that was established by Dutch whalers nearly 400 years ago. Here, at one of Europe's most northerly outposts, you'll have time to explore ashore and learn about Spitsbergen's whaling history. Afterwards, cruising to Magdalenafjord rewards you with panoramic vistas of snow-capped mountains and massive glaciers reflected in the crystal-clear waters.
During your last full day of your arctic adventure, you may visit the Russian mining town of Barentsburg, home of the world's northernmost brewery. We hope to round out the day in Alkehornet, taking in the towering cliffs teeming with nesting seabirds, such as fulmars and Brünnich's guillemots (thick-billed murres). Encounters with reindeer might be possible here too. Later, in the evening, swap stories with your shipmates and crew one last time, at the captain's dinner.
Day 7 - Disembark in Longyearbyen & fly to Oslo
The time to say goodbye has come. Your adventure ends as it began, in the frontier-style settlement of Longyearbyen. From here, we'll transfer you to the airport for your return group charter flight to Oslo.
Welcome Aboard the Hondius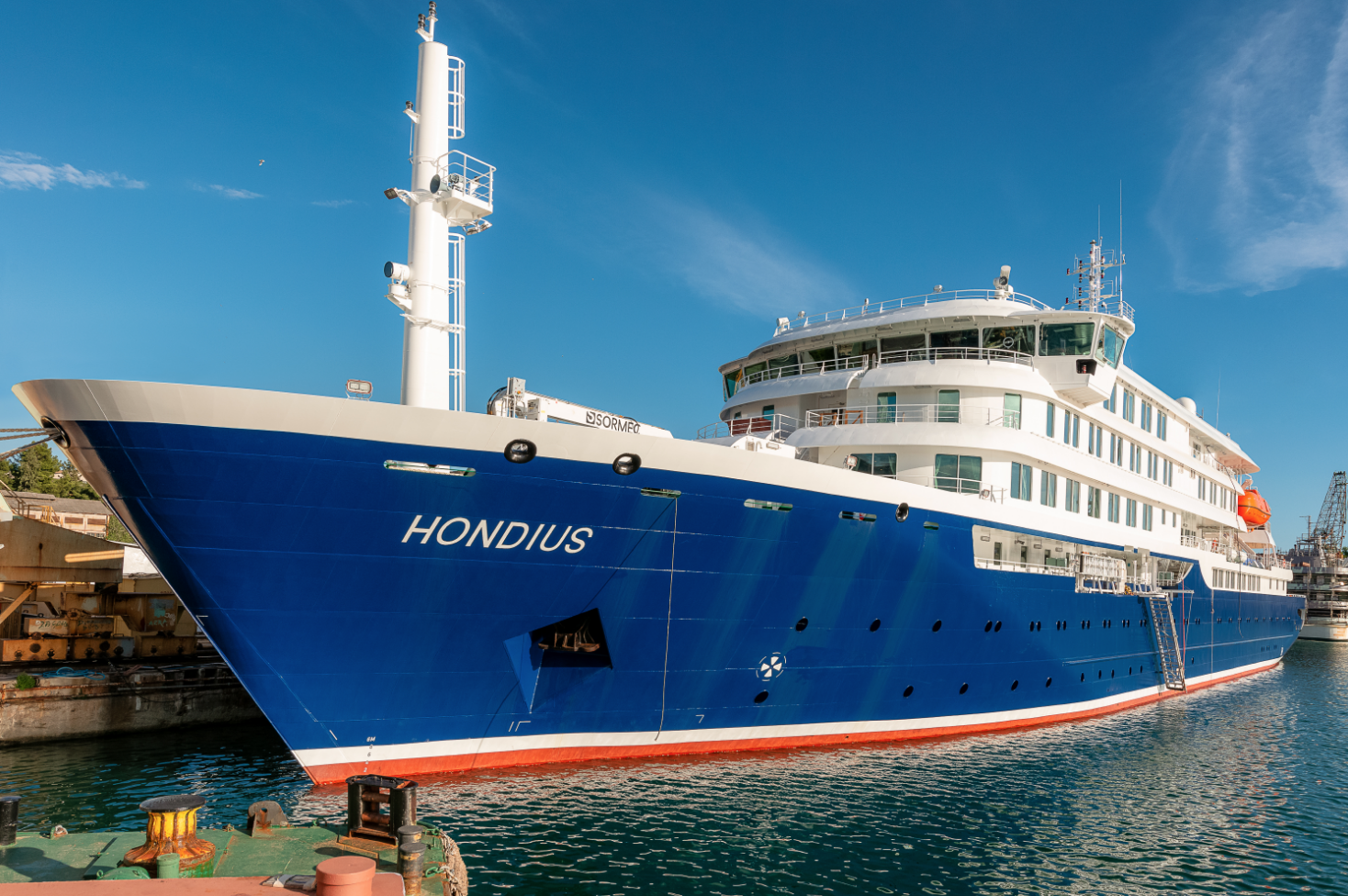 The all-new Hondius, launched in 2019, is designed from the ground up for rapid response to polar weather and wildlife conditions that exist nowhere else in the world. Hondius sets a standard as a structurally and technologically advanced polar cruise ship that not only meets the challenges of the polar regions but optimizes their opportunities for adventure.
As a Hondius passenger, you will enjoy cuisine, surroundings, and service that starkly contrast the rugged world just outside your window. An entire deck is dedicated to (multi-language) lectures and presentations in the presentation theater or the sizable observation lounge, and in combination with a fully provisioned bar and separate library room, provide ample opportunities to socialize and guarantee that what time you spend on board will be spent comfortably entertained. Take your pick of numerous cabins and suites, all custom-designed and impeccably outfitted in stylish mid-century modern décor.
Hondius is one of the first civilian vessels in the world to receive a Polar Class 6 notation, the most advanced category of polar cruise ship to date. When you set foot on Hondius, you are indeed choosing the best of modern marine science. Furthermore, Hondius exceeds the latest green requirements imposed by the International Maritime Organization, using only bio-degradable paints, LED lighting, steam heat, and flexible power management systems to keep fuel consumption and CO2 emission at the absolute minimum.
Highlights:
• Flexible, fast, and fortified. Capable of swift and safe response to fluctuating polar conditions.
• Ideal for land-based excursions. Sheltered Zodiac boarding zone for easier entry into the boats that will shuttle you to shore.
• Elegant, cozy, and surprising. Public areas, passenger lodgings, and cuisine that will fuel your exploration and stimulate your senses.
• Interactive, experiential, and informal. Activities that will engage and entertain you on the ship and off.
• Environmentally friendly technology to help ensure your cruise is higher impact for you, and lower impact for nature
Technical Specs
Length: 353 ft / 107.6 meters
Breadth: 25 ft / 17.6 meters
Draft: 17.4 ft / 5.30 meters
Ice class: Polar Class 6 (equivalent 1A-Super)
Displacement: 5,590 tonnes
Propulsion: 2 x ABC main engines; total 4,200 kW
Speed: 15 knots
Passengers: 176 in 83 cabins
Staff & crew: 72
Registered: The Netherlands
New build 2019
Cabins & Amenities
Large observation lounge
Fully provisioned bar
Library room
Notes
All rates are quoted per person based on twin occupancy.
Single travelers can chose between "single occupancy" at a supplement
of 1,7 x the Twin or Superior cabin rate , or "sharing basis" in Twin, Triple
or Quadruple category at no additional cost.
Adventure options must be pre-booked and paid for prior to start of the trip. Space is subject to availability. Some activities require experience.
Camping – From $210 per night, max 30 people. (2022- 2023)
Kayaking – From $475 per voyage, max 14 people. (2022- 2023)
Snowshoe – No charge but sign up required
All trips subject to possible fuel surcharge.