Disko Bay – Ocean Albatros – Aug, 2024
Disko Bay – Ocean Albatros – Aug, 2024
Trip Summary
Dates: Aug 16, 2024 – Aug 23, 2024
Duration: 8 Days
Including flights to/from Copenhagen/Iceland - Kangerlussaq - Iceland/Copenhagen
About the GREENLAND- Disko Bay Itinerary
Day 1-ICELAND - KANGERLUSSUAQ. EMBARKATION Day 2 - SISIMIUT, GREENLAND'S SECOND-LARGEST CITY Day 3- QEQERTARSUAQ ON DISKO ISLAND, 'KAFFEMIK' IN A COMMUNITY CENTRE AND EQIP SERMIA GLACIER Day 4 - ILULISSAT, CAPITAL OF THE ICEBERGS Day 5 - A VISIT TO ITILLEQ Day 6 - KANGERLUSSUAQ. AIR TO ICELAND
Itinerary Map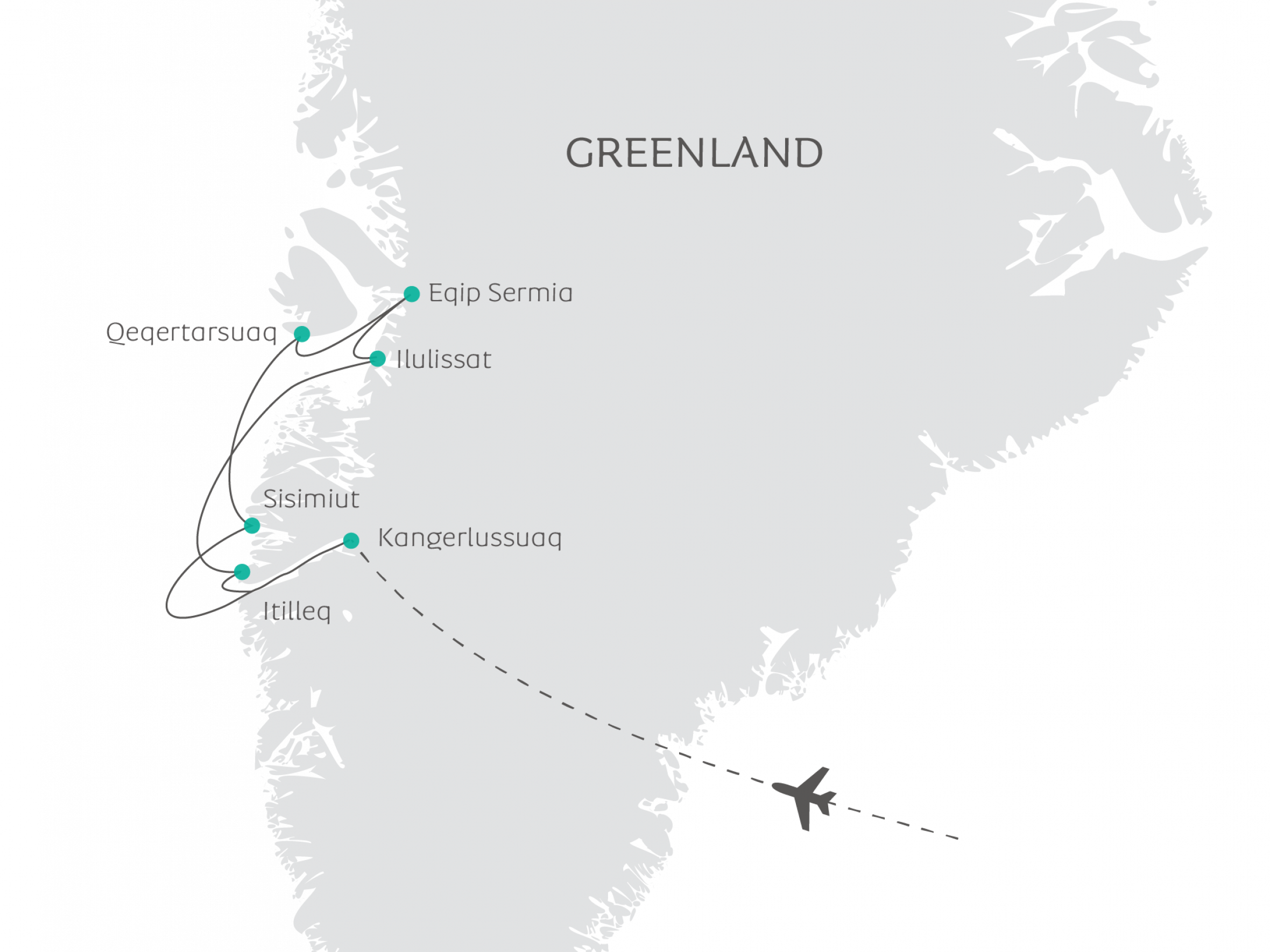 Pricing Information
About the GREENLAND- Disko Bay Itinerary
Traveling by sea is a magnificent way to experience Greenland. The places most worth seeing are situated along the dramatic coast line: small and colourful houses situated on the steep mountains sides down to a fjord, giant glaciers producing enormous icebergs, whilst whales and seals play in the sea. The people of Greenland live along the coast in small towns and settlements – at summer only accessible from the sea. Their culture, architecture and living conditions are enriched and limited by the harsh nature of the Arctic. On our town visits, you will have opportunities to meet the hospitable Greenlanders and learn more about the Inuit culture. Flying in from Keflavík to the airport of Kangerlussuaq, we embark the ship and head for the colourful town of Sisimiut. Then further to the small settlement of Qeqertarsuaq on Disko Island. Here we can experience the age-old "Kaffemik" tradition in the community house. On the southward voyage we visit the calving glacier at Eqip Sermia, the town of Ilulissat, Iceberg Capital of the World, and the settlement Itelleq to experience Inuit hunting culture. Back in Kangerlussuaq we disembark Ocean Atlantic and enjoy a bus tour to the Icecap before flying back to Keflavík and Iceland. Unforgettable experiences await you in Greenland!
Detailed Itinerary
Day 1-ICELAND - KANGERLUSSUAQ. EMBARKATION.
We board our charter flight in Keflavík bound for Kangerlussuaq.
Upon arrival in Kangerlussuaq in Greenland, we will be transported to the small port located west of the airport, where our ship, Ocean Atlantic, will be anchored. Zodiacs will transfer us the short distance to the ship, where you will be checked in to your outside cabin. After the safety drill, you will enjoy a dinner as Ocean Atlantic 'sets sail' through the 160-kilometre Kangerlussuaq fjord.
Day 2 - SISIMIUT, GREENLAND'S SECOND-LARGEST CITY
After breakfast, we arrive to the colourful town of Sisimiut, where we will get an idea of what modern Greenland looks like. With 5,400 inhabitants, it is considered Greenland's second 'city'. People have lived around Sisimiut on and off since 2,500 BC.
In 1756, Count Johan Ludvig Holstein, established a colony here and called it "Holsteinsborg". The oldest part of Sisimiut's historic quarter features town houses from this "Holsteinsborg" era, and the oldest house in town dates back to 1756. One of the most culturally significant buildings is the Blue Church, built in 1775.
Nowadays, Sisimiut is an important place for education and industry, and local factories process the bulk of Royal Greenland's fishing. The fish processing plant is one of the largest of its kind in Greenland, and one of the most modern in the world.
Our city tour highlights include the historic colonial quarter, as well as the museum and the beautiful church. Additionally, we will pay a visit to the busy city centre for a glimpse of what daily life is like in 21st century Greenland. In the afternoon, our voyage will continue northward.
As evening falls, we will pass the Sisimiut Isortuat Fjord, the Nordre Strømfjord settlements of Attu and Ikerasaarsuk, and the small town of Kangaatsiaq. During the course of the bright night, we will pass Aasiaat and proceed into the southern waters of Disko Bay. Next, the ship's heading will be set for Disko Island, known for its distinctive 1,000-meter/3,280 feet layered crags.
At this point, we will be north of the Arctic Circle! Here, the nights are bright and early risers can enjoy the sight of the icebergs on Disko Bay as they squeeze out of the Ilulissat Icefjord and dance into the frigid ocean waters.
Day 3-QEQERTARSUAQ ON DISKO ISLAND, 'KAFFEMIK' IN A COMMUNITY CENTRE AND EQIP SERMIA GLACIER
Our next sojourn lies on the southern tip of the Disko Island, where Ocean Atlantic will anchor in a protected natural harbour, which is named Godhavn ('Good Harbour') in Danish, while its Greenlandic name, Qeqertarsuaq, means 'The Big Island'.
Although topographically quite different from mainland Greenland due to the basalt characteristics of the Disko Island's mountains, Qeqertarsuaq maintains a long, rich history and once served as one of the country's important economic centres. From the 16th century, the community was relatively prosperous and, in fact, considered the most important town north of Nuuk until the mid-1900s, due in part to the area's sizeable whale hunting population.
During our visit, we will wander through town, paying a visit to the characteristic octagonal church, nicknamed "God's Inkpot", as well as to a local community center that will be hosting a traditional Greenlandic "kaffemik", which can be best described as a friendly gathering with coffee, cake and traditional dances and music.
Musicians from Greenland originally played on a drum (qilaat) made from an oval wooden frame covered with the bladder of a polar bear. Unlike other drums, the qilaat was played by hitting the frame with a stick, not the skin itself. This modest instrument was used for a variety of purposes, including entertainment, exorcism and witchcraft.
After the missionaries arrived, drum dancing was prohibited and later replaced by part-singing of psalms and choral works, which today are renowned for their particular Greenlandic sound. Today, drum dance is used as entertainment in cultural events and on festive occasions.
Greenlandic music is inspired and influenced by music from other cultures, like the Danish and Inuit cultures, and more specifically, Dutch and Scottish polka, American country and rock 'n' roll and even Hawaiian music, which inspired the so-called Vaigat-musicians in Greenland in the 1950s and 60s.
As the day draws to a closing, Ocean Atlantic will set a north-easterly course bound for a magnificent natural highlight – the enormous Eqip Sermia Glacier.
Situated approximately 50 nautical miles north of Ilulissat, the Eqip Sermia Glacier is renowned for its jaw-dropping beauty. Legendary arctic explorers selected this location as a base for their studies. One such explorer, the acclaimed Swiss glaciologist, Alfred de Quervain, used the location as a base for his expeditions onto Greenland's inland ice sheet over a century ago.
We will sail as close as possible to the ice's edge – but at a safe distance to avoid plunging blocks of ice and violent waves that often result from the calving glacier.
Day 4 - ILULISSAT, CAPITAL OF THE ICEBERGS
Ilulissat is possibly the most well located town in Greenland. The name simply means 'icebergs' in Greenlandic, and the town's nickname is rightly 'the Iceberg Capital'.
In Disko Bay, which is located just off the coast of Ilulissat, gigantic icebergs linger in the freezing waters. These icebergs come from the Icefjord, which is located a half hour's hike south of Ilulissat. These impressive frozen structures are born some 70km/43,5 miles deeper into the fjord by the enormous Sermeq Kujalleq glacier. This 10km/6 miles-wide glacier is the most productive glacier outside of Antarctica; Whereas most glaciers only calve at a rate of approximately a metre/three feet a day, the Ilulissat glacier calves at a rate of 25m/82 feet per day. The icebergs produced by the glacier represent more than 10% of all icebergs in Greenland, corresponding to 20 million tonnes/22 million us tons of ice per day!
These facts, together with the fjord's unforgettable scenery, have secured the Icefjord a place on UNESCO's World Heritage List.
During the more than 250 years that have passed since the establishment of Ilulissat, the town has steadily flourished. Today, Ilulissat is Greenland's third largest town, with more than 4,500 inhabitants. The town is very vibrant, welcoming and lively with a wide range of cultural attractions, according to Greenlandic standards.
The legendary polar explorer, Knud Rasmussen, and his good friend, Jørgen Brønlund, were both born in Ilulissat.
On this day, you will also have the opportunity to join a boat trip to the Icefjord (not included). The journey takes about two and a half hours in total, a great opportunity to take a closer look at the amazing ice-sculpted scenery.
The trip is definitely something out of the ordinary and a great natural experience that you will remember for years to come – but be sure to have warm clothing on!
If a hike or a trip by boat does not present enough excitement, there is also an opportunity to arrange a helicopter ride over the Icefjord (not included).
Please note the boat and helicopter excursions to the Icefjord are not included in the general tour price. Furthermore, the helicopter excursion must be booked in advance. Refer to Price Information for more details.
In the evening, we will cruise southward from "the Iceberg Capital", leaving lovely Disko Bay behind us as we part.
Day 5 - A VISIT TO ITILLEQ
In the morning, we will wake up to a picturesque sight — the settlement of Itilleq, which translates to 'the hollow' or 'the flatlands', quite an appropriate name for a settlement nestled at the foothills of mountains and glaciers in the distant backcountry to the east. The settlement's slightly more than 100 residents live off hunting, trapping and fishing, most often in pursuit of arctic char, reindeer and musk oxen.
Although Itilleq is quite remote, it lies within a few hours via dinghy sail from Sisimiut, the second-largest town in Greenland. The accessibility to such a large town provides an indispensable economic benefit to a small community like Itilleq's.
A stroll through the settlement offers insight into rural life in today's Greenland, where modern conveniences and technological advancements, such as internet and smart phones have become commonplace, yet locals still place great value on important customs and preserving their traditions and Inuit heritage.
Before lunch, we will return to Ocean Atlantic and continue our journey toward the fjord of Kangerlussuaq, also known as Sondrestromfjord. Especially the first part of the fjord gives a great opportunity to enjoy an impressive passage with panoramic views of high mountains and deep valleys.
Day 6 - KANGERLUSSUAQ. AIR TO ICELAND
During the night, we will have completed our passage through the 160-kilometer/100 mile Kangerlussuaq Fjord. After breakfast aboard the ship, we will bid farewell to the ship's staff and the Zodiac boats will shuttle us to shore.
Due to Kangerlussuaq's military history and present-day role as an important air travel hub, Kangerlussuaq remains fairly isolated from Greenland's rich cultural traditions, in comparison to other regions. While you still find cultural experiences when visiting Kangerlussuaq, the most impressive attraction is the surrounding nature, which is just beckoning to be explored.
It is not difficult for one to see that Kangerlussuaq's landscape has largely been shaped by the last glaciation period, often known simply as the "Ice Age," some 18,000 years ago. The mountains are rounded and soft, and many meltwater lakes remain. From the inland ice sheet, best known as the Greenland Ice Sheet, the meltwater cuts its way through the porous moraine landscape and flows into Kangerlussuaq Fjord.
Kangerlussuaq's present-day climate is largely influenced by its well-sheltered location between Greenland's Ice Sheet, the fjord and mountains. This contributes to its stable conditions, minimal cloud cover and roughly 300 clear nights per year.
This close proximity to the Ice Sheet, combined with the continental climate, is also of great significance to the local conditions. The dry climate, combined with warm winds that "fall" from the Ice Sheet, can result in temperatures that jump up to 30°C (86°F) in the summer, but then fall to an extreme -40°C (-40°F) in winter, making it the coldest inhabited area in Greenland.
In Kangerlussuaq, we offer an optional excursion to the beautiful Reindeer Glacier. The duration of the excursion is about four hours.
Please note that the excursion is not included in the general tour price. Refer to Price Information for more details. We do not recommend the excursion for people who suffer from bad necks or backs, as the gravel road to the ice sheet is occasionally bumpy and uneven.
As our time in Greenland concludes, after breakfast and checkout, your arctic adventure will have concluded. We hope to see you again soon! We fly from Kangerlussuaq to Keflavik Airport, Iceland.
Welcome Aboard the Ocean Albatros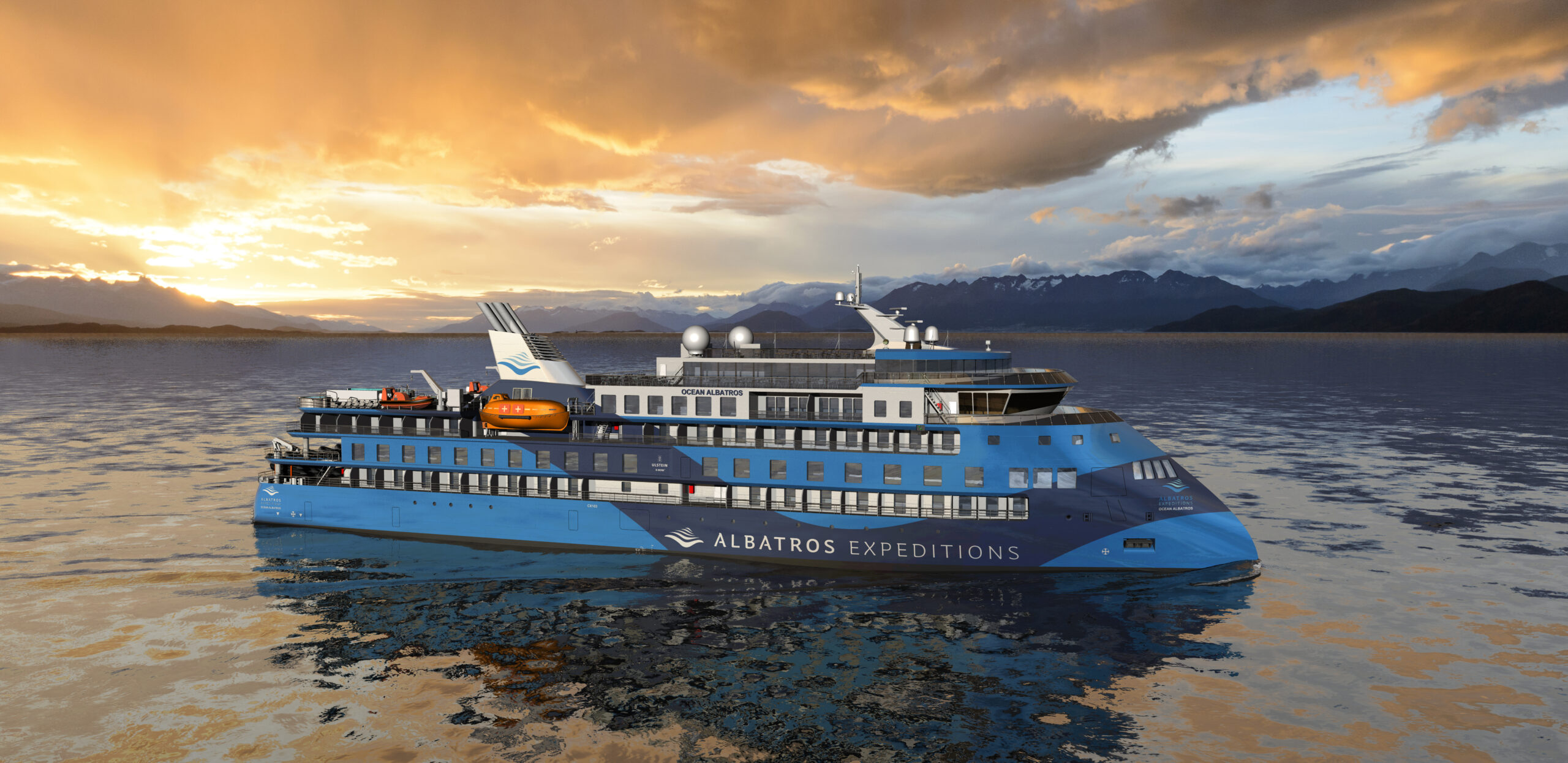 The Ocean Albatros will be deployed to a large selection of expedition cruise destinations, Antarctica, the Arctic, any various exciting new destinations in between.
With a total of 95 comfortable staterooms and suites, all with unobstructed sea view, most with their own balcony, the Ocean Albatros will definitely become one of the most popular expedition cruise vessels in the world. Like it's sistership the Ocean Victory it offers two restaurants, a wellness area, an Albatros Nordic Bar, an open deck dining facility, a modern lecture lounge, and other state-of-the-art amenities.  The vessel will have more than a 50% lower carbon footprint than traditional expedition vessels and be one of the most environmentally friendly, implementing the Green Initiative Program, ensuring both absolute comfort and sustainability for our guests. Unlike the Ocean Victory, the Ocean Albatros will also offer a unique panorama sauna, and a total of 12 dedicated solo travel cabins without a single-supplement.
Technical Specs
With the highest Polar code 6 and Ice class 1A, Ocean Albatros is the ideal vessel for small-ship cruising due to her sturdy construction and X-Bow®-Infinity class, which provides high stability in rough weather and allows for the smoothest movements on high waves, and a Solas 2012 classification which facilitates a safe return to port.
The vessel is part of a brand new generation of low-energy vessels, with 4 diesel engines and 2 electro engines, all controlled electronically to optimize speed and fuel consumption
Cabins & Amenities
Dinner always starts with delicious hot soups, cold cuts and crisp, fresh salads. Several choices of entrees are offered each evening, to accommodate different tastes and dietary requirements; always including a meat choice, fish choice and vegetarian choice.
After dinner, freshly prepared desserts, including ship-made ice cream or cakes are a great way to end a meal and satisfy any sweet tooth.
A selection of wines and beers is available to perfectly compliment your visit to our restaurant… and if you're interested in relaxing during your time off from activities and landings, delight onboard Ocean Atlantic by raising your glass to the experience of a lifetime!
Our bar is fully equipped with a variety of cocktails, beers, non-alcoholic beverages and more, to quench your thirst and reward the explorer in you.
LUXURIOUS CABINS & WELLNESS ONBOARD OCEAN ALBATROS
Ocean Albatros is the perfect addition to our fleet, due to its nautical technology and innovative low-energy usage. He's been designed and is currently undergoing additional preparations to satisfy our Nordic standards of service.
Our objective for safe and transformational experiences, distinguished lectures and programs, and superior-quality stays on our vessels, can now also manifest through more gentle sea crossings and a luxurious experience onboard.
Her X-BOW™ – Infinity class provides high stability in rough weather and high waves, and the spacious cabins allow for comfort and leisure between locations. Several restaurants, a wellness center and all the commodities to complete a dream voyage to the Antarctic region.
There are private balconies in approx. 90% of the staterooms, allowing you to behold the magnitude of the open ocean all around you.
Notes
The Ocean Albatros will start operating the polar regions in JUNE 2023.