Classic Antarctica Peninsula & the Weddell Sea – SH Vega, Dec. 2022
Classic Antarctica Peninsula & the Weddell Sea – SH Vega, Dec. 2022
Trip Summary
Dates: December 29, 2022 – January 9, 2023
Duration: 12 Days
About the Weddell Sea Quest Itinerary
The Weddell Sea is a rarely visited, heavily iced and beautiful area of Antarctica that holds penguin rookeries and is home to many seals and marine birds. These trips combine the 'classic' West side of the Antarctic Peninsula with the less visited eastern Weddell Sea. Famous for the ill-fated polar expedition led by British explorer […]
Itinerary Map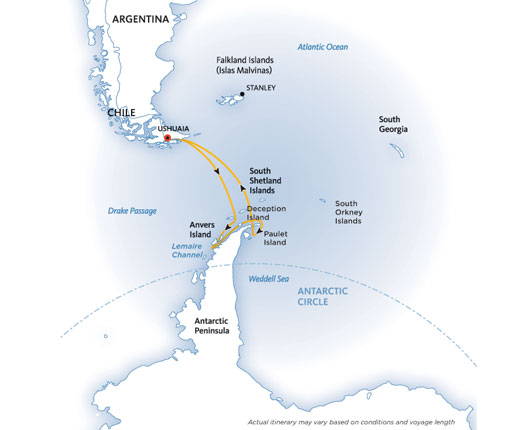 Pricing Information
About the Weddell Sea Quest Itinerary
The Weddell Sea is a rarely visited, heavily iced and beautiful area of Antarctica that holds penguin rookeries and is home to many seals and marine birds. These trips combine the 'classic' West side of the Antarctic Peninsula with the less visited eastern Weddell Sea. Famous for the ill-fated polar expedition led by British explorer Ernest Shackleton, the Weddell Sea is known for amazing ice formations and a variety of wildlife. Take this trip to journey to a little-known part of Antarctica and pass through the route of Ernest Shackleton. In brief:
Visit the pristine, icy Weddell Sea on the eastern side of the Antarctic Peninsula, as well as the highlights of the western side of the peninsula and the South Shetland Islands
Sail in the waters of the 1914 Ernest Shackleton expedition
Learn about the environment and wildlife from onboard lecturers and specialists
Witness the abundant wildlife – penguins, seals, whales and more!
Detailed Itinerary
Day 1: Embarkation
Arriving at the ship in the afternoon, you will be greeted by the Expedition Team and ships officers at a safety and orientation briefing followed by the Captains' welcome dinner. After dinner, relax and take in the mountainous scenery on our early evening sail down the Beagle Channel past Magellanic Penguin, Rock Cormorant, and Sea Lion colonies.
Days 2-3: Drake Passage
Among the wildlife spotting opportunities as we sail south are the Albatrosses, Prions, and Petrels that frequently follow the ship. The Expedition Team will be out on deck as well, looking for the Whales and Dolphins that may also be seen in the area. The team will begin presentations with informative and entertaining lectures on the wildlife, history, and geology of Antarctica. Helpful briefings on environmental regulations and expedition safety will also be held.
Days 4-6: Weddell Sea
The Weddell Sea is known for its abundance of huge tabular icebergs . In some years, the Erebus & Terror Gulf and Weddell Sea are chock-a-block full with ice, making for exciting ice navigation.  Get up at 3:30 in the morning for sunrises unlike anything you've ever seen. Huge tabular bergs break from the Larsen, Ronne, and Filchner ice shelves and combine with one-year-old and multi-year sea ice to produce a floating, undulating panorama of rugged ice scenery.  Hope Bay and the Argentine Station Esperanza, located on the western side of the Antarctic Sound, are possible landing sites. The Weddell Sea represents the center of the Peninsulas' Adelie penguin population. Devil Island and Paulet Island are excellent location to see Adelie penguins.
Days 7-9: Antarctica Peninsula & South Shetland Islands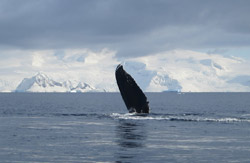 The remarkable history of the  Antarctic Peninsula will also provide you with a type of excitement often only associated with the early explorers. You will have plenty of time to explore this pristine wilderness of snow, ice, mountains and waterways and a wide variety of wildlife. Apart from Gentoo and Chinstrap penguins and other seabirds you are likely to encounter Weddell, crabeater and leopard seals as well as Minke whales and orcas at close range. Expeditions hope to navigate some of the most beautiful waterways: the Gerlache Strait, Errera Channel and Neumayer Channel. Possible landing sites include: Paradise Bay, an aptly named place with its impressive glacial fronts and mountains, Cuverville Island, home of the biggest Gentoo Penguin colony in the Peninsula surrounded by glaciers and castellated icebergs, and the British Museum and Post office at Port Lockroy. Further exploration will lead you to the South Shetland Islands, where you may visit Deception Island or Half Moon Island.
Days 10-11: Drake Passage
Say goodbye to Antarctica and head north across the Drake Passage. Join lecturers and naturalists on deck as searching for seabirds and whales and enjoy some final lectures. Take the chance to relax and reflect on the fascinating adventures of the past days on the way back to Ushuaia.
Day 12: Disembarkation
Arrive to Ushuaia in the early morning and disembark after breakfast.
Welcome Aboard the SH Vega
The 5 star elegant Scandi-design boutique ship offers you an intimate setting from which you will be fully immersed in all the sights and scenery of your voyage.
Like it's sistership the SH Minerva, SH Vega has been designed to journey to off the beaten path destinations and remote polar regions in style and comfort.
The ship incorporates a PC5 ice-strengthened hull combined with extra-large stabilisers to make your journey as smooth as possible.
Technical Specs
LENGTH: 337 ft (115 m)
DRAFT: 18 ft (5.5 m)
BREADTH: 75 ft (23 m)
REGISTERED: Malta
PASSENGERS: 152
CRUISING SPEED: 15.5 knots in open water
LIFEBOATS: 2 fully enclosed
PROPULSION DIESEL-ELECTRIC ENGINES: 4x Medium speed, Polar code Cat A.
Cabins & Amenities
Staterooms: Our 76 stateroom including 6 suites have all the amenities you will need to feel comfortable including dressing gowns, hairdryers, personal safes and minibars.Our stylish stateroom all have desks, a dressing area and comfy seating. En suite bathrooms all feature glass-enclosed rain showers.
Sauna with a view: Head to Deck 8 for the best view in the world. After a work out in our state-of-the-art-gym, relax in our sauna or  jacuzzi and take those breathtaking vistas along the way.
The Swan Restaurant: As the main venue for breakfast, lunch and dinner, our 152-seat restaurant serves international and local cuisine focused on quality regional ingredients from the unique destination we visit.
Alfresco Dining & Heated Outdoor pool: On Deck 7 you´ll find a heated outside pool along with pool side seating from where you can enjoy stunning scenery.
The Observation Lounge: After a day of exploration, where better to relax than in the Observation Lounge. Sit back, savor your favorite tipple whilst getting to know you fellow guests:
The Club Lounge: Vibrant and welcoming , The Club Lounge acts as a hub , combining 24 hours tapas inspired dining with panoramic views of the ocean glittering below.
Notes
INCLUDED in all voyages:
Room service 24 hours a day
Coffee, tea, soft drinks & select alcoholic beverages 24 hours a day
Lecture programmes by our experienced expedition team and guest speakers
Onboard gratuities & port taxes
One shore excursion per port of call
Use of Rubber boots for shore landings
Branded Swan Hellenic expedition parker
Adventure activities: One-time kayaking $250/trip.