Classic Antarctic Peninsula
Classic Antarctic Peninsula
Trip Summary
Dates: Dec 11, 2023 – Dec 20, 2023
Duration: 10 Days
About the Antarctica Classic (10 days) Itinerary
Perfect for first time visitors to Antarctica Witness and explore the highlights of the Antarctic Peninsula and South Shetland Islands Learn about the environment and wildlife from onboard lecturers and specialists Witness the abundant wildlife – penguins, seals, whales and more! * Itineraries on our website are intended only as a guide and you should […]
Itinerary Map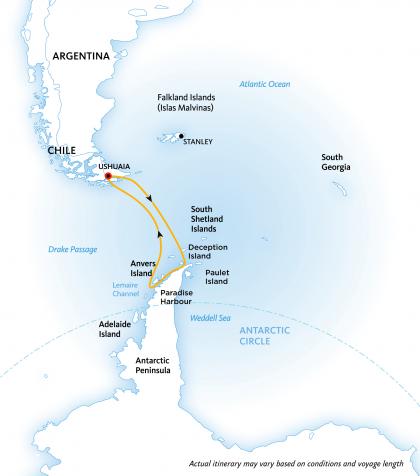 Pricing Information
$19,184 - Balcony D5
About the Antarctica Classic (10 days) Itinerary
Perfect for first time visitors to Antarctica
Witness and explore the highlights of the Antarctic Peninsula and South Shetland Islands
Learn about the environment and wildlife from onboard lecturers and specialists
Witness the abundant wildlife – penguins, seals, whales and more!
* Itineraries on our website are intended only as a guide and you should consult our team for detailed itineraries on specific voyages.
Detailed Itinerary
Day 1: Embarkation
Arriving at the ship in the afternoon, you will be greeted by Expedition Team and ships' officers at a safety and orientation briefing followed by the Captain's welcome dinner. After dinner, relax and take in the mountainous scenery on our early evening sail down the Beagle Channel past Magellanic Penguin, Rock Cormorant, and Sea Lion colonies.
Days 2-3: Drake Passage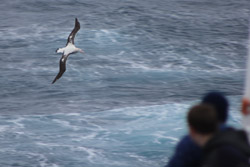 Among the wildlife spotting opportunities as we sail south are the Albatrosses, Prions, and Petrels that frequently follow the ship. The Expedition Team will be out on deck as well, looking for the Whales and Dolphins that may also be seen in the area. The team will begin presentations with informative and entertaining lectures on the wildlife, history, and geology of Antarctica. Helpful briefings on environmental regulations and expedition safety will also be held.
Days 4-7: Antarctic Peninsula & South Shetland Islands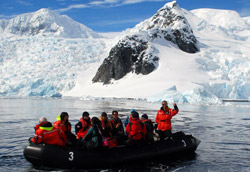 Arrival to the White Continent, the land of extremes! The most common first reaction to the white continent is a sense of reverence and awe. The experience is hard to put into words, as few places are as untouched, unique and enduring as Antarctica. The Expedition Leader and Captain will create a flexible itinerary based on weather, ice, and opportunity. The route will stress the most scenic bays and channels of the Peninsula with stops at penguin rookeries, seal wallows, bird colonies and whale feeding areas. Guided hikes with the Expedition Team will have you trekking up a glacier, visiting a research station, or consorting with penguin colonies. Chinstrap, Gentoo and Adélie penguins are found here, along with Fur, Weddell, Crabeater and Leopard Seals. Curious whales, such as Minkes and Humpbacks, are often attracted to Zodiacs as well, giving you a chance to get within reaching distance of these majestic animals. Each day and each landing will present a new collection of creatures to entertain you and keep your camera shutter busy.
The trip may include picturesque Neko Harbor, sheltered Paradise Harbor, the Humpback Whale favored Wilhelmina Bay, the striking Lemaire Channel, the wildlife-filled Penola Channel, or the majestic Neumayer Channel. A visit may be possible to an active scientific base such as Ukraine's Vernadsky as well as an historic base such as U.K.'s Port Lockroy or Wordie House.
Days 8-9: Drake Passage
The lecture series and wildlife spotting will continue on the return trip to Ushuaia and while the team will reflect on beautiful Antarctica and its fragile future.
Day 10: Disembarkation
Morning disembarkation allows you catch a flight to Buenos Aires or stay in Ushuaia for more sights and adventure.
Welcome Aboard the SH Diana

Designed for premium discovery experiences, SH DIANA can accommodate 192 guests in 96 staterooms and suites, the vast majority with large balconies.
The PC 6 ice-class vessel is fitted with extra-large stabilisers for exceptional passenger comfort, offers spacious 5-star accommodation, and the 125 m-long ship has been specially made to explore the most inspiring and inaccessible places on the planet. SH Diana shares unique design features with her sister ships – SH Minerva and SH Vega – and has a state-of-the-art gym, spa, panoramic sauna, club room, and swimming pool with poolside grill.
This ship also has key differences, including a dedicated presentation, lecture theatre, and onboard Tender boats to take guests ashore in greater comfort than the customary expedition Zodiacs.
Environmental impact
SH Diana is entirely self-sufficient for up to 40 days or 8,000 nautical miles. She is equipped with exhaust gas cleaning, advanced wastewater treatment systems, and special waste storage facilities required for operating in sensitive polar areas. The purpose-designed expedition cruise ship also complies with the latest environmental regulations. Preparations have also been made to implement zero-emission battery technology, allowing SH Diana to operate silently in ports, marine reserves, and other sensitive natural areas as it sails worldwide.
Technical Specs
BREADTH: 75 ft (23 m)
TONNAGE: 12,100 GRT
CRUISING SPEED: 14.5 knots
PROPULSION HYBRID DIESEL ELECTRIC: 4x Medium speed, Polar Class PC6
LIFEBOATS: 2 fully enclosed
TENDER BOATS: 2 (48 pax each)
Cabins & Amenities
Staterooms: SH Diana's 96 staterooms, including 11 suites, are each a superbly comfortable home from home, and all feature panoramic sea views, original works of art, plush couches, premium pocket sprung mattresses, ensuite bathrooms with glass-enclosed rain showers, and Egyptian cotton towels, bathrobes, and sheets. A pillow menu offers customized head and neck comfort during rest. At the same time, a large flat-screen TV, an espresso machine with Illy premium coffee, tea-making facilities with the finest Kusmi teas, and a minibar with refreshments enhance relaxation at any time. In-room dining is, of course, available at all hours.
Sauna with a view: Head to Deck 8 for the best view in the world. After a work out in our state-of-the-art-gym, relax in our sauna or  jacuzzi and take those breathtaking vistas along the way.
The Swan Restaurant: As the main venue for breakfast, lunch and dinner, our 152-seat restaurant serves international and local cuisine focused on quality regional ingredients from the unique destination we visit.
Alfresco Dining & Heated Outdoor pool: On Deck 7 you´ll find a heated outside pool along with pool side seating from where you can enjoy stunning scenery.
The Observation Lounge: After a day of exploration, where better to relax than in the Observation Lounge. Sit back, savor your favorite tipple whilst getting to know you fellow guests:
The Club Lounge: Vibrant and welcoming , The Club Lounge acts as a hub , combining 24 hours tapas inspired dining with panoramic views of the ocean glittering below.
Notes
INCLUDED in all voyages:
Room service 24 hours a day
Coffee, tea, soft drinks & select alcoholic beverages 24 hours a day
Lecture programmes by our experienced expedition team and guest speakers
Onboard gratuities & port taxes
One shore excursion per port of call
Use of Rubber boots for shore landings
Branded Swan Hellenic expedition parker