Antarctica Deep South: Crossing the Circle – Vavilov, Jan. 2019
Antarctica Deep South: Crossing the Circle – Vavilov, Jan. 2019
Trip Summary
Dates: January 8, 2019 – January 21, 2019
Duration: 14 Days
SOLD OUT!
About the Polar Circle Air Cruise Itinerary
Enjoy Antarctica in style — by flying and then cruising south of the Antarctic Circle! For those who don't have the time or are not interested in cruising across the Drake Passage, this is the trip for you. Take a three-hour flight over Cape Horn and the mythical waters of the Drake Passage, landing you on […]
Itinerary Map
Pricing Information
About the Polar Circle Air Cruise Itinerary
Enjoy Antarctica in style — by flying and then cruising south of the Antarctic Circle! For those who don't have the time or are not interested in cruising across the Drake Passage, this is the trip for you. Take a three-hour flight over Cape Horn and the mythical waters of the Drake Passage, landing you on one of the most spectacular places on earth: the coldest, highest, windiest, driest, and remotest continent – Antarctica. This trip takes you in-depth on the White Continent to explore below 66 degrees south. Prepare for incredible ice, curious wildlife and an adventure of a lifetime. Want to fly one Drake Passage and cruise the other? Check out the Fly & Cruise the Drake itineraries.
Detailed Itinerary
Day 1: Punta Arenas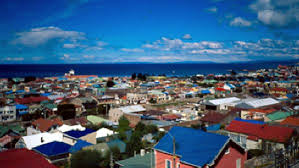 Arrive in Punta Arenas, Chile, where you are welcomed and transferred to your hotel. In the afternoon, you attend a briefing that provides important information about your voyage and reviews the essential guidelines for Antarctic visitors. Later, gather for a welcome dinner and meet your fellow adventurers while enjoying a typical regional menu.
Day 2: Fly the Drake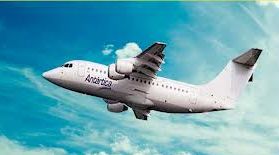 Your Antarctic adventure begins with a three-hour flight from Punta Arenas to King George Island, in the South Shetland Islands. As you exit the airplane, the clear Antarctic air fills your lungs for the first time. Explore the area surrounding Chile's Frei Station and Russia's Bellingshausen station, before boarding a Zodiac to embark your expedition vessel.
Days 3-5: Antarctica Peninsula and South Shetland Islands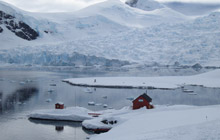 Cruise between the South Shetland Islands and the western coast of the Antarctic Peninsula, sailing along ice-filled fjords and among spectacular icebergs, while enjoying the company of sea birds, penguins, seals and whales. Each day, disembark by Zodiac and explore the landscape together with expert polar guides. On board the ship, attend an engaging program of lectures and presentations, and enjoy spectacular views from ship while sharing your daily adventures with fellow guests.
No journey is the same as flexibility is the key to success in Antarctica. The Expedition Team sets the voyage route to take advantage of the ever-changing opportunities provided by nature, crafting a unique and extraordinary experience each time. While the exact itinerary changes with each expedition, you will explore several spots that offer the best possible overview of the varied Antarctic environment. Your voyage may include visits to sites such as Paulet Island, Hope Bay, Port Lockroy, Petermann Island, Paradise Bay, Deception Island, the Lemaire Channel, or many other magnificent places.
Days 6-7: Antarctic Circle
Crossing the Antarctic Circle is an impressive achievement, as most expeditions to the Peninsula do not reach 66° 33' S. You and your shipmates will celebrate in style with a well-earned glass of champagne! With a toast to the first explorers who ventured this far south, you can take pride in knowing you've made it to a part of the world still visited by very few people. This is raw Antarctica, home to the midnight sun, Weddell seals and some of the most magical, odd ice formations you'll see anywhere in Antarctica.
Days 8-9: Northbound along Peninsula
You will continue to journey onto land by Zodiac twice daily as you travel north along the western Antarctic Peninsula. Your Expedition Team will always be on the lookout for any species of penguins, seals and whales that may have eluded you on the journey south.
Day 10: Return to Punta Arenas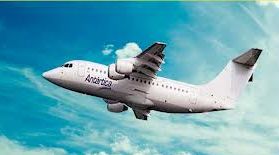 Return to King George Island and bid farewell to Antarctica before boarding the flight back to Punta Arenas. The program ends upon arrival at the airport in Punta Arenas. Note: Transfer to the city will be available for passengers staying overnight in Punta Arenas. One complimentary hotel night in Punta Arenas is offered.
Day 11: Departure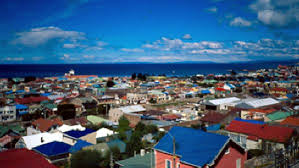 After breakfast, you are free to continue on your own travels or make your way to the Punta Arenas airport for your homeward flights.
Welcome Aboard the Vavilov
Built in Scandinavia by the Russian Academy of Science for ocean research, the Akademik Vavilov is a comfortable, stable, ice-strengthened vessel. Although capable of carrying 110 passengers, the Vavilov will carry a maximum of only 96 on Antarctic cruises.
The Vavilov has lots of great public spaces, including the bar and lounge with 180 degree views, a library stocked with polar books and a presentation room. Other amenities include a small gym, sauna and swimming pool, as well as a wellness program with trained yoga instructors.
Technical Specs
Guests: 96
Staff & Crew: 63
Length: 117 m
Breadth: 18.2 m
Draft: 6 m
Propulsion: 5,000 KW diesel twin engine
Ice Class: KM*L1(1)A2, Canadian Type B
Cruising Speed: 13.5 knots in open water / Max Speed: 14.5 knots
Registered: Russia
Cabins & Amenities
All cabins have exterior views
Cabins have either shared, semi-private or private facilities (see deck plan)
One dining room with unreserved seating
Theater-style presentation room
Lounge and bar with 180-degree views, open late afternoon and evening with a wide selection of wines and spirits
Library with excellent outdoor viewing and a collection of polar-themed books
Ship-to-shore communications via satellite
Clinic with licensed doctor
Gym, sauna and swimming pool
Wellness centre with registered massage therapist, fitness trainer and yoga instructor (on selected departures)
One elevator between passenger deck levels and to the Bridge level
Join us on the Bridge
There is an open-bridge policy and guests are welcome to meet the navigating crew at virtually any time of day; there's always something to learn from the officers on watch and the bridge is one of the best places on the ship for spotting whales and sea birds.
An expedition gear package is included
An expedition cruise requires a fair bit of planning and some special items of clothing and equipment are needed. You will have use of an expedition wet weather gear package free of charge, which includes a quality waterproof/windproof jacket and bib-pants as well as insulated, comfortable rubber boots designed for extended walking. A set of expedition binoculars and a walking pole are also available for the duration of your voyage. This saves you buying expensive items you may only ever use once and eliminates the need to carry such cumbersome gear all the way to the ship. If you do have your own gear, of course you are welcome to bring it. Make sure it is wind and waterproof. If you have questions about gear, feel free to ask.
Notes
Rates are per person, based on twin-share.
The Single supplement is 1.5x the published twin rate for twin-semi private, twin private and superior cabins.
Single supplement is 2x the published twin rate for suites.
Single supplement is not available in triple cabins.
No single supplement applies for passengers willing to share.
Voyages commencing/ending in Stanley (Falkland Islands) or King George Island (Antarctica) include flights from Punta Arenas (Chile).
Voyages ending in King George Island (Antarctica) include one night hotel accommodation in Punta Arenas at the end of the trip.
Mandatory Emergency Evacuation insurance is required on all trips.
All trips subject to possible fuel surcharge.
Adventure Options:
Photography – Free of charge
Photography Symposium (3 Nov 18): Limited Availability – interested participants must pre-register at time of booking.
Snowshoeing – Free of charge
Camping – Free of charge [Please note – camping is less likely to happen on the longer voyage to the Falkland Islands, South Georgia and Antarctica itinerary or on March voyages. Camping not offered on South Georgia In Depth voyages.]
Kayaking (must be pre-booked, maximum 16 participants) – $795.Space is subject to availability. Some activities require experience.