Trip Summary
Dates: March 10, 2019 – March 20, 2019
Duration: 11 Days
Early-Bird Discounts until SOLD OUT! Departs from Punta Arenas- Ends in Ushuaia!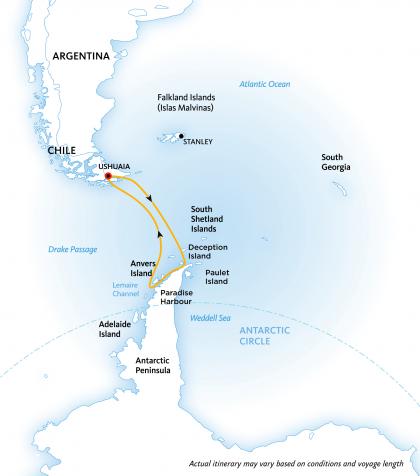 About the Antarctica Classic Itinerary
Perfect for first time visitors to Antarctica
Witness and explore the highlights of the Antarctic Peninsula and South Shetland Islands
Learn about the environment and wildlife from onboard lecturers and specialists
Witness the abundant wildlife – penguins, seals, whales and more!
Detailed Itinerary
Day 1: Embarkation
Arriving at the ship in the afternoon, you will be greeted by Expedition Team and ships' officers at a safety and orientation briefing followed by the Captain's welcome dinner. After dinner, relax and take in the mountainous scenery on our early evening sail down the Beagle Channel past Magellanic Penguin, Rock Cormorant, and Sea Lion colonies.
Days 2-3: Drake Passage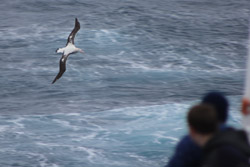 Among the wildlife spotting opportunities as we sail south are the Albatrosses, Prions, and Petrels that frequently follow the ship. The Expedition Team will be out on deck as well, looking for the Whales and Dolphins that may also be seen in the area. The team will begin presentations with informative and entertaining lectures on the wildlife, history, and geology of Antarctica. Helpful briefings on environmental regulations and expedition safety will also be held.
Days 4-8: Antarctic Peninsula & South Shetland Islands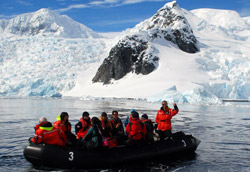 Arrival to the White Continent, the land of extremes! The most common first reaction to the white continent is a sense of reverence and awe. The experience is hard to put into words, as few places are as untouched, unique and enduring as Antarctica. The Expedition Leader and Captain will create a flexible itinerary based on weather, ice, and opportunity. The route will stress the most scenic bays and channels of the Peninsula with stops at penguin rookeries, seal wallows, bird colonies and whale feeding areas. Guided hikes with the Expedition Team will have you trekking up a glacier, visiting a research station, or consorting with penguin colonies. Chinstrap, Gentoo and Adélie penguins are found here, along with Fur, Weddell, Crabeater and Leopard Seals. Curious whales, such as Minkes and Humpbacks, are often attracted to Zodiacs as well, giving you a chance to get within reaching distance of these majestic animals. Each day and each landing will present a new collection of creatures to entertain you and keep your camera shutter busy.
The trip may include picturesque Neko Harbor, sheltered Paradise Harbor, the Humpback Whale favored Wilhelmina Bay, the striking Lemaire Channel, the wildlife-filled Penola Channel, or the majestic Neumayer Channel. A visit may be possible to an active scientific base such as Ukraine's Vernadsky as well as an historic base such as U.K.'s Port Lockroy or Wordie House.
Days 9-10: Drake Passage
The lecture series and wildlife spotting will continue on the return trip to Ushuaia and while the team will reflect on beautiful Antarctica and its fragile future.
Day 11: Disembarkation
Morning disembarkation allows you catch a flight to Buenos Aires or stay in Ushuaia for more sights and adventure.
---
Welcome Aboard the Polar Pioneer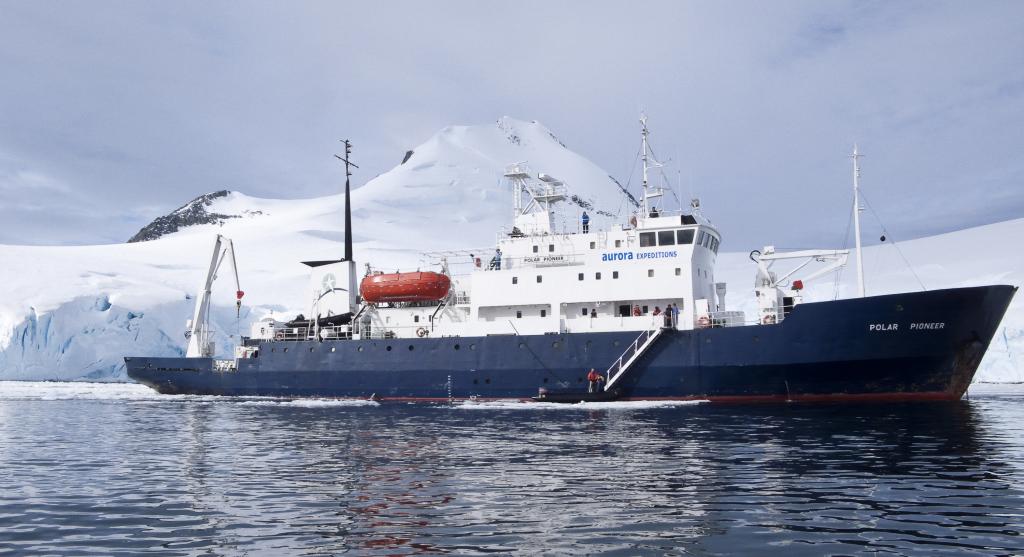 Polar Pioneer was built in Finland in 1982 as an ice-strengthened research ship, and for many years she plied the treacherous waters of the USSR's northern coast. In 2000 she was refurbished in St Petersburg to provide comfortable accommodation for 54 passengers.A combined bar/lounge/library area (stocked with a good collection of polar books) was also created by simple internal restructuring.
This class of vessel has a fine reputation for polar expedition cruising, due to its strength, manoeuvrability and small number of cabins. All cabins have outside portholes plus ample storage space. The Russian captain and crew are among the most experienced ice-navigators in the world and their enthusiasm is legendary.
The spacious bridge is always open to us and the decks are ideal for viewing. The chefs are European, and the dining room is attended by Russian stewardesses.
Polar Pioneer is not a luxury vessel as such, but the accommodation is simple yet comfortable, and the meals are wholesome and uncomplicated. A small fleet of inflatable Zodiacs with outboard motors enable us to travel from ship to shore.
Technical Specs
Maximum Passengers: 54
Staff & Crew: 25
Place built: Finland
Displacement: 2 140 tons
Length: 71.6 meters
Width: 12.8 meters
Draft: 4.5 meters
ISM and SOLAS certified as Ice Strengthened vessel
Speed: 12.5 knots
Refurbished: 2000
Cabins & Amenities
All cabins are exterior, with porthole windows
The public areas include a dining room which also act as lecture room.
Cozy bar with reference books and fresh coffee and tea available at all times.
Sauna that holds up to five passengers.
Open bridge policy
Email facilities available
220 volts power
Laundry service available
Notes
International Airfare Not Included.
Flights included for Fly/Cruise itineraries.
Rates are per person, based on twin-share. Single costs are 1.7 times the twin rate.
Mandatory Emergency Evacuation Insurance Required.
All trips subject to possible fuel surcharge.
Adventure options
Must be pre-booked and paid for prior to start of the trip. Space is subject to availability. Some activities require experience.
Kayaking : from $1050
Camping  Free
Photography Free
Snowshoeing $250
Ski Touring $900
Climbing $900
South Georgia Alpine Crossing $2,150
Prices
$13,100

$11,100




Limited

- Twin Economy Private
Interested in this Trip? Contact Us Now