Antarctic Explorer: Discovering the 7th Continent
Antarctic Explorer: Discovering the 7th Continent
Trip Summary
Dates: Nov 23, 2024 – Dec 3, 2024
Duration: 11 Days
About the Antarctica Classic (11 days) Itinerary
Perfect for first time visitors to Antarctica Witness and explore the highlights of the Antarctic Peninsula and South Shetland Islands Learn about the environment and wildlife from onboard lecturers and specialists Witness the abundant wildlife – penguins, seals, whales and more! * Itineraries on our website are intended only as a guide and you should […]
Itinerary Map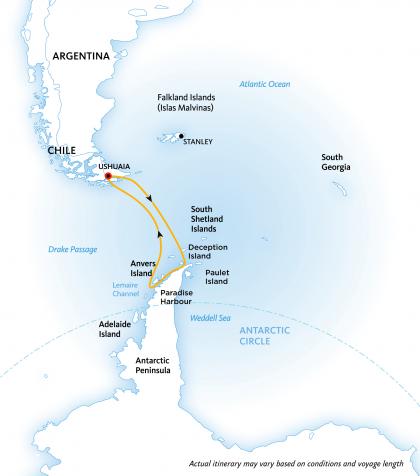 Pricing Information
About the Antarctica Classic (11 days) Itinerary
Perfect for first time visitors to Antarctica
Witness and explore the highlights of the Antarctic Peninsula and South Shetland Islands
Learn about the environment and wildlife from onboard lecturers and specialists
Witness the abundant wildlife – penguins, seals, whales and more!
* Itineraries on our website are intended only as a guide and you should consult our team for detailed itineraries on specific voyages.
Detailed Itinerary
Day 1: Embarkation
Arriving at the ship in the afternoon, you will be greeted by Expedition Team and ships' officers at a safety and orientation briefing followed by the Captain's welcome dinner. After dinner, relax and take in the mountainous scenery on our early evening sail down the Beagle Channel past Magellanic Penguin, Rock Cormorant, and Sea Lion colonies.
Days 2-3: Drake Passage
Among the wildlife spotting opportunities as we sail south are the Albatrosses, Prions, and Petrels that frequently follow the ship. The Expedition Team will be out on deck as well, looking for the Whales and Dolphins that may also be seen in the area. The team will begin presentations with informative and entertaining lectures on the wildlife, history, and geology of Antarctica. Helpful briefings on environmental regulations and expedition safety will also be held.
Days 4-8: Antarctic Peninsula & South Shetland Islands
Arrival to the White Continent, the land of extremes! The most common first reaction to the white continent is a sense of reverence and awe. The experience is hard to put into words, as few places are as untouched, unique and enduring as Antarctica. The Expedition Leader and Captain will create a flexible itinerary based on weather, ice, and opportunity. The route will stress the most scenic bays and channels of the Peninsula with stops at penguin rookeries, seal wallows, bird colonies and whale feeding areas. Guided hikes with the Expedition Team will have you trekking up a glacier, visiting a research station, or consorting with penguin colonies. Chinstrap, Gentoo and Adélie penguins are found here, along with Fur, Weddell, Crabeater and Leopard Seals. Curious whales, such as Minkes and Humpbacks, are often attracted to Zodiacs as well, giving you a chance to get within reaching distance of these majestic animals. Each day and each landing will present a new collection of creatures to entertain you and keep your camera shutter busy.
The trip may include picturesque Neko Harbor, sheltered Paradise Harbor, the Humpback Whale favored Wilhelmina Bay, the striking Lemaire Channel, the wildlife-filled Penola Channel, or the majestic Neumayer Channel. A visit may be possible to an active scientific base such as Ukraine's Vernadsky as well as an historic base such as U.K.'s Port Lockroy or Wordie House.
Days 9-10: Drake Passage
The lecture series and wildlife spotting will continue on the return trip to Ushuaia and while the team will reflect on beautiful Antarctica and its fragile future.
Day 11: Disembarkation
Morning disembarkation allows you catch a flight to Buenos Aires or stay in Ushuaia for more sights and adventure.
Welcome Aboard the World Explorer
Distinct and comfortable, refined and roomy—these attributes and more describe World Explorer. Not only will it be among our fastest ships, it will also be one of our finest, with six tiers of deluxe accommodation.
The personal space is exceptional. Every cabin has either a private walk-out or Juliet balcony for direct ocean views. World Explorer also delivers plenty of public areas to unwind in after a day outdoors, including the glass-domed Observation Lounge for quiet contemplation and full skyline views, the Explorer Lounge for a drink and a chat, and the library for more intimate relaxing and reading. Presentations and discussions are facilitated in a dedicated lecture theatre.
Health and wellness facilities feature an outdoor running track, a small gym and a sauna, plus a spa with change rooms, showers and lockers. For the active adventurers, add-ons include kayaking, camping and stand-up paddleboarding.
Blending high design with total functionality, World Explorer is all set to be your home away from home on the seas.
Technical Specs
Staff and Crew: 125
Guests: 176
Length: 126 meters
Breadth: 19 meters
Draft: 4.7 meters
Propulsion: 2 x Rolls Royce 9,000 kw hybrid diesel/electric
Ice Class: 1B
Cruising Speed: 16 knots, in open water
Registration: Portugal
Lifeboats: 2, fully-enclosed
Cabins & Amenities
All cabins have exterior views and private bathroom facilities
TV and safe in every cabin
Individual temperature controls
Electrical supply: 220v
Chef-prepared meals (all meals and daily snack included)
One dining room with unreserved seating
Bar staffed by a professional bartender serving a selection of soft drinks, juices, liquors, spirits, beer and wine, which can be charged to your shipboard account
Comfortable lounge area for reading or relaxing with a cup of coffee
Observation decks for spotting wildlife and enjoying the ever-changing polar landscape
Polar library stocked with a large collection of polar books, and games
Gym
Pool & sauna
Spa facilities and wellness program
Lecture theatre
Polar Boutique
Ship-to-shore satellite communications with email and wireless Internet access
Notes
Cruise Price does not include international airfare.  Rates are per person based on double occupancy.
Single supplement 1.7x twin rate for Infinity and Veranda & 2x twin rate for Superior, Deluxe and Owner's.
Gratuities included.
Drinks included. Soft drinks & juices all the time. House wine & non-premium beer at dinner.
Adventure Options: Kayaking – $995 (for those who want to kayak during entire voyage & have previous experience) OR paddling – $225 (for those w/o experience who want to kayak one time during the voyage), Camping – $295, Stand-up Paddleboarding – $225, Snowshoe-Included. Adventure options must be pre-booked and paid for prior to start of the trip. Space is subject to availability.
All trips subject to possible fuel surcharge.