North Pole
Itinerary Map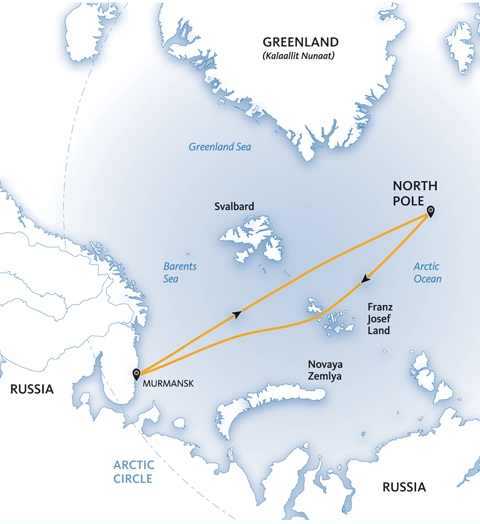 To reach the North Pole is the pinnacle of Arctic expedition endeavors. Few people can say they stood at the one earthly spot where every direction is south. Crushing through the ice, admiring soaring seabirds and visiting Franz Josef Land, your voyage will be one that you won't soon forget. The added excitement of helicopter excursions at the top of the world make this Expedition adventure a true once-in-a-lifetime experience.
Although there's more than one definition of "the North Pole", the most popularly accepted one is geographic: a fixed location in the northern hemisphere at the Earth's axis of rotation, latitude 90°N (longitude not applicable). Unlike the South Pole, which is located on the continent of Antarctica, the geographic North Pole is covered by nothing but a sheet of shifting ice on the surface of the Arctic Ocean. There is thus no permanent habitation nor even an official marker for the position, as the ice moves from year to year. Although it was once an elusive goal that took the lives of many explorers, thanks to modern aviation and other technology, it is now the destination of commercial travel expeditions.
The North Pole can only be reached on expeditions specifically mounted for the purpose. Most travel primarily by air, sometimes with a component traversing the last leg of the journey on the ice. The other alternative is traveling by boat, on an ice-breaker cutting through the Arctic Ocean.
(http://wikitravel.org/en/North_Pole)
Length of Travel: 13-14 Days
Itinerary in Brief
Day 1: Stay in Helsinki, Finland
Day 2: Travel to Murmansk, Russia. Embarkation.
Days 3-6: Sail northbound to the North Pole*
Day 7: Arrive at the North Pole
Day 8: Sail southbound
Days 9-10: Explore
Days 11-12: Sail to Murmansk, Russia
Day 13: Disembarkation in Murmansk. Return to Helsinki.
Day 14: Depart Helsinki.
(13 day trips starts and ends in Murmansk)
* Special Notes
*AS A CONSEQUENCE OF THE WAR IN UKRAINE, NORTH POLE TRIPS ARE NOT OPERATING.
14 day trips- 2018 MANDATORY TRANSFER PACKAGE INCLUDES:
- One night's pre- and post-expedition hotel accommodation in Helsinki with breakfast
- Round-trip flights from Helsinki to Murmansk (Additional USD 1895/person)
- Transfers to and from the ship
- Transfers between the airport and hotel in Helsinki
13 day trips- no added package mandatory
Travel to the North Pole can take anywhere from 5-8 days.
Detailed Itinerary
Day 1
Your adventure begins in Helsinki, Finland where you will spend one night.
Day 2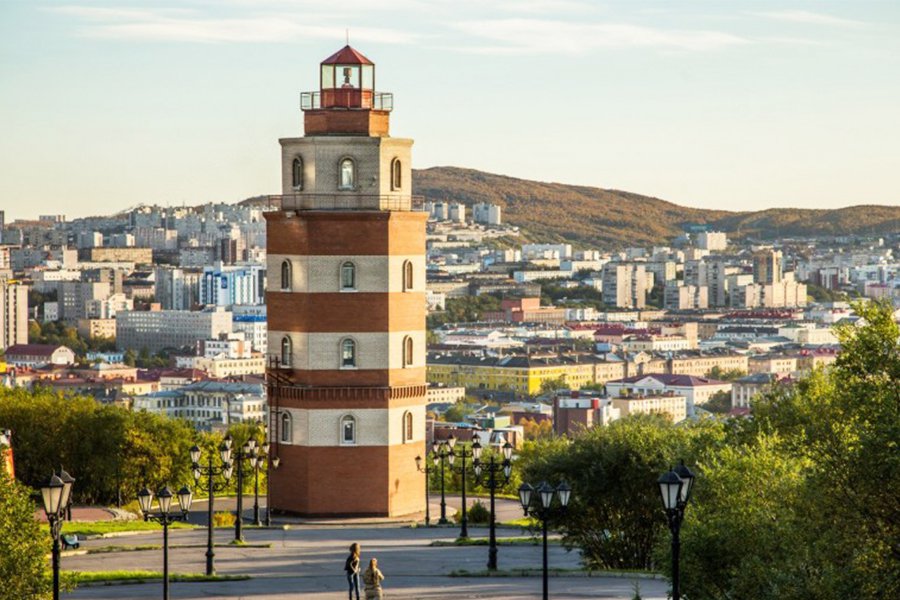 Today you will make your way from Helsinki to Murmansk, Russia via plane. Murmansk is Russia's northernmost city. You will then become acquainted with 50 Years of Victory, an icebreaker ship that will be your home for the next 2 weeks as you journey to the North Pole.
Day 3-6
For the next several days you will make the crossing from Murmansk to the North Pole. The length of the crossing will vary based on weather conditions. During this part of your adventure you will have the time to use all of the ship's amenities, chat with other passengers, and admire the scenery. If the weather allows, you can choose to hop aboard a helicopter and see the ship from above.
Day 7
Your expected arrival at the North Pole! You will be able to take plenty of photos and appreciate your time at 90˚North. You will celebrate your trip with a barbecue and, if you want, an Arctic plunge.
Day 8-10- Franz Josef Land
Enjoy your time at sea as you travel south.  As time allows, you will check out Franz Josef Land, an archipelago of more than 190 island filled with glaciers and marine mammals including seals and whales. Your ship will have smaller zodiac boats which will allow you to explore the landscape up-close. These islands are remote and few people have had this unique opportunity.
Day 11-12
Continue to enjoy your time on the icebreaker as you make your way back to Murmansk. You can head to the ship's gym or relax in the library.
Day 13
You will arrive in Murmansk and fly back to back to Helsinki for one final night with your shipmates.
Day 14
Sadly, your adventure comes to an end. You will fly out of Helsinki with memories of your time in the Arctic Circle.