Antarctica East & West: Peninsula in Depth
Itinerary Map
This epic 20-day expedition brings you to a side of the Antarctic Peninsula even the luckiest of travelers don't often see. You'll experience the best of polar travel, including abundant wildlife, important historical sites, and ice—lots of ice. Embarking from Ushuaia, Argentina, you'll traverse the legendary Drake Passage to arrive at Elephant Island, which gave Ernest Shackleton's crew refuge in 1916. From this significant start you'll move on to see enormous penguin colonies up close; zodiac cruise among icebergs that look like art; walk around and explore historic and operating scientific bases; sail across the imaginary but important line of the Antarctic Circle; and take a zodiac ride to see humpback and killer whales—all the while surrounded by the spectacular scenery of Antarctica.
Expedition in Brief
• Get to know Antarctica intimately during this 20-day trip
• Venture into the Weddell Sea on the remote east coast of the Antarctic Peninsula
• Cross the Antarctic Circle at 66°33′ S
• See a penguin colony of over 100,000 breeding pairs on volcanic Paulet Island
• Step back in time to experience Antarctic exploration in abandoned yet perfectly preserved bases
• Arrive in Buenos Aires, Argentina, the tango capital of the world, and let us take care of the rest of your journey
Length of Travel: 20 days
Itinerary in Brief
Day 1: Buenos Aires, Argentina
Day 2: Ushuaia, Argentina and Embarkation
Day 3-4: Crossing the Drake Passage
Day 5: Elephant Island
Days 6-8: Weddell Sea
Days 9-15: Antarctic Peninsula & Antarctic Circle
Days 16-17: South Shetland Islands
Days 19-20: Drake Passage
Day 20: Disembarkation in Ushuaia and Flight to Buenos Aires
Detailed Itinerary
Day 1: Buenos Aires, Argentina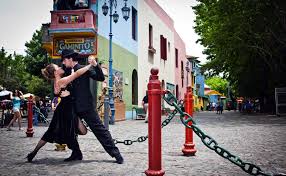 You may arrive in Buenos Aires at any time during Day 1 of your itinerary. Upon arriving in this splendid city, known for its soaring architecture and rich European heritage, you will independently transfer to the group hotel (pre-night hotel included).
Day 2: Flight to Ushuaia and Embarkation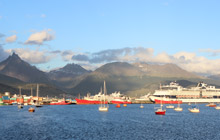 After breakfast at the hotel, the group will transfer to the airport and board our private charter flight to Ushuaia, Argentina.
Upon arrival, you will have a little time to explore this quaint port town before heading to the pier.
Embarkation will occur in the late afternoon, after which your vessel will sail down the historic Beagle Channel. This famous channel transects the Tierra del Fuego archipelago in the extreme south of South America. Expect an air of anticipation as you depart—the next time you'll see land you'll be in the world's most southern continent!
Days 3-4: Crossing the Drake Passage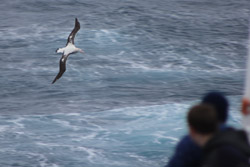 The waters of the Drake Passage are unpredictable, so hope for clear skies and a calm ocean. You'll have plenty of time to gaze out at the sea, get to know your fellow shipmates and chat with your expedition team.
You will spend this time preparing for the exciting days ahead, with numerous educational and informative lectures presented by your expedition team. You'll learn about everything from safety procedures to the history of whaling in Antarctica.
Day 5: Elephant Island
Mountainous and ice-covered Elephant Island is the first land you'll visit following the crossing. Named by early explorers for the elephant seals that dotted its shoreline, the island is best known as the refuge for Ernest Shackleton's crew. Point Wild, the site of the crew's camp, is an Antarctic Historic site.
Days 6-8: Weddell Sea
Battered with ocean currents all year long, the remote east side of the Antarctic Peninsula is completely different to the more commonly visited west coast. Here, you'll see mile-long tabular icebergs formed over hundreds or even thousands of years and broken off of ice shelves further south.
Paulet Island is volcanic and thermal heat keeps part of it ice free. Over 100,000 pairs of Adélie penguins make it a popular visiting point.
The wooden hut on Snow Hill Island was built in February 1902 by the main party of the Swedish South Polar Expedition led by Otto Nordenskjöld. This historic hut contains original objects from the expedition and functions as a living museum.
Brown Bluff, formed by a single volcanic vent, is the perfect place to experience Antarctic flora and fauna.
Days 9 - 15: Antarctica Peninsula & Antarctic Circle
Travel around the Peninsula includes a variety of experiences, including Cuverville Island and the largest colony of gentoo penguins in the region—more than 6,500 breeding pairs. Other possible landing sites include Melchiors, Cuverville Island and Orne Harbor. Glaciers, penguin colonies and breaching humpback whales will highlight your days, while friendly seals are plentiful in these waters. You can also expect to encounter what is arguably the most formidable Antarctic predator, the leopard seal.
You'll have drinks to celebrate crossing the Antarctic Circle, and you may visit the Vernadsky Lounge, the Peninsula's southernmost bar. A sure highlight is Wilhelmina Bay—one of our expeditions once spotted 50 whales in three hours! We'll spend a full seven days exploring as many sites as we can, ensuring you the most comprehensive Antarctic experience possible.
Days 16-17: South Shetland Islands
In 1819, the British explorer William Smith described the South Shetland Islands as 'barren and covered with snow, with seals in abundance.' Places such as Half Moon Island or Livingston Island support huge numbers of nesting chinstrap, gentoo and even some macaroni penguins. Giant and cape petrels, blue-eyed shags and kelp gulls nest in the cliffs. Mosses, lichens and Antarctica's only two flowering plants thrive during the short summer on the low-lying peninsulas of these rugged maritime islands. You will explore the busy penguin and seabird rookeries and marvel at the huge elephant seals that wallow along the shore.
Deception Island is the caldera of an active volcano, where sealing and whaling operations were based in the past. Several microclimates can get quite warm, and there is a large colony of chinstrap penguins. Half Moon Island is a significant area for birds and it features a 2,200 yard (2 km) walking track to give you a close view of the wildlife.
Days 18-19: Drake Passage
Use your second passage across the Drake to put your newfound Antarctic knowledge to use; spend time on deck, spot icebergs and name seabirds. Enjoy presentations by our onboard experts and bond with your shipmates.
Day 20: Disembarkation in Ushuaia and Flight to Buenos Aires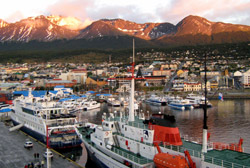 We will arrive in Ushuaia in the morning, after breakfast.
After disembarking, you will get a little taste of Patagonia, touring Tierra del Fuego National Park before transferring to the airport for the return group charter flight to Buenos Aires.
Important Reminder:
Embracing the unexpected is part of the legacy – and excitement – of expedition travel. There are no guarantees that we can achieve everything we set out to accomplish. A measure of flexibility is something all of us must bring to a voyage. There are nearly 200 recognized sites in the Antarctic Peninsula and South Shetlands and the places mentioned above may be changed to others equally as interesting.