Svalbard Circumnavigation – June 2023, Ocean Albatros
Svalbard Circumnavigation – June 2023, Ocean Albatros
Trip Summary
Dates: June 22, 2023 – July 1, 2023
Duration: 10 Days
Including flights to/from Oslo-Longyearbyen-Oslo
About the Spitsbergen Circumnavigation: Svalbard Odyssey Itinerary
Svalbard Odyssey reveals the diversity of this island archipelago and takes us into the kingdom of the polar bear. We explore the coastline, with no open sea crossings, against a backdrop of spectacular peaks. We discover fjords in the west; mysterious, fossil-rich desert mountains in the east; and best of all seals and whales in […]
Itinerary Map
Pricing Information
About the Spitsbergen Circumnavigation: Svalbard Odyssey Itinerary
Svalbard Odyssey reveals the diversity of this island archipelago and takes us into the kingdom of the polar bear. We explore the coastline, with no open sea crossings, against a backdrop of spectacular peaks. We discover fjords in the west; mysterious, fossil-rich desert mountains in the east; and best of all seals and whales in the Arctic pack ice. This voyage offers the best chance for seeing reindeer and polar bears, and features wildflower walks across sweeping tundra, trapper camps and historical remains of whaling stations. Voyage Highlights • Narrow sheltered waterways and fjords • Witness spectacular mountains rising directly out of the sea • Historic sites: museums, whaling stations, geology and fossils • The most wildlife-rich part of the Arctic – polar bears, walrus, seals, reindeer, sea birds and whales • Search for the king of the Arctic, the mighty polar bear • Great variety of terrain over short distances: Icecaps, tundra and rocky hillsides • Sea ice and active glaciers • Summer months when the midnight sun creates 24 hours of sunlight • Voyage close to (within 600 miles of) the North Pole Note: This itinerary may be run in the reverse direction depending on weather, ice conditions and the movements of other vessels.
Detailed Itinerary
Day 1: Embark Longyearbyen
Today we will be met at the airport in Longyearbyen and taken on a sightseeing tour to explore the remote outskirts and 'Capital' of Spitsbergen, including a stop at the local museum. After the tour you will be transferred to the port in the late afternoon and board  the Greg Mortimer. The voyage commences, cruising out of the beautiful Isfjorden, escorted by gliding fulmars and perhaps the occasional puffin.
Days 2 & 3: Northwest Coast
We may cruise northwards along the West Coast of Spitsbergen, perhaps stopping at intriguing places like Kongsfjorden or Magdalenefjorden. Kongsfjorden (Kings Bay) is incredibly scenic, the fjord is headed by two giant glaciers. We spend long periods ashore hiking on the lush tundra amongst the summer flowers and observing the remarkable bird cliffs near the 14th July Glacier, where even a few puffins nest between the cracks in the cliffs. We keep watch for polar bears and Arctic foxes.
We feel a sense of history at the 350-year-old remains of a Dutch whaling settlement Smeerenberg on Amsterdamoya. The name Smeerenberg literally means blubber town in Dutch. It is a place of extraordinary legends that are myths: of thousands of men living there during the 1630's, with a complete town with shops, gambling dens and the like. In reality 400 men and fifteen ships visited Smeerenberg during its peak in the 1630's for whaling. Smeerenberg was excavated in 1979-81, which proved the latter, sometimes though, modern authors still tell the extraordinary tales of Smeerenberg.
Days 4 & 5: Northern Flanks of Spitsbergen
As we work our way along the North Coast we explore rarely visited places such as Woodfjorden and Leifdefjorden in search of the mighty polar bear. From Zodiacs we enjoy magnificent views of sweeping glaciers winding their way into the sea. We may walk on smooth raised beach terraces to a magnificent viewpoint or hike in the mountains on the tundra where pretty colored wildflowers and lichen grows and where reindeer graze. We may visit trapper huts of yesteryear where Russians and Pomars would hunt and survive the cold harsh winters. We will all the while be remaining alert for wandering polar bears and their cubs.
We might come face-to-face with the formidable pack ice of the Arctic Ocean, keeping our eyes peeled for bobbing walrus feeding on clams or hauled out on the beach in wallows. We will listen to the cacophony of the impressive population of sea birds and see them feeding.
Days 6 to 8: East Coast of Spitsbergen
Along the east coast of Spitsbergen we enter a different world – a polar desert. If ice conditions allow we will pass south through the narrow Hinlopen Strait. The strait is flanked by creamy colored slabs of rock that are rich in fossils, as we discover for ourselves when we go ashore.
We may visit Alkefjellet in the Strait, where a series of 300 ft (100 m) high dolerite towers are home to millions of Brunnich's guillemots – the penguins of the north – that occupy every available nook and cranny. Elsewhere we seek out eider ducks and geese, and hope to spot Arctic fox and the beautiful ivory gulls.
As Greg Mortimer passes between Spitsbergen and the smaller islands of Barentsoya and Edgeoya, we cross the main polar bear migration route and the beautiful fertile plains of Sundeneset. The spongy ground is richly covered with bright green mosses, a variety of delicate and colorful flowers, particularly the yellow marsh (bog) saxifrage, various mushrooms, fungi, clear bubbling streams and small tarns. Tiny (micro) flowers such as Mouse Ears grow in Spitsbergen creating fairy like mossy rock gardens. We explore this beautiful terrain on foot, marveling at the contrast between the colorful soft ground and the barren, rocky terrain from further north. Reindeer antlers lie scattered along the ground. We round South Cape, Spitsbergen's most southerly point, before continuing northwards.
Days 9 & 10: Exploring Northwest Fjords
We enter the spectacular Hornsund Fjord where we may take an early morning Zodiac cruise to admire the beautiful ice walls of the Samarin Glacier or take a stroll beneath the towering seabird cliffs at Sofiebogen. In Bellsund Fjord we are always on the lookout for beluga whales. Bellsund Fjord is a fjord that splits into two branches. It was named Bellsund after a nearby bell shaped mountain by William Barentsz in 1596. We may visit the remnants of a Norwegian beluga whaling station from the 1930's. Across the fjord at Våraolbukta is lush and stunning landscape where reindeer roam, Arctic flowers bloom in abundance and Arctic fox may be seen patrolling the little auk colony, where several thousand birds nest here amongst the boulders, coming and going in huge flocks.
Day 11: Disembarkation in Longyearbyen
During the early morning we cruise back into Longyearbyen. After bidding farewell to new found friends, we are transferred into town and later to the airport.
Welcome Aboard the Ocean Albatros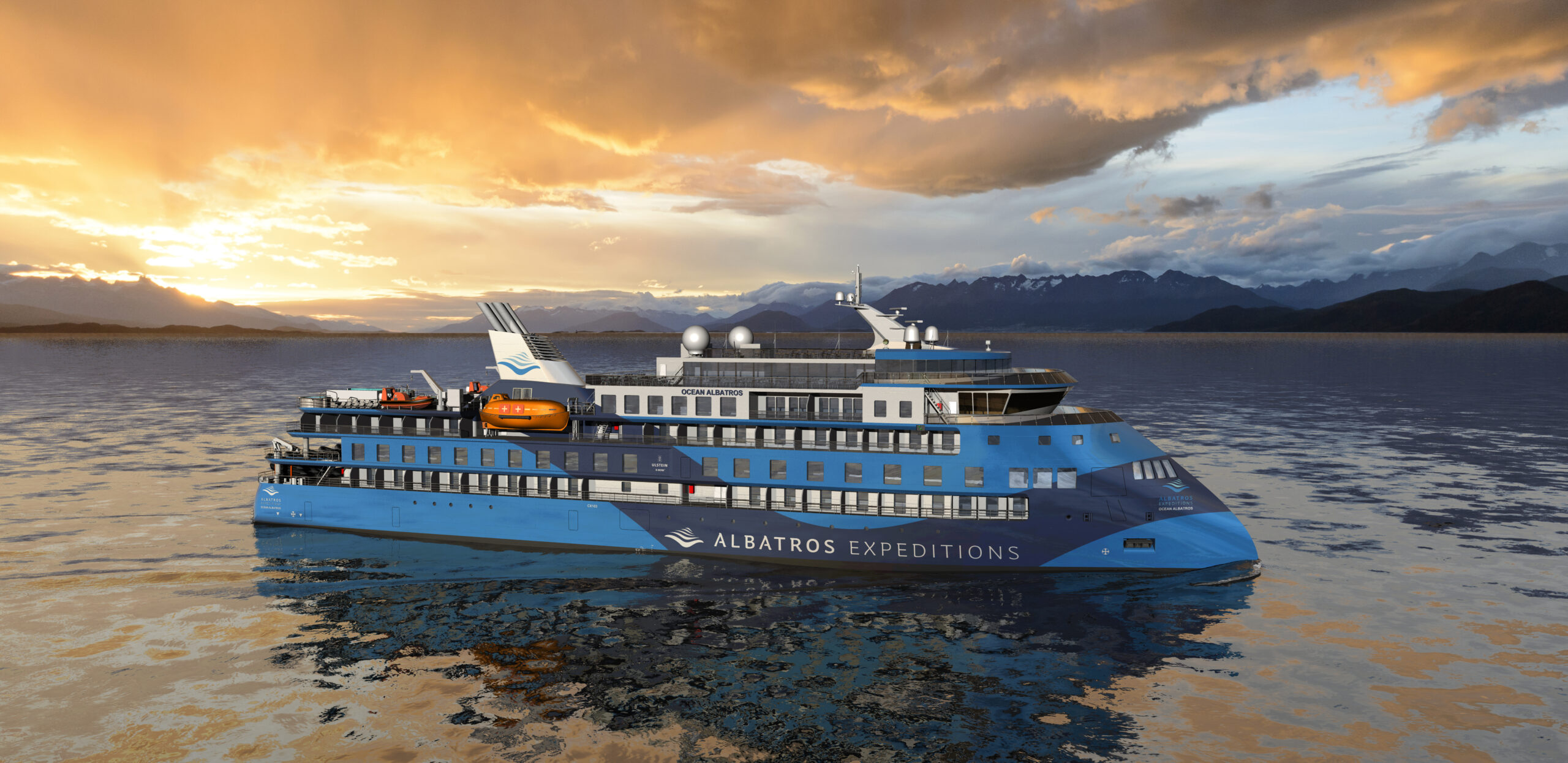 The Ocean Albatros will be deployed to a large selection of expedition cruise destinations, Antarctica, the Arctic, any various exciting new destinations in between.
With a total of 95 comfortable staterooms and suites, all with unobstructed sea view, most with their own balcony, the Ocean Albatros will definitely become one of the most popular expedition cruise vessels in the world. Like it's sistership the Ocean Victory it offers two restaurants, a wellness area, an Albatros Nordic Bar, an open deck dining facility, a modern lecture lounge, and other state-of-the-art amenities.  The vessel will have more than a 50% lower carbon footprint than traditional expedition vessels and be one of the most environmentally friendly, implementing the Green Initiative Program, ensuring both absolute comfort and sustainability for our guests. Unlike the Ocean Victory, the Ocean Albatros will also offer a unique panorama sauna, and a total of 12 dedicated solo travel cabins without a single-supplement.
Technical Specs
With the highest Polar code 6 and Ice class 1A, Ocean Albatros is the ideal vessel for small-ship cruising due to her sturdy construction and X-Bow®-Infinity class, which provides high stability in rough weather and allows for the smoothest movements on high waves, and a Solas 2012 classification which facilitates a safe return to port.
The vessel is part of a brand new generation of low-energy vessels, with 4 diesel engines and 2 electro engines, all controlled electronically to optimize speed and fuel consumption
Cabins & Amenities
Dinner always starts with delicious hot soups, cold cuts and crisp, fresh salads. Several choices of entrees are offered each evening, to accommodate different tastes and dietary requirements; always including a meat choice, fish choice and vegetarian choice.
After dinner, freshly prepared desserts, including ship-made ice cream or cakes are a great way to end a meal and satisfy any sweet tooth.
A selection of wines and beers is available to perfectly compliment your visit to our restaurant… and if you're interested in relaxing during your time off from activities and landings, delight onboard Ocean Atlantic by raising your glass to the experience of a lifetime!
Our bar is fully equipped with a variety of cocktails, beers, non-alcoholic beverages and more, to quench your thirst and reward the explorer in you.
LUXURIOUS CABINS & WELLNESS ONBOARD OCEAN ALBATROS
Ocean Albatros is the perfect addition to our fleet, due to its nautical technology and innovative low-energy usage. He's been designed and is currently undergoing additional preparations to satisfy our Nordic standards of service.
Our objective for safe and transformational experiences, distinguished lectures and programs, and superior-quality stays on our vessels, can now also manifest through more gentle sea crossings and a luxurious experience onboard.
Her X-BOW™ – Infinity class provides high stability in rough weather and high waves, and the spacious cabins allow for comfort and leisure between locations. Several restaurants, a wellness center and all the commodities to complete a dream voyage to the Antarctic region.
There are private balconies in approx. 90% of the staterooms, allowing you to behold the magnitude of the open ocean all around you.
Notes
The Ocean Albatros will start operating the polar regions in JUNE 2023.