South & West Greenland – Sea Spirit, June 2016
South & West Greenland – Sea Spirit, June 2016
Trip Summary
Dates: June 6, 2016 – June 16, 2016
Duration: 11 Days
About the Greenland- South&West Itinerary
West Greenland combines magnificent icebergs with the dramatic Viking history of Iceland. This tour starts in Reykjavik, the capital of Iceland.
Itinerary Map
Pricing Information
About the Greenland- South&West Itinerary
West Greenland combines magnificent icebergs with the dramatic Viking history of Iceland. This tour starts in Reykjavik, the capital of Iceland.
Detailed Itinerary
Day 1
Today, your journey begins in the Icelandic capital of Reykjavik. Board your ship in the afternoon as it begins the journey westward towards Greenland. Become comfortable with your new home and fellow passengers.
Day 2-3
The next two days will be at sea as you travel towards Greenland. This is the perfect opportunity to watch for whales and birds, chat with other travelers, listen to presentations, or relax in ship's lounge.
Day 4-5
Hot springs and mountains will welcome you to Greenland. You will have the opportunity to see Greenland's southernmost town and learn history at an open-air museum.
Day 6-10
After spending time along the southern tip of Greenland, your ship will travel northwards exploring the towns and fjords of western Greenland. You can expect to be enthralled by Viking history, ancient churches, mummies, and dog sledding.
Day 11
Your adventure ends in Kangerlussuaq, Greenland. You will fly back to Copenhagen with 10 days of memories.
Welcome Aboard the Sea Spirit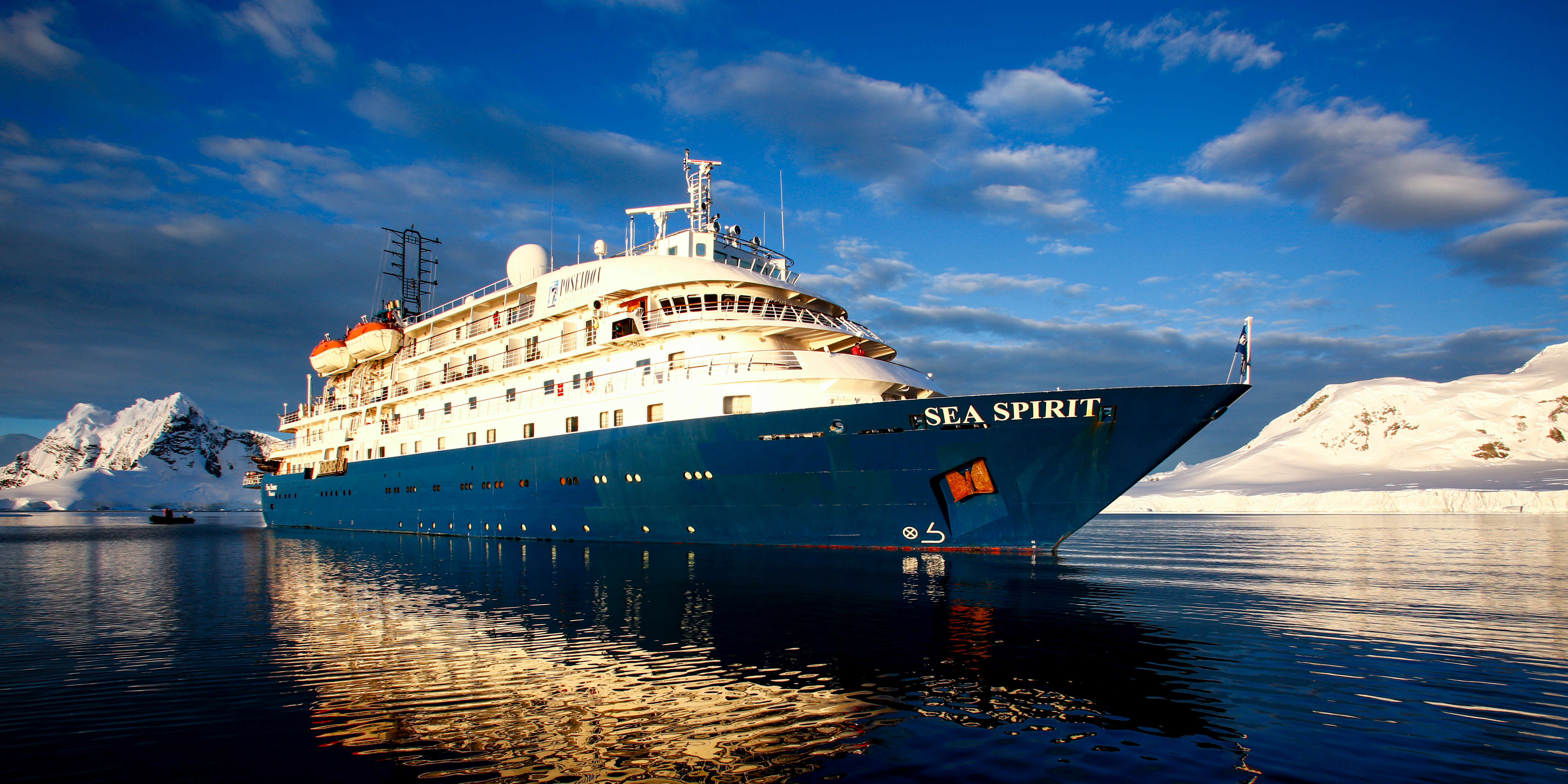 Carrying a maximum of 112 passengers, this outstanding vessel combines luxury with expedition cruising. All cabins have facilities en suite, king-size beds and exterior views. She boasts all the amenities of a fine hotel, including an open bar, balconies in the suites and a hot tub on level 5. The Sea Spirit is a luxurious expedition vessel that seamlessly dispatches zodiacs and kayaks for excursions and exploration.
Technical Specs
Guests: 112
Staff & Crew: 94
Length: 90.6 m
Breadth: 15.3 m
Draft: 4.16 m
Propulsion: Diesel – 4,720 horsepower
Ice Class: 1D
Cruising Speed: 14.5 knots in open water
Cabins & Amenities
Library/Game Room
Elevator
Internet access
Private facilities – sink, toilet shower, hairdryer and bathrobes in every cabin
Multi-purpose presentation room with state-of-the-art equipment
Stabilizers for smooth sailing
Every cabin has an exterior view, individual temperature controls, a lounge area, refrigerator and in-room safe
Resident Photographer to assist travelers
Open Bar
Notes
Cruise Price does not include international airfare. Port charges are included.
All cabins are outside, with two lower beds and private shower and toilet. Rates are per person based on double occupancy.
Single occupancy of a twin cabin is available at: 1.7 times the twin rate in Main Deck, Classic and Superior Suites; and 2.0 times the twin rate in Deluxe, Premium and Owner Suites.
Cabin share is available only in the following categories: Triple Classic, Main Deck, Classic and Superior Suites.
Adventure options: Kayaking Antarctic Peninsula voyages – $795  (double kayaks only), Kayaking South Georgia and Falkland Island voyages – $895, Camping – $285. Kayaking is limited to 16 participants and camping 30.  Adventure Options paid for at time of deposit.
Emergency Medical/Evacuation Insurance to a minimum benefit of USD 200,000 is required and is not included in the trip cost.
A fuel surcharge may be applied for all bookings if there is a substantial increase in fuel costs.
Antarctica Inclusions:
1 pre-voyage hotel night in Ushuaia;
Group transfer to the ship on day of embarkation;
Group transfer to airport or central location upon disembarkation in Ushuaia;
Shipboard accommodations;
All scheduled landings/excursions;
All lectures and briefings onboard;
All meals served aboard;
Coffee/tea/cocoa/espresso 24 hours daily;
Welcome drink and farewell dinner onboard;
A pair of rubber boots on loan for shore landings;
Expedition parka;
All port fees;
Pre-departure materials;
Digital Voyage Log