Russian Arctic, Spitsbergen – Franz Josef Land – Hondius, August 2023
Russian Arctic, Spitsbergen – Franz Josef Land – Hondius, August 2023
Trip Summary
Dates: August 13, 2023 – August 25, 2023
Duration: 13 Days
About the Franz Josef Land in the Russian High Arctic Itinerary
Don't miss your chance to be a part of this expedition, which includes islands rarely visited by other expedition ships. A journey to Franz Josef Land in the Russian High Arctic is a specialty of this expedition. This comprehensive voyage also explores Spitsbergen and is an unparalleled Arctic voyage of a lifetime.
Pricing Information
About the Franz Josef Land in the Russian High Arctic Itinerary
Don't miss your chance to be a part of this expedition, which includes islands rarely visited by other expedition ships. A journey to Franz Josef Land in the Russian High Arctic is a specialty of this expedition. This comprehensive voyage also explores Spitsbergen and is an unparalleled Arctic voyage of a lifetime.
Detailed Itinerary
Day 1: Longyearbyen, Svalbard
Welcome to Longyearbyen, the administrative capital of the Norwegian territory of Svalbard and starting point of our expedition. After arriving via scheduled commercial flight service, you are free to explore this fascinating Arctic settlement. Be sure to see the excellent Svalbard Museum and take advantage of quality shopping and dining opportunities in the town center. Your hotel for the night has been arranged by us and is included in the price of the voyage.
Day 2: Embarkation in Longyearbyen
In the afternoon we welcome you aboard the luxury expedition ship M/V Sea Spirit. Explore the ship and get comfortable in your home away from home for the extraordinary adventure to come. Savor the anticipation of your Arctic dreams coming true as we slip our moorings and sail into a true wilderness where wildlife abounds. The scenery as we sail through Isfjorden on our first evening is spectacular and there is already the possibility of marine mammal encounters.
Days 3 & 4: Across the Barents Sea
From Isfjorden we proceed forthwith around Svalbard and east to Franz Josef Land across the Barents Sea. Presentations and workshops by our expert staff prepare us for what lies ahead.
In these far northern latitudes it is possible to encounter sea ice any time of the year. All along the way we remain vigilant for sightings of ice-dependent marine mammals such as the elusive bowhead whale, various Arctic seal species, and the majestic polar bear.
Days 5 to 11: Exploration of Franz Josef Land
This is expedition cruising at its most authentic. As such, our route and exploration opportunities in Franz Josef Land are heavily dependent on weather and sea ice. Our experienced captain and expedition leader decide our best route and continually adjust plans as opportunities warrant in this wild and remote corner of the Arctic.
Between obligatory initial and final calls at the Russian polar station Nagurskoye in wildlife-rich Cambridge Bay, we are free to explore the many waterways and islands of this unique Arctic wilderness.
The archipelago, part of the Russian Arctic National Park since 2012, is a nature sanctuary. Polar bears and other quintessential High Arctic wildlife—such as walruses and some rare whale species—can be spotted anytime, anywhere in and around Franz Josef Land. Scree slopes and cliffs around the islands host enormous nesting colonies of migratory seabirds such as guillemots, dovekies, and ivory gulls. We'll take advantage of the 24-hour daylight to exploit every opportunity for wildlife viewing.
Franz Josef Land is also home to some interesting geological features, such as the mysterious stone spheres on Champ Island. Collectors of geographical extremes may take note that Cape Fligely on Rudolf Island is the northernmost point of land in the Eastern Hemisphere.
Franz Josef Land also offers visitors the opportunity to walk in the footsteps of famous polar explorers at well-preserved historical sites. The journals of explorers such as Julius von Payer, Benjamin Leigh Smith, Frederick George Jackson, and Fridtjof Nansen come alive at Cape Norway, Cape Flora, Eira Harbor, and Cape Tegetthoff. Memorials, monuments, crosses and the remains of dwellings are testimony to incredible historical events that are further illuminated by our expert lecturers.
Tikhaya Bukhta is currently a Russian Arctic National Park ranger station occupying Soviet-era research buildings and was also a major base for polar expeditions. Nearby the fascinating columnar basalt cliffs of Rubini Rock are home to thousands of nesting seabirds.
Days 12 & 13: Back to Svalbard
Following our week of exploration in Franz Josef Land, we cross back through the bountiful waters of the Barents Sea and then along the coastal islands of the Svalbard Archipelago. From panoramic open decks, enjoy Arctic landscapes and wildlife sightings. On ice floes and on fast ice, several species of seals watch vigilantly for polar bears, which can be spotted anytime, anywhere in and around Svalbard. Bountiful inshore and offshore waters are home to walrus and a wide variety of whales.
The crossing also gives our expedition team the opportunity to offer a final presentation or two in the Oceanus Lounge.
Day 14: Disembarkation in Longyearbyen, Svalbard
After breakfast we say farewell in the town of Longyearbyen, where we started. We provide a transfer to the airport or to the town center if you wish to spend more time here. As you look back on your wonderful experience in Svalbard, you may already be looking forward to your next incredible adventure to the ice!
Welcome Aboard the Hondius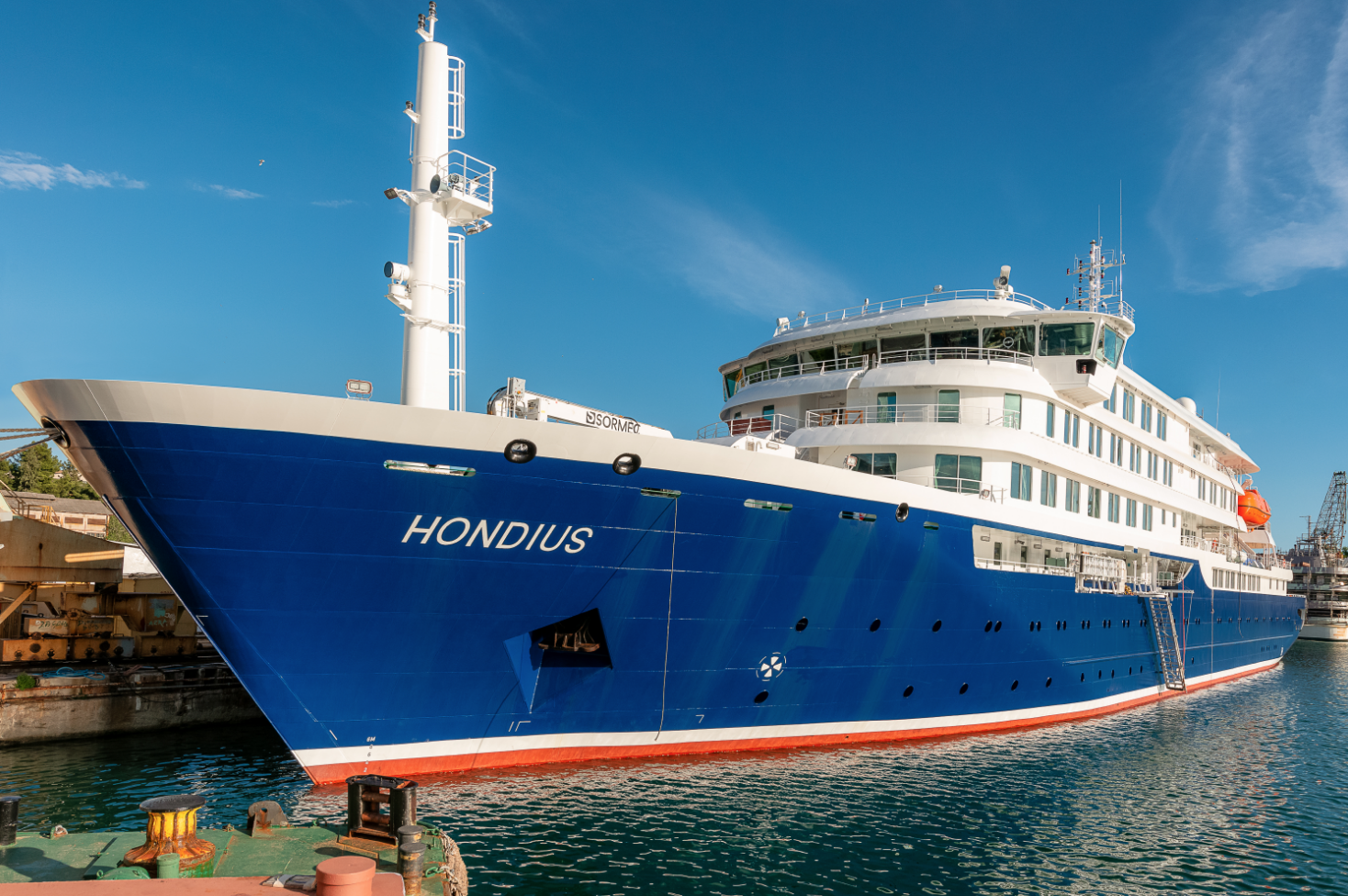 The all-new Hondius, launched in 2019, is designed from the ground up for rapid response to polar weather and wildlife conditions that exist nowhere else in the world. Hondius sets a standard as a structurally and technologically advanced polar cruise ship that not only meets the challenges of the polar regions but optimizes their opportunities for adventure.
As a Hondius passenger, you will enjoy cuisine, surroundings, and service that starkly contrast the rugged world just outside your window. An entire deck is dedicated to (multi-language) lectures and presentations in the presentation theater or the sizable observation lounge, and in combination with a fully provisioned bar and separate library room, provide ample opportunities to socialize and guarantee that what time you spend on board will be spent comfortably entertained. Take your pick of numerous cabins and suites, all custom-designed and impeccably outfitted in stylish mid-century modern décor.
Hondius is one of the first civilian vessels in the world to receive a Polar Class 6 notation, the most advanced category of polar cruise ship to date. When you set foot on Hondius, you are indeed choosing the best of modern marine science. Furthermore, Hondius exceeds the latest green requirements imposed by the International Maritime Organization, using only bio-degradable paints, LED lighting, steam heat, and flexible power management systems to keep fuel consumption and CO2 emission at the absolute minimum.
Highlights:
• Flexible, fast, and fortified. Capable of swift and safe response to fluctuating polar conditions.
• Ideal for land-based excursions. Sheltered Zodiac boarding zone for easier entry into the boats that will shuttle you to shore.
• Elegant, cozy, and surprising. Public areas, passenger lodgings, and cuisine that will fuel your exploration and stimulate your senses.
• Interactive, experiential, and informal. Activities that will engage and entertain you on the ship and off.
• Environmentally friendly technology to help ensure your cruise is higher impact for you, and lower impact for nature
Technical Specs
Length: 353 ft / 107.6 meters
Breadth: 25 ft / 17.6 meters
Draft: 17.4 ft / 5.30 meters
Ice class: Polar Class 6 (equivalent 1A-Super)
Displacement: 5,590 tonnes
Propulsion: 2 x ABC main engines; total 4,200 kW
Speed: 15 knots
Passengers: 176 in 83 cabins
Staff & crew: 72
Registered: The Netherlands
New build 2019
Cabins & Amenities
Large observation lounge
Fully provisioned bar
Library room
Notes
All rates are quoted per person based on twin occupancy.
Single travelers can chose between "single occupancy" at a supplement
of 1,7 x the Twin or Superior cabin rate , or "sharing basis" in Twin, Triple
or Quadruple category at no additional cost.
Adventure options must be pre-booked and paid for prior to start of the trip. Space is subject to availability. Some activities require experience.
Camping – From $190 per night, max 30 people.
Kayaking – From $465 per trip, max 14 people.
Snowshoe – No charge but sign up required
All trips subject to possible fuel surcharge.