North Spitbergen
North Spitbergen
Trip Summary
Dates: June 8, 2016 – June 15, 2016
Duration: 8 Days
About the 7-day Spitsbergen Highlights Itinerary
A Spitsbergen Classic trip provides you with the opportunity to get a taste of everything the Arctic has to offer, from polar bears and walrus to spectacular mountains and glaciers.  You will have the opportunity for hiking on shore as well as exploring and enjoying the beauty of Svalbard from zodiacs and your vessel. Pack in […]
Itinerary Map
Pricing Information
About the 7-day Spitsbergen Highlights Itinerary
A Spitsbergen Classic trip provides you with the opportunity to get a taste of everything the Arctic has to offer, from polar bears and walrus to spectacular mountains and glaciers.  You will have the opportunity for hiking on shore as well as exploring and enjoying the beauty of Svalbard from zodiacs and your vessel. Pack in all the excitement of an epic long arctic cruise into only seven days with the Spitsbergen Highlights: Expedition in Brief itinerary. In just a week, you'll cruise through the pack ice up to 80°N along the west coast of Spitsbergen like an explorer of long ago, on a constant search for wildlife. Though this rocky island is covered in mountains and glaciers, the towering cliffs and fjords play host to a surprisingly thriving and varied ecosystem. Exploring as much of the area as possible will provide optimal opportunities to spot the most iconic of arctic wildlife, the polar bear. The Arctic has been inspiring explorers for centuries, and our expeditions offer the chance for you to discover why.
Detailed Itinerary
Day 1 - Arrive in Oslo, Norway
Your Arctic voyage begins in Oslo, Norway's vibrant capital city. If you arrive early, there are many museums, restaurants and green spaces to keep you busy before retiring at your included airport hotel.
Day 2 - Embarkation Day in Longyearbyen, Svalbard
This morning, the group will transfer to the airport and board our private charter flight to Longyearbyen, Spitsbergen's largest settlement, where you'll have some time to explore before embarkation. As your ship sets sail, enjoy great vistas of the mountainous landscape that serves as a backdrop for this historic town.
Day 3-6 Exploring Spitsbergen
You'll sail around the shores of this magical island, constantly searching for polar bears and other natural wonders. Covering western Spitsbergen, your expedition will afford ample opportunities to view immense glaciers, deep fjords, soaring mountains and unique flora and fauna.
Sailing north into Krossfjord, have your camera handy, ready to capture some of the best glacier calving in Spitsbergen. Deep in the fjord, the highly active Lilliehöök Glacier awaits. Listen in awe to the growling as big chunks break off into the icy waters below. A Zodiac excursion to nearby Ny London, an abandoned mining settlement, provides an ideal place for a guided walk. Encounters with wildlife, such as the indigenous Svalbard reindeer, are possible here.
After cruising overnight, wake up to the stunning sight of the magnificent Monaco Glacier, another prolific iceberg producer. To make this even more thrilling, help your Expedition Team to scan the shorelines and ice edge for marine mammals. Possible landing sites include Texas Bar, Worsleyneset and the Andoyane Islands (where polar bears have been known to roam). At 80°N, you'll reach a walrus sanctuary on the tiny, crescent-shaped Moffen Island. Watching from the water as large groups of these lumbering giants jockey for space is an unforgettable experience, so be ready with your binoculars.
At Smeerenburg you can see the remains of an abandoned settlement that was established by Dutch whalers nearly 400 years ago. Here, at one of Europe's most northerly outposts, you'll have time to explore ashore and learn about Spitsbergen's whaling history. Afterwards, cruising to Magdalenafjord rewards you with panoramic vistas of snow-capped mountains and massive glaciers reflected in the crystal-clear waters.
During your last full day of your arctic adventure, you may visit the Russian mining town of Barentsburg, home of the world's northernmost brewery. We hope to round out the day in Alkehornet, taking in the towering cliffs teeming with nesting seabirds, such as fulmars and Brünnich's guillemots (thick-billed murres). Encounters with reindeer might be possible here too. Later, in the evening, swap stories with your shipmates and crew one last time, at the captain's dinner.
Day 7 - Disembark in Longyearbyen & fly to Oslo
The time to say goodbye has come. Your adventure ends as it began, in the frontier-style settlement of Longyearbyen. From here, we'll transfer you to the airport for your return group charter flight to Oslo.
Welcome Aboard the Ortelius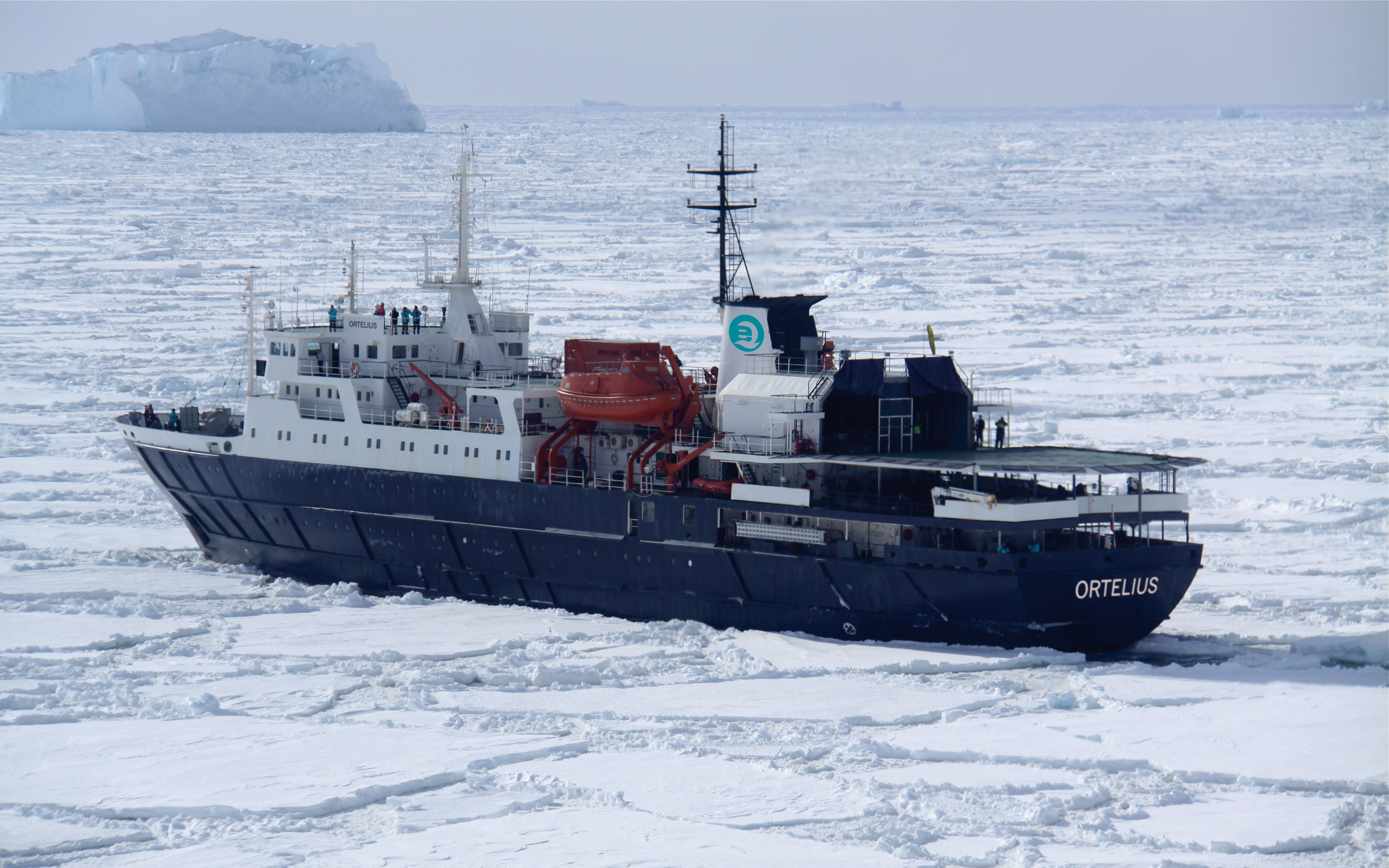 The ice-strengthened vessel Ortelius is an excellent vessel for Polar expedition cruises in the Arctic and Antarctica, capable of visiting  remote locations such as the Ross Sea and Franz Josef Land in the Arctic. Ortelius was built in Poland in 1989 and worked as a special purpose vessel for the Russian Academy of Science.
The vessel has the highest ice-class notation (UL1 equivalent to 1A) and is therefore very suitable to navigate in solid one-year sea ice and loose multi-year pack ice. Ortelius is a great expedition vessel for 100 passengers with lots of open-deck spaces and a very large bridge which is accessible to the passengers. Ortelius offers a comfortable hotel standard, with two restaurants, a bar, lecture room and a sauna.
Though our voyages are primarily meant to offer our passengers an exploratory wildlife program with as much time ashore as possible, Ortelius offers all the comforts of a standard hotel ― along with a bar and lecture room. Flexibility assures maximum wildlife opportunities. As such, Ortelius carries 10 Zodiacs with 60hp Yamaha engines.
Technical Specs
Passengers: 116
Staff & Crew: 47
Length: 91.25 meters
Breadth: 17.61 meters
Draft: 5.8 meters
Ice class: UL1 (equivalent to 1A)
Displacement: 4575 tonnes
Engines: 6 ZL 40/48 SULZER
Speed: 12 knots (14.3 knots max)
Ortelius can accommodate up to 116-123 passengers and has an abundance of open-deck spaces. It is manned by 22 highly experienced nautical crew members, 19 hotel staff, eight expedition specialists (one expedition leader, one assistant, and six lecturer-guides), and one doctor.
Cabins & Amenities
Two restaurants with open seating
Bar / observation lounge
Elevator
Internet access
Private facilities – sink, toilet shower, hairdryer and bathrobes in every cabin
Multi-purpose presentation room with state-of-the-art equipment
Stabilizers for smooth sailing
10 zodiacs onboard
Notes
Rates are per person, based on twin share. Single Supplement for twin cabins is 1.7 times the twin rate.
Mandatory Emergency Evacuation insurance is required on all trips.
Camping – From USD$190 per night, max 30 people
Kayaking – From USD$465 per trip, max 14 people
Snowshoe – no charge but sign up required
Adventure Activities for the "Base Camp" voyages are free of charge
There is always a possibility of an added fuel surcharge if marine oil prices raise significantly.
SHIP CAPACITY UPDATE: Starting with 2020 Arctic & 2020-2021 Antarctica Season, the ship capacity will be reduced to 108 passengers  & no triple cabins will be available. We can accommodate three passengers traveling together in a Superior Cabin + a sofa bed.