Trip Summary
Dates: June 23, 2019 – July 6, 2019
Duration: 14 Days
Free Charter Air Until June 15th, 2018!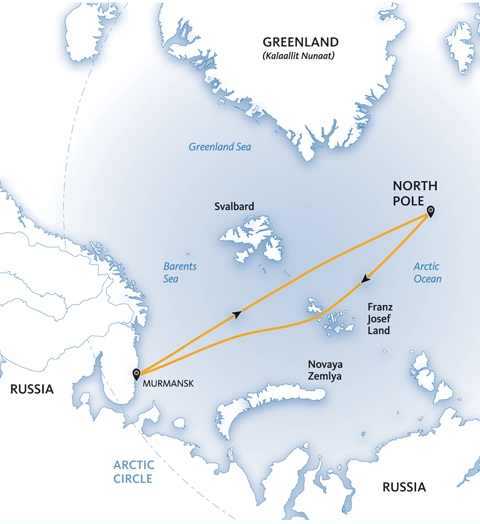 About the North Pole Itinerary
To reach the North Pole is the pinnacle of Arctic expedition endeavors. Few people can say they stood at the one earthly spot where every direction is south. Crushing through the ice, admiring soaring seabirds and visiting Franz Josef Land, your voyage will be one that you won't soon forget. The added excitement of helicopter excursions at the top of the world make this Expedition adventure a true once-in-a-lifetime experience. Although there's more than one definition of "the North Pole", the most popularly accepted one is geographic: a fixed location in the northern hemisphere at the Earth's axis of rotation, latitude 90°N (longitude not applicable). Unlike the South Pole, which is located on the continent of Antarctica, the geographic North Pole is covered by nothing but a sheet of shifting ice on the surface of the Arctic Ocean. There is thus no permanent habitation nor even an official marker for the position, as the ice moves from year to year. Although it was once an elusive goal that took the lives of many explorers, thanks to modern aviation and other technology, it is now the destination of commercial travel expeditions. The North Pole can only be reached on expeditions specifically mounted for the purpose. Most travel primarily by air, sometimes with a component traversing the last leg of the journey on the ice. The other alternative is traveling by boat, on an ice-breaker cutting through the Arctic Ocean. (http://wikitravel.org/en/North_Pole)
Detailed Itinerary
Day 1
Your adventure begins in Helsinki, Finland where you will spend one night.
Day 2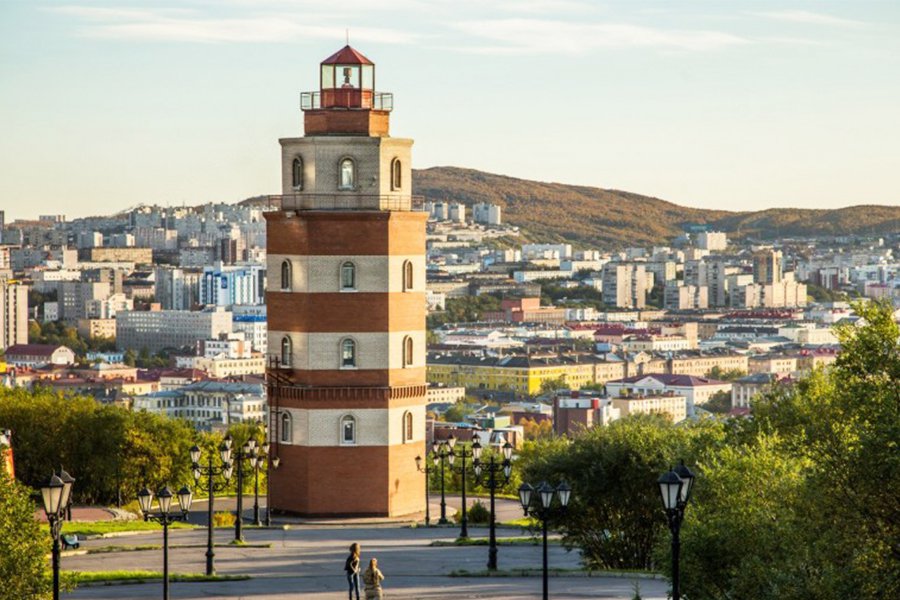 Today you will make your way from Helsinki to Murmansk, Russia via plane. Murmansk is Russia's northernmost city. You will then become acquainted with 50 Years of Victory, an icebreaker ship that will be your home for the next 2 weeks as you journey to the North Pole.
Day 3-6
For the next several days you will make the crossing from Murmansk to the North Pole. The length of the crossing will vary based on weather conditions. During this part of your adventure you will have the time to use all of the ship's amenities, chat with other passengers, and admire the scenery. If the weather allows, you can choose to hop aboard a helicopter and see the ship from above.
Day 7
Your expected arrival at the North Pole! You will be able to take plenty of photos and appreciate your time at 90˚North. You will celebrate your trip with a barbecue and, if you want, an Arctic plunge.
Day 8-10- Franz Josef Land
Enjoy your time at sea as you travel south.  As time allows, you will check out Franz Josef Land, an archipelago of more than 190 island filled with glaciers and marine mammals including seals and whales. Your ship will have smaller zodiac boats which will allow you to explore the landscape up-close. These islands are remote and few people have had this unique opportunity.
Day 11-12
Continue to enjoy your time on the icebreaker as you make your way back to Murmansk. You can head to the ship's gym or relax in the library.
Day 13
You will arrive in Murmansk and fly back to back to Helsinki for one final night with your shipmates.
Day 14
Sadly, your adventure comes to an end. You will fly out of Helsinki with memories of your time in the Arctic Circle.
---
Welcome Aboard the I/B 50 Years of Victory
I/b 50 Years of Victory is not a tourist ship. Rather, the icebreaker was purpose-built to pilot scientific and cargo ships to hard-to-reach areas of the Arctic and along the Northeast Passage. It is just during the short summer months when adventurers get a once-in-a-lifetime chance to travel aboard this real working icebreaker to the geographic North Pole.
Technical Specs
160 m (525 ft.)
30 m (98 ft.)
Speed   21 knots
128
Crew   140
Cabins & Amenities
Dining Room (seating is unreserved)
Aft Saloon for lectures, presentations and socializing
Bar & Lounge with front view
Shop
Library & lounge
Gym
two Saunas and Swimming Pool with heated sea water
Clinic  with passenger doctor (licensed)
Notes
Despite the fact that the "Victory" was not designed with touristic purposes in mind, it offers comfortable accommodation and gourmet cuisine for its guests. Public spaces create friendly, casual atmosphere for socializing and get-togethers.
Gratuities included!
Wine and beer included with dinner aboard ship.
Rates are per person based on twin occupancy. Twin cabins are available for single occupancy at 1.7 times the share price. Mini-Suites and above are available for single occupancy at 2 times the share price.
All cabins have private baths and are smoke-free. Smoking is only permitted in designated areas only.
Emergency Evacuation Insurance for all passengers to a maximum of $500,000 per person is included; however, the charter flight is not.
Hot Air Balloon option is $495 per person, payable on the ship.
Prices
Interested in this Trip? Contact Us Now