Falklands, South Georgia & Antarctica- Departure from Puerto Madryn
Falklands, South Georgia & Antarctica- Departure from Puerto Madryn
Trip Summary
Dates: October 21, 2024 – November 10, 2024
Duration: 21 Days
Starts in Puerto Madryn ends in Ushuaia
About the Falklands, South Georgia + Antarctic Peninsula via Puerto Madryn, Argentina Itinerary
This extended expedition encompasses the wildlife paradise of South Georgia, the remote Falkland Islands (Islas Malvinas), as well as the extraordinary beauty of the Antarctic Peninsula. Depart from Puerto Madryn, Argentina, a growing Peninsula Valdes town with whale watching and penguin viewing. This trip saves one flight to Ushuaia and adds two days of education and experience […]
Itinerary Map
Pricing Information
About the Falklands, South Georgia + Antarctic Peninsula via Puerto Madryn, Argentina Itinerary
This extended expedition encompasses the wildlife paradise of South Georgia, the remote Falkland Islands (Islas Malvinas), as well as the extraordinary beauty of the Antarctic Peninsula. Depart from Puerto Madryn, Argentina, a growing Peninsula Valdes town with whale watching and penguin viewing. This trip saves one flight to Ushuaia and adds two days of education and experience onboard en route to the Falkland Islands. You'll experience a great diversity of environments and landscapes, which will provide unprecedented wildlife viewing opportunities. In brief:
Explore the world's seventh continent on the Antarctic Peninsula by ship, Zodiac and on foot.
Learn about Antarctica's unique geology, history and wildlife with an expert team of lecturers.
See the incredible wildlife of South Georgia, often referred to as 'the Galapagos of the South'. This includes more than 30 species of breeding birds, including four species of Penguin.
Follow in the footsteps of Sir Ernest Shackleton's perilous voyages on South Georgia and pause for a moment at his graveside.
Explore the quaint, British town of Port Stanley in the Falkland Islands.
On board lecturers and educational presentations from Polar Specialists.
Experience Puerto Madryn before embarkation.
Detailed Itinerary
Day 1: Puerto Madryn
Located in the Patagonian province of Chubut, Puerto Madryn is one of Argentina's fastest growing cities and the gateway to the Peninsula Valdés. Puerto Madryn is a popular resort destination for wildlife excursions – visit a sea lion colony or take a whale watching trip to view the Southern Right Whales, watch for nesting cormorants and magnificent elephant seals, or experience a walk through a colony of Magellanic penguins and myriad species of native seabirds.
Day 2: Embarkation
DAY 2 EMBARKATION
Arriving at the ship in the afternoon, you will be greeted by our Expedition Team and ship's officers at a safety and orientation briefing followed by the Captain's welcome dinner. Then, watch the city lights fade in the fresh night air as we sail seaward.
Days 3-4: Southern Ocean
Among the wildlife spotting opportunities as we sail south are the albatrosses, prions, and petrels that frequently follow the ship. Our Expedition Team will be out on deck as well, looking for the whales and dolphins that may also be seen in the area. Our experts will begin the presentations with informative and entertaining talks on the wildlife, history, and geology of The Falkland Islands and Southern Ocean. Helpful briefings on environmental regulations and expedition safety will also be held in the comfortable lounge.
Day 5: West Falklands
The westernmost settled outposts in the Falklands are remote farms that have been family-owned for six and seven generations. The sheep graze alongside albatross colonies and rockhopper, king, and Magellanic penguin rookeries while striated caracaras patrol overhead and upland geese graze at the water's edge. A visit to one of these homesteads often includes an invitation for cakes and a cup of tea.
Day 6: Stanley, East Falklands
Chosen for its sheltered harbor and access to abundant fresh water and peat for fuel, Stanley is easy to discover on foot as most shops and services are centered on the port. The museum, the post-office featuring first day covers, plenty of shops with locally made wool items and Stanley's lively pubs will all be available. It is possible to experience the wildlife of the Falklands from the town including sea lions and Peale's and Commerson's dolphins in the harbor or bird life in nearby Gypsy Cove.
Days 7-8: Southern Ocean
There will be plenty of wildlife spotting as we make our way east across the Antarctic Convergence and officially enter Antarctic waters. Shipboard presentations will continue featuring the exciting history and abundant wildlife of South Georgia.
Days 9-12: South Georgia
Its unique position inside the Antarctic Convergence yet outside the limit of the yearly sea ice makes this 3,755 square kilometer island home to tens of millions of breeding penguins, seals and seabirds. Magnificent mountain scenery, glaciers galore, a rugged coastline punctuated with castellate and tabular icebergs, a rich historical tapestry, and an astounding array of wildlife are all available to us as we travel down South Georgia's leeward coast. Landing sites feature huge elephant seals, aggressive fur seals, macaroni penguins, albatross, petrels, skuas, and gulls. King penguins from fuzzy little chicks to fattened adults can be seen in the hundreds of thousands. We will visit historic Grytviken whaling station, home of the whaling museum, Norwegian seaman's church, the active British Antarctic Survey station plus the tiny graveyard where the great Antarctic explorer Sir Ernest Shackleton is buried.
Days 13-14: Scotia Sea
Heading farther south, we continue our informative presentations and wildlife watch as the icebergs become more and more plentiful.
Days 15-18: Antarctic Peninsula & South Shetland Islands
Our Expedition Leader and Captain will create a flexible itinerary based on weather, ice, and opportunity. The route will stress the most scenic bays and channels of the Peninsula with stops at penguin rookeries, seal wallows, bird colonies and whale feeding areas as well as sites of historic and scientific interest. The trip may include picturesque Neko Harbor, sheltered Paradise Harbor, the Humpback Whale favored Wilhelmina Bay, the the wildlife-filled Errera Channel, the majestic Neumayer Channel, or the striking Antarctic Sound with its tabular icebergs. We may stop at an active scientific base such as Poland's Arctowksi or Argentina's Esperanza as well as an historic base such as U.K.'s Port Lockroy or the Nordenskjöld expedition remains at Hope Bay. Adelie, Chinstrap and Gentoo Penguins abound, and Weddell, Crabeater and Elephant Seals are often found hauled out to rest along with predatory Leopard Seals and the irritable Antarctic Fur Seal. Minke and Humpback Whales are frequent visitors in the late season and Orca sightings are also common.
Days 19-20: Drake Passage
We will continue our lecture series and wildlife spotting as we sail back to Ushuaia and reflect on beautiful Antarctica and its fragile future.
Day 21: Disembarkation in Ushuaia
Morning disembarkation lets you catch a flight to Buenos Aires or stay in Ushuaia for more sights and adventure.
Welcome Aboard the Ortelius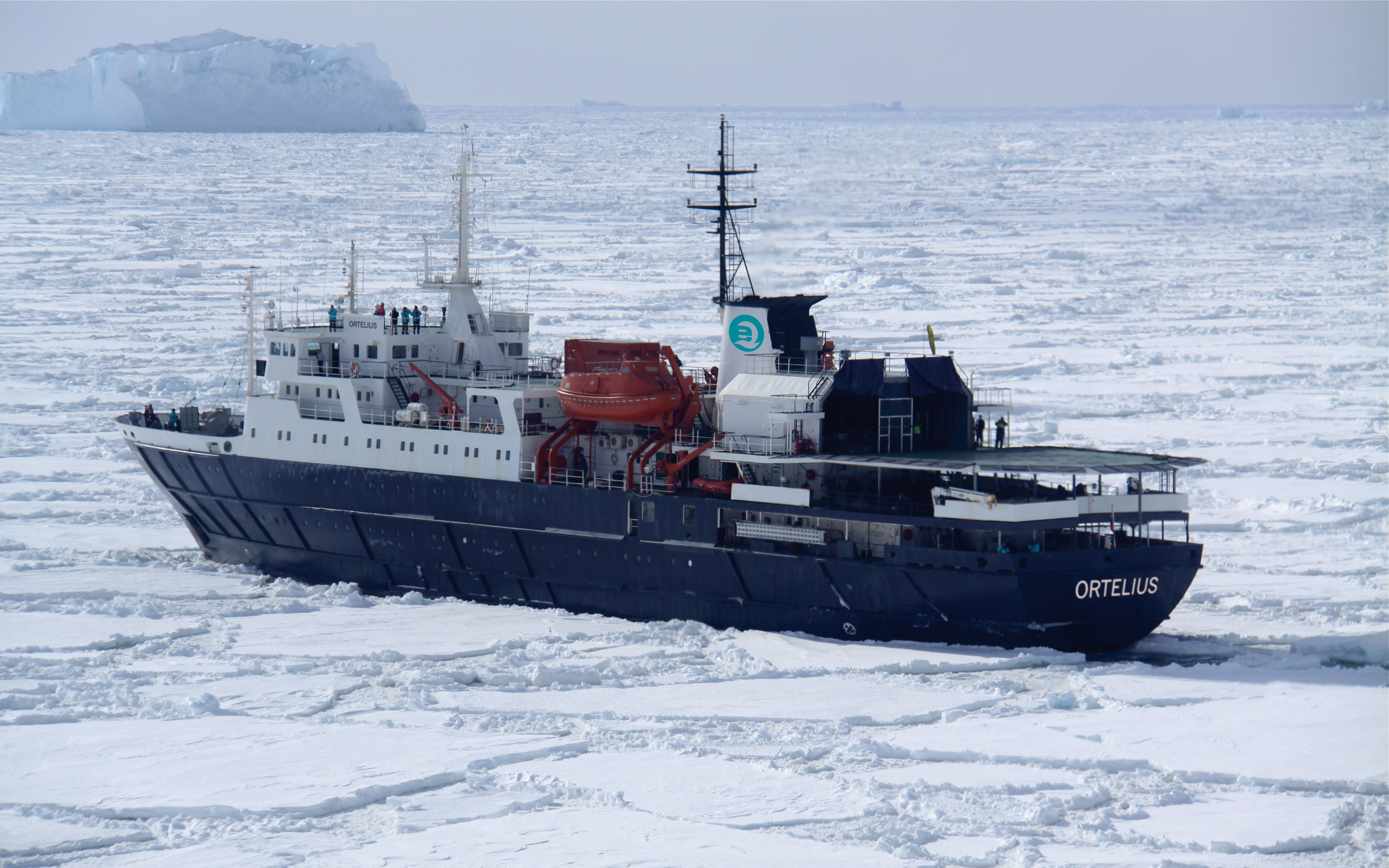 The ice-strengthened vessel Ortelius is an excellent vessel for Polar expedition cruises in the Arctic and Antarctica, capable of visiting  remote locations such as the Ross Sea and Franz Josef Land in the Arctic. Ortelius was built in Poland in 1989 and worked as a special purpose vessel for the Russian Academy of Science.
The vessel has the highest ice-class notation (UL1 equivalent to 1A) and is therefore very suitable to navigate in solid one-year sea ice and loose multi-year pack ice. Ortelius is a great expedition vessel for 100 passengers with lots of open-deck spaces and a very large bridge which is accessible to the passengers. Ortelius offers a comfortable hotel standard, with two restaurants, a bar, lecture room and a sauna.
Though our voyages are primarily meant to offer our passengers an exploratory wildlife program with as much time ashore as possible, Ortelius offers all the comforts of a standard hotel ― along with a bar and lecture room. Flexibility assures maximum wildlife opportunities. As such, Ortelius carries 10 Zodiacs with 60hp Yamaha engines.
Technical Specs
Passengers: 116
Staff & Crew: 47
Length: 91.25 meters
Breadth: 17.61 meters
Draft: 5.8 meters
Ice class: UL1 (equivalent to 1A)
Displacement: 4575 tonnes
Engines: 6 ZL 40/48 SULZER
Speed: 12 knots (14.3 knots max)
Ortelius can accommodate up to 116-123 passengers and has an abundance of open-deck spaces. It is manned by 22 highly experienced nautical crew members, 19 hotel staff, eight expedition specialists (one expedition leader, one assistant, and six lecturer-guides), and one doctor.
Cabins & Amenities
Two restaurants with open seating
Bar / observation lounge
Elevator
Internet access
Private facilities – sink, toilet shower, hairdryer and bathrobes in every cabin
Multi-purpose presentation room with state-of-the-art equipment
Stabilizers for smooth sailing
10 zodiacs onboard
Notes
Rates are per person, based on twin share. Single Supplement for twin cabins is 1.7 times the twin rate.
Mandatory Emergency Evacuation insurance is required on all trips.
Camping – From USD$190 per night, max 30 people
Kayaking – From USD$465 per trip, max 14 people
Snowshoe – no charge but sign up required
Adventure Activities for the "Base Camp" voyages are free of charge
There is always a possibility of an added fuel surcharge if marine oil prices raise significantly.
SHIP CAPACITY UPDATE: Starting with 2020 Arctic & 2020-2021 Antarctica Season, the ship capacity will be reduced to 108 passengers  & no triple cabins will be available. We can accommodate three passengers traveling together in a Superior Cabin + a sofa bed.