Falklands, South Georgia & Antarctic Peninsula – Bark Europa, Nov. 2023
Falklands, South Georgia & Antarctic Peninsula – Bark Europa, Nov. 2023
Trip Summary
Dates: November 14, 2023 – January 24, 2024
Duration: 50 Days
About the Falkland Islands, South Georgia + Antarctic Peninsula via Montevideo Itinerary
This extended expedition encompasses the wildlife paradise of South Georgia, the remote Falkland Islands (Islas Malvinas), as well as the extraordinary beauty of the Antarctic Peninsula. Depart from Uruguay capital Montevideo, saving one flight to Ushuaia and adding three days of education and experience onboard. You'll experience a great diversity of environments and landscapes, which […]
Itinerary Map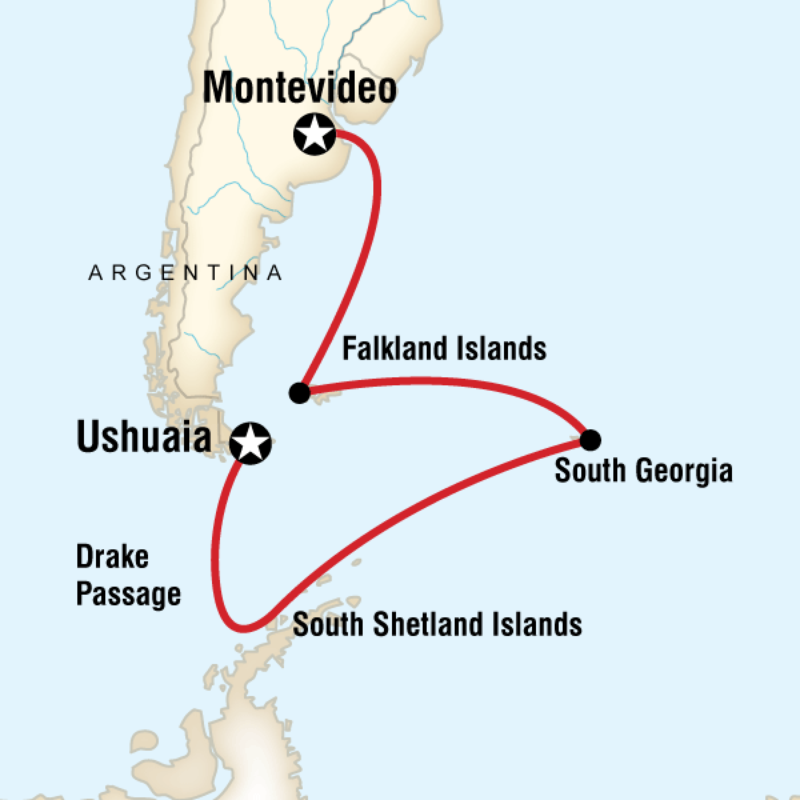 About the Falkland Islands, South Georgia + Antarctic Peninsula via Montevideo Itinerary
This extended expedition encompasses the wildlife paradise of South Georgia, the remote Falkland Islands (Islas Malvinas), as well as the extraordinary beauty of the Antarctic Peninsula. Depart from Uruguay capital Montevideo, saving one flight to Ushuaia and adding three days of education and experience onboard. You'll experience a great diversity of environments and landscapes, which will provide unprecedented wildlife viewing opportunities. In brief:
Explore the world's seventh continent on the Antarctic Peninsula by ship, Zodiac and on foot.
Learn about Antarctica's unique geology, history and wildlife with an expert team of lecturers.
See the incredible wildlife of South Georgia, often referred to as 'the Galapagos of the South'. This includes more than 30 species of breeding birds, including four species of Penguin.
Follow in the footsteps of Sir Ernest Shackleton's perilous voyages on South Georgia and pause for a moment at his graveside.
Explore the quaint, British town of Port Stanley in the Falkland Islands.
On board lecturers and educational presentations from Polar Specialists.
Experience Montevideo before embarkation.
Detailed Itinerary
Day 1: Montevideo, Uruguay
Your gateway for this expedition is Montevideo, Uruguay. Arrive at any time. Enjoy the sights and sounds of Uruguay's capital city.
Day 2: Embarkation
As you embark, the anticipation and excitement grows. Trade your land legs for sea legs, meet and greet your fellow travelers, Expedition Team and get acquainted with your ship. As every Antarctic adventure presents new opportunities and experiences, Embarkation day is just as exciting for your Expedition Team as it is for you. They're onboard to ensure your comfort and safety, as well as help make your wildlife dreams come true.
Days 3-5: At Sea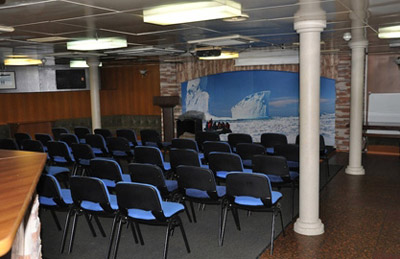 There are many activities to keep you engaged while at sea. Learn to identify seabirds that glide alongside the ship or attend illustrated presentations by your Expedition Team. You will be prepped on procedures for your Zodiac cruises and shore landings as well as be given important biodiversity information for protecting the remote places.
Days 6-7: Falkland Islands (Islas Malvinas)

Upon arrival in this archipelago your cameras will get their first real workout capturing the abundant wildlife and rugged feel of these remote islands. The Falkland archipelago contains two main islands – East and West, which you will explore by Zodiac excursions and daily landings.
One landing that will surely stick out in your memory is at Port Stanley. This unique British outpost has a ramshackle charm to it. The largest settlement in the Falklands, you'll spend your day here visiting churches, museums, wandering around town and perhaps mingling with locals at a typical British pub.
In terms of wildlife, the archipelago is home to a variety of penguin species, including Magellanic, Gentoo and Rockhopper. If lucky, you may spot King Penguins here as well! Also expect to see Black-browed Albatross and many other bird species around the islands, including an opportunity to see the two endemic species; Cobb's Wren and the Falklands flightless steamer duck. Your team of lecturers and specialists will be sure to educate you on the local flora and fauna so that you get the most of a memorable time in the Falklands.
Days 8-9: At Sea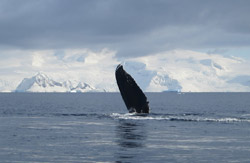 The lecture series and wildlife spotting will continue on the way to South Georgia as you prepare to visit the 'Galapagos of the Polar regions.'
Days 10-13: South Georgia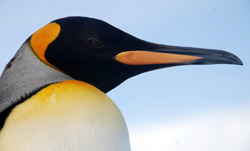 This remote outpost has long been a center for exploratory expeditions and commercial exploitation. Many of first European inhabitants arrived to the island to hunt whales and elephant seals. Populations were once decimated, but thankfully populations have rebounded largely because whaling and sealing in South Georgia no longer exist. You will see many remnants of these past activities; including several whaling stations and other abandoned outposts.
One significant and historic site that will be of interest is the grave of the great explorer, Sir Ernest Shackleton. You can visit his grave at the settlement of Grytviken, which is also home to an old whaling station, the museum and a small gift shop and church and a research station of approximately 20 scientists and support personnel.
While South Georgia's history is an important attraction to the islands, it is the wildlife on South Georgia that you and your shipmates will likely find the most captivating. Often referred to as the Galapagos of the Poles, South Georgia contains an exceptional quantity of wildlife. Each landing you make on South Georgia will open your eyes to a new wonder of wildlife. One day you may see rookeries with thousands of King Penguins waddling on the beach. Another day could take you to a beach with jousting elephant or fur seal beachmasters fighting to retain their harems. The grasses, mountains and beaches of South Georgia all play an important role in the breeding and survival of different species, something that your Expedition Team will be pleased to tell you about during your excursions on this impressive and unique island.
Days 14-15: At Sea
Say goodbye to the king penguins, as your next destination is Antarctica! Your days at sea are filled with seminars from your Expedition Team, who will prepare you for the wildlife that will be greeting you upon your arrival in Antarctica. In between presentations, spend time chatting with your shipmates over a drink at the bar.
Days 16-19: Antarctic Peninsula and South Shetland Islands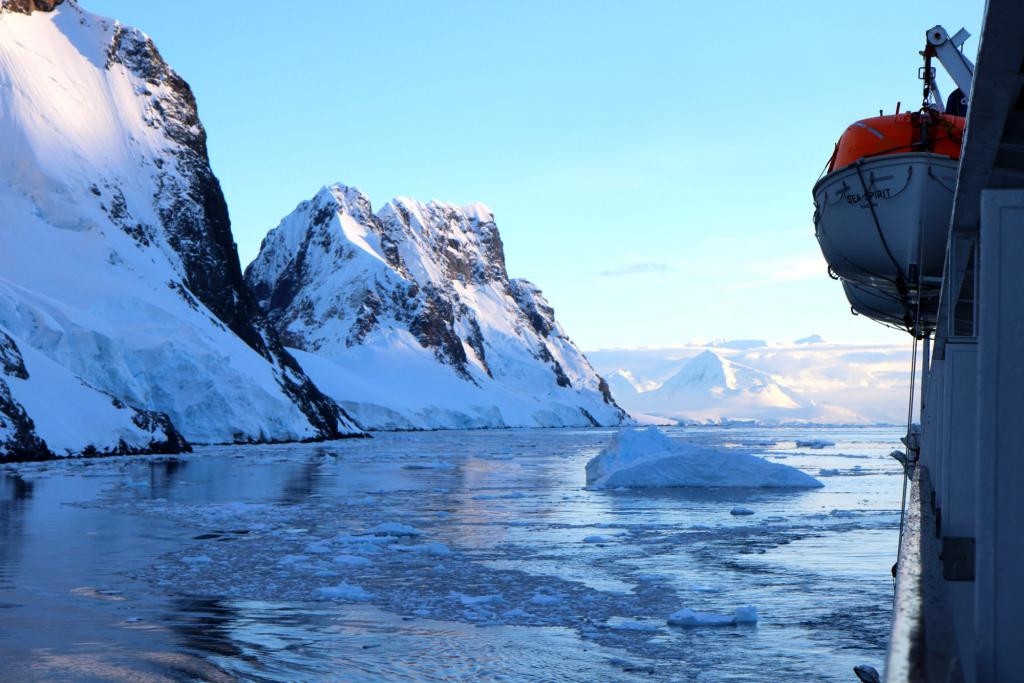 The most common reaction to arriving at the white continent is a sense of reverence and awe. The experience is hard to put into words, as few places are as untouched, unique and enduring as Antarctica. You will discover that Antarctica is a land of extremes. At one moment you'll be overcome with a feeling of complete desolation and silence, at the next moment you'll be inspired by nature as a calving glacier crashes into the brilliant blue sea or a penguin comes waddling by to inspect your footwear.
Guided hikes with the Expedition Team will have you trekking up a glacier, visiting a research station, or consorting with penguin colonies. Chinstrap, Gentoo and Adélie penguins are found here, along with Fur, Weddell, Crabeater and Leopard Seals. Curious whales, such as Minkes, are often attracted to Zodiacs as well, giving you a chance to get within reaching distance of these majestic animals. Each day and each landing will present a new collection of creatures to entertain you and keep your camera shutter busy.
As exciting as the Zodiac excursions and landings are, perhaps you'll treat yourself to an extra special Antarctic experience by partaking in a kayaking excursion.
Days 20-21: Drake Passage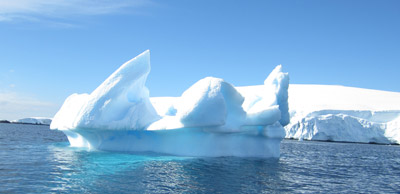 After more than two weeks of endless wildlife encounters, your journey home begins. Crossing the Drake Passage is your unofficial rite of passage, which will complete your Antarctic adventure. Enjoy some final moments mingling with your fellow travelers. The noisy, busy, populated world awaits your return, so savor the silence of the sea as long as you can.
Day 22: Ushuaia
After breakfast aboard the ship, it is time to part ways and say goodbye to your Expedition Team. A transfer to the airport for your homeward flight will be offered.
Welcome Aboard the Bark EUROPA
Since the year 2000, the Bark EUROPA has been crossing oceans and seas on a regular basis and has the reputation of being a ship that really sails. Our voyages bring us to remote islands and cities all over the world, giving you the possibility to step on board halfway through a long ocean crossing. Bark EUROPA follows the favourable winds of traditional sailing routes. This has brought her to all continents, sailing the Atlantic, Pacific and Indian Ocean, thus earning her nickname 'Ocean Wanderer'. From December to March, in the Southern hemisphere summer, the EUROPA conducts expeditions to the Antarctic Peninsula. The EUROPA also participates in the Tall Ships races, the largest international ocean races for sail-training ships in the world. Races occur annually in various parts of the world with thousands of spectators. Our crew and guests are international and of different ages, united in their search for adventure and new experiences.
Technical Specs
| | |
| --- | --- |
| Build | 1911 |
| Home port | Scheveningen, Netherlands |
| LOA | 56 meter |
| Width | 7.4 meter |
| Draught | 3.9 meter |
| Height | 33 meter |
| Max. Sails | 1250 m2 |
| Engines | 2 x 365 pk Caterpillar |
| Call Sign | PDZS |
Permanent crew: 16
Voyage crew (guests): 48
Sails
As a three masted bark the EUROPA has quite a lot of sails. Once on board you will receive a sailors handbook with more details on the names of the sails and all the corresponding sails.
Things you like to know about sailing with the Europa:
| | |
| --- | --- |
| Maximum speed | The max hull speed is just over 13 knots. In reality 12.5 knots has been made |
| All sails up | It takes about 45 minutes to hoist all sails |
| All sails down  | It takes about 5 minutes to take all sails down |
| Rope on board  | Including all sheets, halyards, clew and buntlines, brasses and mooringlines there is 5,5 kilometer rope on board |
| Close hauled | The EUROPA can sail on a 65 degrees close hauled course |
Cabins & Amenities
All cabins have ensuite facilities
One dining room with a large kitchen
Library
Bar/lounge area
Ship-to-shore communications via satellite
Cabins
If you are traveling as a couple you can decide to book a 2-persons cabin, but you can also be placed together with another couple in a 4-persons cabin. Single travelers can find their bunk in a 4- or 6-persons cabin (male or female cabins). We cannot guarantee any specific cabin or bunk to you, we can make a note of your preference, however the final cabin overview will be made on board by the captain.
There are four 2-person cabins, four 4-person cabins and four 6-person cabins. The classic romantic bunks are very comfortable. All cabins are provided with ensuite shower and toilet.  Every bunk has its own sheet, duvet and covers. You do not have to bring your own sleeping bags. Towels will be provided too. During the Antarctica voyages or the long ocean crossings a maximum of 5 persons will be placed in a 6-persons cabin.
Food
At sea it is very important to eat and drink well. An experienced cook and cooks mate prepare excellent meals every day. You will be suprised by the variety of dishes. The cook will often use local ingredients from the ports we visit. And if allowed a fresh caught fish will be on the menu as well!
On Board EUROPA you have a choice between vegetarian and non-vegetarian meals. You can make your choice know on the booking form.
Notes
Many people who come on board struggle to believe the history of the hull of this classic three-master. The Special purpose sail training ship EUROPA was built in 1911. In 1994 she was fully restored as a barque (three mast rigged ship) and now roams the seas of the world in the best seafaring tradition. With a professional crew of maximum 14 and a complement of 48 voyage crew members of different ages and nationalities, EUROPA is powered by canvas and co-operation. The crew makes sure the ship operates safely. The atmosphere on board reflects an adventurous maritime history. The traditional mahogany deckhouse, teakwood decks and floors as well as the beautiful interior with authentic early 20th century details provide a perfect ambiance for a fantastic voyage.
No Experience Needed
Everyone is welcome to take the helm, set sails, assist with manoeuvres, navigation, weather observations, furling the sails on the yards and much more. The permanent crew will give lectures and instruct you during the voyage in steering, navigation and line handling. This will be done in a "Dutch" style, so without yelling, blowing whistles and so on. Also, you will find no uniforms on the Bark EUROPA. Crossing the ocean properly with a square rigger under sail like the Bark EUROPA is a team effort, so we appreciate every input from the voyage crew. Sailing experience is not necessary. Instructions will be given in watch responsibilities, basic sail theory, line handling, steering and navigation.
There is always something new to see or to learn from the crew, of the voyage crew or by our environment. For some of the guests sailing on board EUROPA feels like an escape from their daily routine. Think of a relaxing time without your phone and without internet. Without Google you turn to each other and books for information. Let the people onboard surprise you with their knowledge of very diverse subjects. Live in the moment and admire the wonder of nature. During a voyage on board you establish a routine that is relaxing and comfortable but keeps you occupied.
Teamwork
One hour on board the Bark EUROPA and it will instantly be clear: "teamwork" has to be the key to this beautiful traditional sailing vessel. No winches, but an infinity of lines; at first glance maybe a complete jungle. The hundreds of blocks look like spiders in their webs. The novice sailor will be introduced to these matters every day and, after a few weeks, all those lines, blocks, stays, booms with their impossible names and functions become an open book.
Ideal for OceanCrossings
The ship is ideal for ocean crossings and longer voyages, with various places for relaxing: library, lounge, poker corner and deckhouse. These different areas allow you to do your own thing: perhaps some quiet reading or a more active role in the social life in the deckhouse. In the aft of the ship you have the Library. This is usually the most quiet place of the ship so ideal to read a book or work on your own logbook. On tweendeck level you will find the Lounge. Breakfast is served here but this room also is used by the guides to have their lectures and show their movies. In the deckhouse you will find the ship's Bar with the nice benches to meet your fellow crew and toast on another wonderful day.