Crossing the Circle – Ocean Atlantic, Feb. 2019
Crossing the Circle – Ocean Atlantic, Feb. 2019
Trip Summary
Dates: February 2, 2019 – February 11, 2019
Duration: 10 Days
-Chinese Charter-
About the Antarctic Circle Voyage (with hotel) Itinerary
Extend your time in Antarctica and make landings in less frequented sites south of the Antarctic Circle; Incredible icebergs Millions of penguins – Adélie, gentoo, chinstrap 5 species of seals – crabeater, Weddell, leopard, fur and southern elephant Whales – humpback, minke, orca Visit historic research stations in the area of Marguerite Bay * Itineraries […]
Itinerary Map
About the Antarctic Circle Voyage (with hotel) Itinerary
Extend your time in Antarctica and make landings in less frequented sites south of the Antarctic Circle;
Incredible icebergs
Millions of penguins – Adélie, gentoo, chinstrap
5 species of seals – crabeater, Weddell, leopard, fur and southern elephant
Whales – humpback, minke, orca
Visit historic research stations in the area of Marguerite Bay
* Itineraries on our website are intended only as a guide and you should consult our team for detailed itineraries on specific voyages.
Detailed Itinerary
Day 1: Ushuaia, Argentina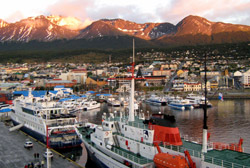 Today is the first day of your adventure in the world's southernmost city at the tip of Argentina. Embark in the afternoon. Start to become familiar with the expedition staff and ship. In the early evening, set sail and begin the voyage leaving behind Ushuaia and charting a course through the Beagle Channel.
Day 2-3: Drake Passage
Crossing the Drake Passage, there is so much excitement in the air as you get ever closer to the white continent. Guests eagerly soak up the friendly atmosphere on board as our numerous Polar experts prepare you for your adventures with presentations on everything Antarctic, from wildlife to history. Eventually, cross the Antarctic Convergence where you will notice a distinct drop in temperature as you enter the waters of the Antarctic Ocean. Along the way, witness many spectacular sights from icebergs to an array of seabirds and even several whale species some of which are known on occasion to fully breach from the sea.
Days 4-8: Antarctic Peninsula & South Shetland Islands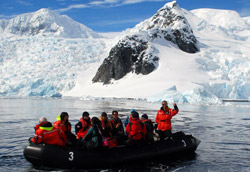 In the waterways of the Antarctic Peninsula, the goal is to make as much time as possible to explore by inflatable Zodiac boats and marvel up close at nature's glory. The first goal will be to sail south of the Antarctic Circle and into Matha Strait or Marguerite Bay. Given favorable ice conditions, the captain will push our exploration even further southward, looking for historic and wildlife sites. From the most southerly point (south of the Antarctic Circle), we will make our way north along the Antarctic Peninsula, cruising through the narrow waterways and channels of the Antarctic Peninsula. Spectacular waterways such as Crystal Sound, the Lemaire Channel, the Neumeyer Channel and the Gerlache Strait will all feature in the itinerary. Landing sites might include Neko Harbour, Wilhelmina Bay, Petermann Island and the Yalours, where you will observe Weddell, crabeater and elephant seals, skuas and other seabirds as well as an abundance of penguins including some very large colonies of the comical Adelie penguin.
At Half Moon Island you will visit a breeding colony of chinstrap penguins that share their territory with fur seals and blue-eyed shags. The team also hopes to see the gentle humpback whale dining on krill in its feeding grounds and possibly have an opportunity to spot orcas and Minke whales as the trip goes. The expedition staff plan on walking ashore on the continent of Antarctica at Paradise Harbour or Neko Harbour. Although it will not be your first glimpse of the Antarctic, a walk ashore on the Continent will evoke emotions to carry with you for the rest of your life. The scenery here is amazing. In particular the oddly shaped icebergs looking like sculptures, as well as the colossal 'tabular' icebergs that break away from the continent's ice shelf. Expect to feel transformed as you experience twilight from the very bottom of the planet.
Days 9-10: Crossing the Antarctic Circle
By now, your knowledge of Adélie, chinstrap and gentoo penguins will be matched by your ability to differentiate between a leopard, fur or Weddell seal. Terms like bergy bits and pancake ice will seem normal, yet there are still many tales to be told. As you head north, Zodiac excursions will fill your days, and your Expedition Team will continue offering presentations while giving you time to reflect on everything you've experienced.
Days 11-12: Drake Passage
As you leave this magical place and make your way north, heading again across the Antarctic Convergence and the Drake Passage before rounding Cape Horn, time will be spent sharing and reflecting on the wonderful experiences of the last few days. Sailing down the Beagle Channel, celebrate the conclusion of the Polar expedition at a special dinner.
Day 13: Ushuaia
In the early morning, arrive back in Ushuaia. It is time to say farewell to your crew and fellow travelers. Guests will be transported to their hotels or to the airport for return flights home.
Welcome Aboard the Ocean Atlantic
Ocean Atlantic is the perfect vessel for expedition cruising in Antarctic waters! Newly renovated in 2016 and with an international ice class rating of 1B, she is one of the strongest ships operating in Antarctica. Her high maneuverability, shallow draft and strong engines allow for extended voyages
into isolated fjords, creating exciting adventures for any Antarctica traveler. Ocean Atlantic is newly renovated with elegant common areas and accommodation for 198 passengers.
Technical Specs
Ship Specifications
Crew: 140
Passengers: 214
Length: 140 m
Breadth: 21 m
Draft : 5.8 m
Engines: 4 x 3,600 kW
Ice class: 1B
Speed, cruising: 12 knots
Speed, maximum: 15 knots
Elevators: 2
Stabilizers: 2
Zodiacs: 20
Lifeboats, covered: 4
Cabins & Amenities
All private cabins are stylish appointed and feature:
individual bathroom facilities
phone for internal calls
individual temperature controls and TV
Ideal for relaxation, the vessels' accommodation ranges in size from 11 – 35 m2 and are designed with either portholes or windows.
This ice-class vessel is perfectly equipped to sail in ice-choked polar seas.
Facilities onboard:
Bright, spacious restaurant providing 4-star international cuisine
Two well-stocked, professionally staffed Bars
Comfortable Lounge Area
On-board hospital run by a licensed doctor
Library with a wide range of polar books and DVDs
Gym
Lecture Theatre
Boutique
Sauna
Laundry service
Notes
Included:
Accommodation in shared or private cabins
English-speaking expedition team
Shore landings by Zodiac
Zodiac excursions
Information briefings and lectures by expedition team
Full board on the ship
Free coffee and tea on the ship 24 hours
Boots in all assorted sizes, suitable for shore landings
Port fees, taxes and tariffs, IAATO fees
Extra Activities:
Excluded:
Flights to/from the city of departure
Hotel accommodation in the city of departure
Travel insurance or Emergency Evacuation Insurance
Cancellation insurance
Extra excursions and activities not mentioned in the itinerary
Single cabin supplement and cabin upgrades
Meals not on board the ship
Beverages (other than coffee, tea and ice water)
Tips for ship crew (approx. 13.5 USD per person per day)
Personal expenses (laundry, internet, etc)