Crossing the Antarctic Circle – Hebridean Sky, Feb. 2018
Crossing the Antarctic Circle – Hebridean Sky, Feb. 2018
Trip Summary
Dates: February 12, 2018 – February 26, 2018
Duration: 15 Days
Early Booking Discount
About the Antarctic Circle Voyage (with hotel) Itinerary
Extend your time in Antarctica and make landings in less frequented sites south of the Antarctic Circle; Incredible icebergs Millions of penguins – Adélie, gentoo, chinstrap 5 species of seals – crabeater, Weddell, leopard, fur and southern elephant Whales – humpback, minke, orca Visit historic research stations in the area of Marguerite Bay * Itineraries […]
Itinerary Map
Pricing Information
About the Antarctic Circle Voyage (with hotel) Itinerary
Extend your time in Antarctica and make landings in less frequented sites south of the Antarctic Circle;
Incredible icebergs
Millions of penguins – Adélie, gentoo, chinstrap
5 species of seals – crabeater, Weddell, leopard, fur and southern elephant
Whales – humpback, minke, orca
Visit historic research stations in the area of Marguerite Bay
* Itineraries on our website are intended only as a guide and you should consult our team for detailed itineraries on specific voyages.
Detailed Itinerary
Day 1: Ushuaia, Argentina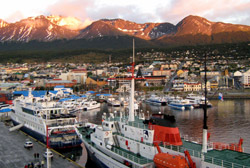 Today is the first day of your adventure in the world's southernmost city at the tip of Argentina. Embark in the afternoon. Start to become familiar with the expedition staff and ship. In the early evening, set sail and begin the voyage leaving behind Ushuaia and charting a course through the Beagle Channel.
Day 2-3: Drake Passage
Crossing the Drake Passage, there is so much excitement in the air as you get ever closer to the white continent. Guests eagerly soak up the friendly atmosphere on board as our numerous Polar experts prepare you for your adventures with presentations on everything Antarctic, from wildlife to history. Eventually, cross the Antarctic Convergence where you will notice a distinct drop in temperature as you enter the waters of the Antarctic Ocean. Along the way, witness many spectacular sights from icebergs to an array of seabirds and even several whale species some of which are known on occasion to fully breach from the sea.
Days 4-8: Antarctic Peninsula & South Shetland Islands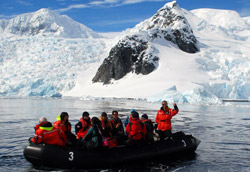 In the waterways of the Antarctic Peninsula, the goal is to make as much time as possible to explore by inflatable Zodiac boats and marvel up close at nature's glory. The first goal will be to sail south of the Antarctic Circle and into Matha Strait or Marguerite Bay. Given favorable ice conditions, the captain will push our exploration even further southward, looking for historic and wildlife sites. From the most southerly point (south of the Antarctic Circle), we will make our way north along the Antarctic Peninsula, cruising through the narrow waterways and channels of the Antarctic Peninsula. Spectacular waterways such as Crystal Sound, the Lemaire Channel, the Neumeyer Channel and the Gerlache Strait will all feature in the itinerary. Landing sites might include Neko Harbour, Wilhelmina Bay, Petermann Island and the Yalours, where you will observe Weddell, crabeater and elephant seals, skuas and other seabirds as well as an abundance of penguins including some very large colonies of the comical Adelie penguin.
At Half Moon Island you will visit a breeding colony of chinstrap penguins that share their territory with fur seals and blue-eyed shags. The team also hopes to see the gentle humpback whale dining on krill in its feeding grounds and possibly have an opportunity to spot orcas and Minke whales as the trip goes. The expedition staff plan on walking ashore on the continent of Antarctica at Paradise Harbour or Neko Harbour. Although it will not be your first glimpse of the Antarctic, a walk ashore on the Continent will evoke emotions to carry with you for the rest of your life. The scenery here is amazing. In particular the oddly shaped icebergs looking like sculptures, as well as the colossal 'tabular' icebergs that break away from the continent's ice shelf. Expect to feel transformed as you experience twilight from the very bottom of the planet.
Days 9-10: Crossing the Antarctic Circle
By now, your knowledge of Adélie, chinstrap and gentoo penguins will be matched by your ability to differentiate between a leopard, fur or Weddell seal. Terms like bergy bits and pancake ice will seem normal, yet there are still many tales to be told. As you head north, Zodiac excursions will fill your days, and your Expedition Team will continue offering presentations while giving you time to reflect on everything you've experienced.
Days 11-12: Drake Passage
As you leave this magical place and make your way north, heading again across the Antarctic Convergence and the Drake Passage before rounding Cape Horn, time will be spent sharing and reflecting on the wonderful experiences of the last few days. Sailing down the Beagle Channel, celebrate the conclusion of the Polar expedition at a special dinner.
Day 13: Ushuaia
In the early morning, arrive back in Ushuaia. It is time to say farewell to your crew and fellow travelers. Guests will be transported to their hotels or to the airport for return flights home.
Welcome Aboard the Hebridean Sky
The Hebridean Sky, formerly known as the Sea Explorer, has always been known for its elegance, impeccable service and atmosphere of charm and camaraderie. This ship recently underwent a ten million dollar refit and now boasts the same amenities as always, plus state of the art stabilization, fuel efficiency, and upgraded communications systems. The Hebridean Sky is the perfect blend of luxury and adventurous exploration with a dedicated Passenger Service Manager, and kayaks as well as a camping option to spend a night on the ice.
She is an all-suite yacht accommodating up to 112 guests. Built in 1992, each suite features:
 Sea view
 Queen-sized bed separable into two twin-sized beds
 Sitting area with sofa and side chair
 Flat screen TV with DVD/CD player
 Telephone
Independent temperature controls
 Mini-bar
 Marble-appointed bathroom with fine toiletries
hair dryer
 220 square feet or more
Sofa con be converted to bed for third person
In addition Promenade, Deluxe, Veranda & Penthouse Suites include:
En suite Champagne & Chocolates on Arrival
Complimentary mini-bar (beer, wine & soft drinks)
$100 per person Gift Shop credit
En suite Nespresso machine
Owner's Suite (385 sq.ft.), Penthouse Suites (325 sq.ft.) and Veranda Suites (260 sq.ft.) feature private balconies.
Technical Specs
Maximum Passengers: 112
Crew capacity: 70
Country of registry: Marshall Islands
Gross tonnage: 4200
Length: 90.6 M
Width: 15.3 M
Draft: 5.14 M
Ice Class: 1C
Cruising speed: 14.5 knots
Refurbished: 2005, 2014, 2016
Zodiacs: 10
Official language: English
Cabins & Amenities
World class cuisine
Complimentary wine or beer served with dinner
Coffee & tea station
Live entertainment
Library with computers and internet access
Lounge with audiovisual facilities
Dedicated Passenger Services Manager
Elevator
Every suite has an exterior view, individual temperature controls, a lounge area, refrigerator and in-room safe
Wraparound sundeck
Stabilizers for smooth sailing
Resident Photographer to assist travelers
Medical facilities with available doctor
FACILITIES
• Elevator serving all passenger decks
• Upgraded wi-fi Internet for your personal device (100 minutes of Free access – October 2017 and on)
• Free Internet on computers in the Library
• Panoramic Top Deck Observation Platform
• Bar/Lounge with Live Entertainment
• Lounge with Audiovisual Facilities
• DVD Movie Library
Two (2) Pre-Voyage Hotel Nights
Certified Emergency MD and Clinic
Voyage Photographer
Complimentary Expedition Jacket
Notes
Ship not operating after 2020-2021 season
Does not include airfare.
Single Supplement 1.7 times twin rate.
Adventure Options:
KAYAKING is available on all voyages: USD $895
CAMPING is available on select departures: USD $250
There may be a fuel surcharge on all bookings
In addition to the free internet access available on the computers in the ship's library, all passengers will receive 100 minutes of Wi-Fi access for use on their personal device.
Notes for Air Cruises
Hebridean Sky will accommodate 71 passengers aboard these voyages.
Triple cabins are available only for 3 people booking together – not for single travelers wanting to share.
A minimum of $50,000 USD worth of evacuation insurance is mandatory for these voyages.
Rates are per person in the selected cabin. Single passengers can either book a Dedicated Single cabin, or book a Twin cabin for Single use with a supplement of 1,85 to be added to the rate per person in Twin cabin.
Preferred seating is available on the Antarctica flight ($495 R/T)