Classic Antarctic Peninsula – SH Vega, Feb. 2024
Classic Antarctic Peninsula – SH Vega, Feb. 2024
Trip Summary
Dates: Feb 23, 2024 – Mar 4, 2024
Duration: 11 Days
Includes a pre night hotel & round charter flight BA - USH
About the Antarctica Classic 11-day (with hotel) Itinerary
Perfect for first time visitors to Antarctica Witness and explore the highlights of the Antarctic Peninsula and South Shetland Islands Learn about the environment and wildlife from onboard lecturers and specialists Witness the abundant wildlife – penguins, seals, whales and more! * Itineraries on our website are intended only as a guide and you should […]
Itinerary Map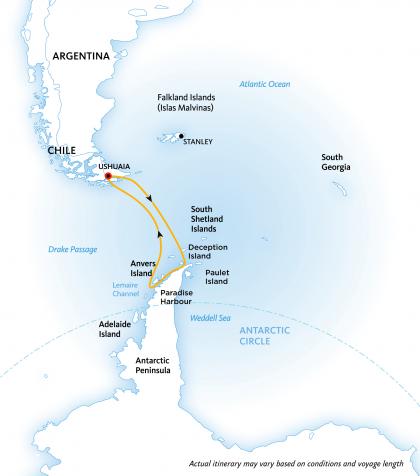 Pricing Information
About the Antarctica Classic 11-day (with hotel) Itinerary
Perfect for first time visitors to Antarctica
Witness and explore the highlights of the Antarctic Peninsula and South Shetland Islands
Learn about the environment and wildlife from onboard lecturers and specialists
Witness the abundant wildlife – penguins, seals, whales and more!
* Itineraries on our website are intended only as a guide and you should consult our team for detailed itineraries on specific voyages.
Detailed Itinerary
Day 1: Ushuaia, Argentina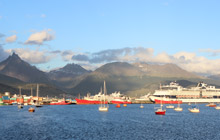 Enjoy the "World's Southernmost City" and explore the city center and nearby Tierra del Fuego National Park. Highlights of Ushuaia include the mountains surrounding the city with the popular "Train at the End of the World" and an award-winning museum. Delight in Argentinean leather markets and succulent lamb dishes that make Patagonia famous as you explore this growing city.
Day 2: Embarkation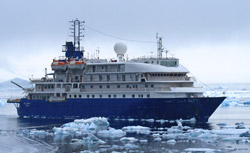 Arriving at the ship in the afternoon, you will be greeted by Expedition Team and ships' officers at a safety and orientation briefing followed by the Captain's welcome dinner. After dinner, relax and take in the mountainous scenery on our early evening sail down the Beagle Channel past Magellanic Penguin, Rock Cormorant, and Sea Lion colonies.
Days 3-4: Drake Passage
Among the wildlife spotting opportunities as we sail south are the Albatrosses, Prions, and Petrels that frequently follow the ship. The Expedition Team will be out on deck as well, looking for the Whales and Dolphins that may also be seen in the area. The team will begin presentations with informative and entertaining lectures on the wildlife, history, and geology of Antarctica. Helpful briefings on environmental regulations and expedition safety will also be held.
Days 5-8: Antarctic Peninsula & South Shetland Islands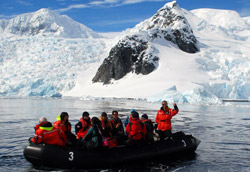 Arrival to the White Continent, the land of extremes! The most common first reaction to the white continent is a sense of reverence and awe. The experience is hard to put into words, as few places are as untouched, unique and enduring as Antarctica. The Expedition Leader and Captain will create a flexible itinerary based on weather, ice, and opportunity. The route will stress the most scenic bays and channels of the Peninsula with stops at penguin rookeries, seal wallows, bird colonies and whale feeding areas. Guided hikes with the Expedition Team will have you trekking up a glacier, visiting a research station, or consorting with penguin colonies. Chinstrap, Gentoo and Adélie penguins are found here, along with Fur, Weddell, Crabeater and Leopard Seals. Curious whales, such as Minkes and Humpbacks, are often attracted to Zodiacs as well, giving you a chance to get within reaching distance of these majestic animals. Each day and each landing will present a new collection of creatures to entertain you and keep your camera shutter busy.
The trip may include picturesque Neko Harbor, sheltered Paradise Harbor, the Humpback Whale favored Wilhelmina Bay, the striking Lemaire Channel, the wildlife-filled Penola Channel, or the majestic Neumayer Channel. A visit may be possible to an active scientific base such as Ukraine's Vernadsky as well as an historic base such as U.K.'s Port Lockroy or Wordie House.
Days 9-10: Drake Passage
The lecture series and wildlife spotting will continue on the return trip to Ushuaia and while the team will reflect on beautiful Antarctica and its fragile future.
Day 11: Disembarkation
Morning disembarkation allows you catch a flight to Buenos Aires or stay in Ushuaia for more sights and adventure.
Welcome Aboard the SH Vega
The 5 star elegant Scandi-design boutique ship offers you an intimate setting from which you will be fully immersed in all the sights and scenery of your voyage.
Like it's sistership the SH Minerva, SH Vega has been designed to journey to off the beaten path destinations and remote polar regions in style and comfort.
The ship incorporates a PC5 ice-strengthened hull combined with extra-large stabilisers to make your journey as smooth as possible.
Technical Specs
LENGTH: 337 ft (115 m)
DRAFT: 18 ft (5.5 m)
BREADTH: 75 ft (23 m)
REGISTERED: Malta
PASSENGERS: 152
CRUISING SPEED: 15.5 knots in open water
LIFEBOATS: 2 fully enclosed
PROPULSION DIESEL-ELECTRIC ENGINES: 4x Medium speed, Polar code Cat A.
Cabins & Amenities
Staterooms: Our 76 stateroom including 6 suites have all the amenities you will need to feel comfortable including dressing gowns, hairdryers, personal safes and minibars.Our stylish stateroom all have desks, a dressing area and comfy seating. En suite bathrooms all feature glass-enclosed rain showers.
Sauna with a view: Head to Deck 8 for the best view in the world. After a work out in our state-of-the-art-gym, relax in our sauna or  jacuzzi and take those breathtaking vistas along the way.
The Swan Restaurant: As the main venue for breakfast, lunch and dinner, our 152-seat restaurant serves international and local cuisine focused on quality regional ingredients from the unique destination we visit.
Alfresco Dining & Heated Outdoor pool: On Deck 7 you´ll find a heated outside pool along with pool side seating from where you can enjoy stunning scenery.
The Observation Lounge: After a day of exploration, where better to relax than in the Observation Lounge. Sit back, savor your favorite tipple whilst getting to know you fellow guests:
The Club Lounge: Vibrant and welcoming , The Club Lounge acts as a hub , combining 24 hours tapas inspired dining with panoramic views of the ocean glittering below.
Notes
INCLUDED in all voyages:
Room service 24 hours a day
Coffee, tea, soft drinks & select alcoholic beverages 24 hours a day
Lecture programmes by our experienced expedition team and guest speakers
Onboard gratuities & port taxes
One shore excursion per port of call
Use of Rubber boots for shore landings
Branded Swan Hellenic expedition parker
Adventure activities: One-time kayaking $250/trip.