Christmas in Antarctica & the Weddell Sea – Ioffe, Dec. 2019
Christmas in Antarctica & the Weddell Sea – Ioffe, Dec. 2019
Trip Summary
Dates: December 16, 2019 – December 28, 2019
Duration: 13 Days
Travel Credit Bonus until May 31st, 2019!
About the Weddell Sea Quest Itinerary
The Weddell Sea is a rarely visited, heavily iced and beautiful area of Antarctica that holds penguin rookeries and is home to many seals and marine birds. These trips combine the 'classic' West side of the Antarctic Peninsula with the less visited eastern Weddell Sea. Famous for the ill-fated polar expedition led by British explorer […]
Itinerary Map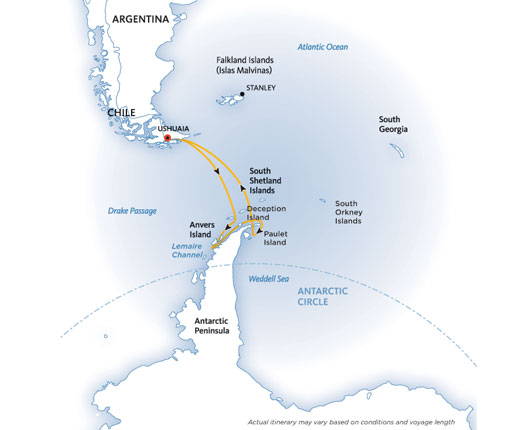 Pricing Information
About the Weddell Sea Quest Itinerary
The Weddell Sea is a rarely visited, heavily iced and beautiful area of Antarctica that holds penguin rookeries and is home to many seals and marine birds. These trips combine the 'classic' West side of the Antarctic Peninsula with the less visited eastern Weddell Sea. Famous for the ill-fated polar expedition led by British explorer Ernest Shackleton, the Weddell Sea is known for amazing ice formations and a variety of wildlife. Take this trip to journey to a little-known part of Antarctica and pass through the route of Ernest Shackleton. In brief:
Visit the pristine, icy Weddell Sea on the eastern side of the Antarctic Peninsula, as well as the highlights of the western side of the peninsula and the South Shetland Islands
Sail in the waters of the 1914 Ernest Shackleton expedition
Learn about the environment and wildlife from onboard lecturers and specialists
Witness the abundant wildlife – penguins, seals, whales and more!
Detailed Itinerary
Day 1: Embarkation
Arriving at the ship in the afternoon, you will be greeted by the Expedition Team and ships officers at a safety and orientation briefing followed by the Captains' welcome dinner. After dinner, relax and take in the mountainous scenery on our early evening sail down the Beagle Channel past Magellanic Penguin, Rock Cormorant, and Sea Lion colonies.
Days 2-3: Drake Passage
Among the wildlife spotting opportunities as we sail south are the Albatrosses, Prions, and Petrels that frequently follow the ship. The Expedition Team will be out on deck as well, looking for the Whales and Dolphins that may also be seen in the area. The team will begin presentations with informative and entertaining lectures on the wildlife, history, and geology of Antarctica. Helpful briefings on environmental regulations and expedition safety will also be held.
Days 4-6: Weddell Sea
The Weddell Sea is known for its abundance of huge tabular icebergs . In some years, the Erebus & Terror Gulf and Weddell Sea are chock-a-block full with ice, making for exciting ice navigation.  Get up at 3:30 in the morning for sunrises unlike anything you've ever seen. Huge tabular bergs break from the Larsen, Ronne, and Filchner ice shelves and combine with one-year-old and multi-year sea ice to produce a floating, undulating panorama of rugged ice scenery.  Hope Bay and the Argentine Station Esperanza, located on the western side of the Antarctic Sound, are possible landing sites. The Weddell Sea represents the center of the Peninsulas' Adelie penguin population. Devil Island and Paulet Island are excellent location to see Adelie penguins.
Days 7-9: Antarctica Peninsula & South Shetland Islands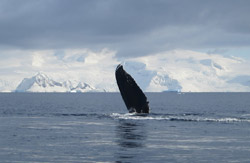 The remarkable history of the  Antarctic Peninsula will also provide you with a type of excitement often only associated with the early explorers. You will have plenty of time to explore this pristine wilderness of snow, ice, mountains and waterways and a wide variety of wildlife. Apart from Gentoo and Chinstrap penguins and other seabirds you are likely to encounter Weddell, crabeater and leopard seals as well as Minke whales and orcas at close range. Expeditions hope to navigate some of the most beautiful waterways: the Gerlache Strait, Errera Channel and Neumayer Channel. Possible landing sites include: Paradise Bay, an aptly named place with its impressive glacial fronts and mountains, Cuverville Island, home of the biggest Gentoo Penguin colony in the Peninsula surrounded by glaciers and castellated icebergs, and the British Museum and Post office at Port Lockroy. Further exploration will lead you to the South Shetland Islands, where you may visit Deception Island or Half Moon Island.
Days 10-11: Drake Passage
Say goodbye to Antarctica and head north across the Drake Passage. Join lecturers and naturalists on deck as searching for seabirds and whales and enjoy some final lectures. Take the chance to relax and reflect on the fascinating adventures of the past days on the way back to Ushuaia.
Day 12: Disembarkation
Arrive to Ushuaia in the early morning and disembark after breakfast.
Welcome Aboard the Ioffe
Built for polar research, the Akademik Ioffe is a modern, comfortable and safe vessel that carries a maximum of 96 passengers. The ship underwent extensive renovation of cabins and the bar in 2011, giving it a new feel.
She has public spaces ideally suited for small group lectures to full ship briefings. The bar or the lounge are great places to have a drink and take in the scenery, and the library provides a spot to relax or catch up on some reading. The Ioffe and her sister ship, the Akademik Vavilov are two of the most stable, advanced vessels in the expedition cruise business.
Technical Specs
Guests: 96
Staff & Crew: 65
Length: 117 m
Breadth: 18.2 m
Draft: 6 m
Propulsion: 5,000 KW diesel twin engine
Ice Class: Lloyds 1A
Hull Classification: Ice Strengthened
Cruising Speed: 13.5 knots in open water/ Max Speed: 14.5 knots
Electrical Supply: 220 volts/ European pin
Registered: Russia
Zodiac boats: 10
Cabins & Amenities
All cabins have exterior views
Cabins have either shared, semi-private or private facilities (see deck plan)
One dining room with unreserved seating
Theater-style presentation room
Lounge and bar with 180-degree views, open late afternoon and evening with a wide selection of wines and spirits
Library with excellent outdoor viewing and a collection of polar-themed books
Ship-to-shore communications via satellite
Clinic with licensed doctor
Gym, sauna and swimming pool
Wellness centre with registered massage therapist, fitness trainer and yoga instructor (on selected departures)
One elevator between passenger deck levels and to the Bridge level
Join us on the Bridge
There is an open-bridge policy and guests are welcome to meet the navigating crew at virtually any time of day; there's always something to learn from the officers on watch and the bridge is one of the best places on the ship for spotting whales and sea birds.
An expedition gear package is included
An expedition cruise requires a fair bit of planning and some special items of clothing and equipment are needed. You will have use of an expedition wet weather gear package free of charge, which includes a quality waterproof/windproof jacket and bib-pants as well as insulated, comfortable rubber boots designed for extended walking. A set of expedition binoculars and a walking pole are also available for the duration of your voyage. This saves you buying expensive items you may only ever use once and eliminates the need to carry such cumbersome gear all the way to the ship. If you do have your own gear, of course you are welcome to bring it. Make sure it is wind and waterproof. If you have questions about gear, feel free to ask.
Notes
Camping is offered free of charge to all passengers.
Photography – Free of Charge
Kayaking – $795
Rates are per person, based on twin-share.
The Single supplement is 1.5x the published twin rate for twin-semi private, twin private and superior cabins. Single supplement is 2x the published twin rate for suites. Single supplement is not available in triple cabins. No single supplement applies for passengers willing to share.
Voyages commencing/ending in Stanley (Falkland Islands) or King George Island (Antarctica) include flights from Punta Arenas (Chile).
Voyages ending in King George Island (Antarctica) include one night hotel accommodation in Punta Arenas at the end of the trip.
Mandatory Emergency Evacuation insurance is required on all trips.
All trips subject to possible fuel surcharge.
Costs for standard adventure options:
Photography – Free of charge
Snowshoeing – Free of charge
Camping – Free of charge [Please note – camping is less likely to happen on the longer voyage to the Falkland Islands, South Georgia and Antarctica itinerary or on March voyages.]
Kayaking (must be pre-booked, maximum 16 participants) – $795.
Costs for Off the Beaten Track adventure options (must be pre-booked):
Standard Kayaking (maximum 16 participants) – $795
Overnight Kayaking – Additional $300 add-on to standard kayaking program (maximum 6, minimum 4 participants)
Ski Touring (maximum 16, minimum 6 participants) – $750
Expedition Snowshoeing (maximum 12 participants) – free
Expedition Field Photography (maximum 18 participants) – $45.
Additional options (No pre-booking/no fee): Overnight Camping, Hiking, Classic Snowshoeing.
Space is subject to availability. Some activities require experience.