Celebrating Antarctica – Island Sky, Feb. 2021
Celebrating Antarctica – Island Sky, Feb. 2021
Trip Summary
Dates: January 21, 2021 – February 2, 2021
Duration: 13 Days
Includes 2 pre-voyage hotel nights! Early Bird Incentive until Oct 31st, 2019
About the Antarctica Classic 11-day (with hotel) Itinerary
Perfect for first time visitors to Antarctica Witness and explore the highlights of the Antarctic Peninsula and South Shetland Islands Learn about the environment and wildlife from onboard lecturers and specialists Witness the abundant wildlife – penguins, seals, whales and more!
Itinerary Map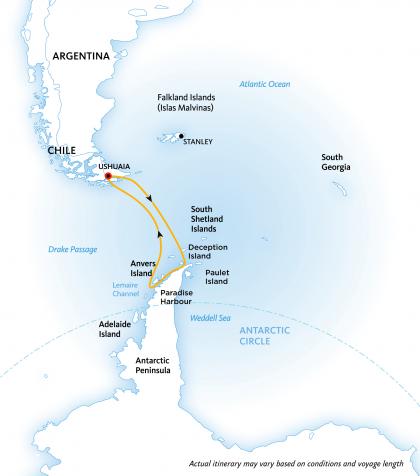 Pricing Information
About the Antarctica Classic 11-day (with hotel) Itinerary
Perfect for first time visitors to Antarctica
Witness and explore the highlights of the Antarctic Peninsula and South Shetland Islands
Learn about the environment and wildlife from onboard lecturers and specialists
Witness the abundant wildlife – penguins, seals, whales and more!
Detailed Itinerary
Day 1: Ushuaia, Argentina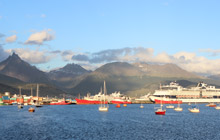 Enjoy the "World's Southernmost City" and explore the city center and nearby Tierra del Fuego National Park. Highlights of Ushuaia include the mountains surrounding the city with the popular "Train at the End of the World" and an award-winning museum. Delight in Argentinean leather markets and succulent lamb dishes that make Patagonia famous as you explore this growing city.
Day 2: Embarkation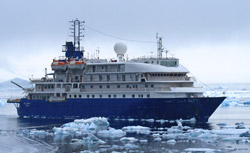 Arriving at the ship in the afternoon, you will be greeted by Expedition Team and ships' officers at a safety and orientation briefing followed by the Captain's welcome dinner. After dinner, relax and take in the mountainous scenery on our early evening sail down the Beagle Channel past Magellanic Penguin, Rock Cormorant, and Sea Lion colonies.
Days 3-4: Drake Passage
Among the wildlife spotting opportunities as we sail south are the Albatrosses, Prions, and Petrels that frequently follow the ship. The Expedition Team will be out on deck as well, looking for the Whales and Dolphins that may also be seen in the area. The team will begin presentations with informative and entertaining lectures on the wildlife, history, and geology of Antarctica. Helpful briefings on environmental regulations and expedition safety will also be held.
Days 5-8: Antarctic Peninsula & South Shetland Islands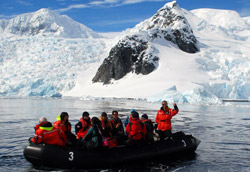 Arrival to the White Continent, the land of extremes! The most common first reaction to the white continent is a sense of reverence and awe. The experience is hard to put into words, as few places are as untouched, unique and enduring as Antarctica. The Expedition Leader and Captain will create a flexible itinerary based on weather, ice, and opportunity. The route will stress the most scenic bays and channels of the Peninsula with stops at penguin rookeries, seal wallows, bird colonies and whale feeding areas. Guided hikes with the Expedition Team will have you trekking up a glacier, visiting a research station, or consorting with penguin colonies. Chinstrap, Gentoo and Adélie penguins are found here, along with Fur, Weddell, Crabeater and Leopard Seals. Curious whales, such as Minkes and Humpbacks, are often attracted to Zodiacs as well, giving you a chance to get within reaching distance of these majestic animals. Each day and each landing will present a new collection of creatures to entertain you and keep your camera shutter busy.
The trip may include picturesque Neko Harbor, sheltered Paradise Harbor, the Humpback Whale favored Wilhelmina Bay, the striking Lemaire Channel, the wildlife-filled Penola Channel, or the majestic Neumayer Channel. A visit may be possible to an active scientific base such as Ukraine's Vernadsky as well as an historic base such as U.K.'s Port Lockroy or Wordie House.
Days 9-10: Drake Passage
The lecture series and wildlife spotting will continue on the return trip to Ushuaia and while the team will reflect on beautiful Antarctica and its fragile future.
Day 11: Disembarkation
Morning disembarkation allows you catch a flight to Buenos Aires or stay in Ushuaia for more sights and adventure.
Welcome Aboard the Island Sky
The Island Sky is a small expedition vessel with touches of elegance throughout. An all-suite ship, it carries a maximum of 108 passengers and provides an abundance of public space for wildlife viewing, relaxation and taking in lectures and briefings. Every suite has private bathroom facilities and an exterior view, while some suites include a private balcony. All suites have flat screen televisions and DVD players. Is one a sister vessel to the MS Caledonian Sky and MS Hebridean Sky. All three vessels were built in the same ship yard in Italy at similar times and share the same excellent attributes that make them three of the finest small ships in the world.
She is an all-suite yacht accommodating up to 108 guests. Built in 1992 and refurbished and redecorated in 2005, each suite features:
 Sea view
 Queen-sized bed separable into two twin-sized beds
 Sitting area
 Telephone
 Mini-refrigerator
 Marble-appointed bathroom with fine toiletries
 225 square feet or more
Technical Specs
Staff and Crew: 70
Guests: 108
Length: 297 feet (91 meters)
Breadth: 50 feet (15 meters)
Draft: 13 feet (4 meters)
Propulsion: 2 B&W Man diesel engines, 4750 horsepower
Ice Class: 1D
Cruising Speed: 12 knots
Registration: Bahamas
Lifeboats: 4 fully enclosed
Cabins & Amenities
Aboard
Chef-prepared meals with complimentary wine with dinner
Bar staffed by a professional bartender serving a selection of soft drinks, juices, liquors, spirits, and beer which can be charged to your shipboard account
The Club
Lounge
Polar library
Lecture theatre
Plenty of deck space for observation
Suites
Exterior views
Your choice of queen-sized or two twin-sized beds
Sitting area with sofa and side chair
Flat Screen TV with DVD/CD player
Telephone
Independent temperature controls
Mini-Bar
Marble-appointed bathroom with fine toiletries
Hair dryer
220 square feet or more
Sofa can be converted to bed for third person
Promenade, Deluxe, Veranda & Penthouse Accommodations
INCLUDE ALL OF THE FEATURES ABOVE PLUS:
En suite Champagne & Chocolates on Arrival
Complimentary mini-bar (beer, wine & soft drinks)
En suite Nespresso machine
Notes
Does not include international airfare.
Single Supplement 1.7 times twin rate.
There may be a fuel surcharge on all bookings.
KAYAKING is available on all voyages: USD $895
CAMPING is available on selected departures: USD $250
In addition to the free internet access available on the computers in the ship's library, all passengers will receive 100 minutes of Wi-Fi access for use on their personal device.