Trip Summary
Dates: July 14, 2019 – July 23, 2019
Duration: 10 Days
About the Spitsbergen Classic Itinerary
A Spitsbergen Classic trip provides you with the opportunity to get a taste of everything the Arctic has to offer, from polar bears and walrus to spectacular mountains and glaciers.  You will have the opportunity for hiking on shore as well as exploring and enjoying the beauty of Svalbard from zodiacs and your vessel.
Detailed Itinerary
Day 1
Your adventure starts in Longyearbyen. Founded as a mining town a century ago by Mr Longyear, it is now the administrative center for Svalbard and is home to the Svalbard Museum which can provide a good historical background for your journey.
You will board your ship and meet your fellow travelers.
Day 2-7
Your adventure continues as you will travel around Spitsbergen, the largest island in the Svalbard archipelago. Your travel will focus on the western and northern sides of the island. During your journey you can expect to see a variety of natural and historical sites.
Each trip is unique depending on the weather and ice conditions.
Day 8
Your adventure ends back in Longyearbyen where you will disembark your boat and travel home.
---
Welcome Aboard the Hondius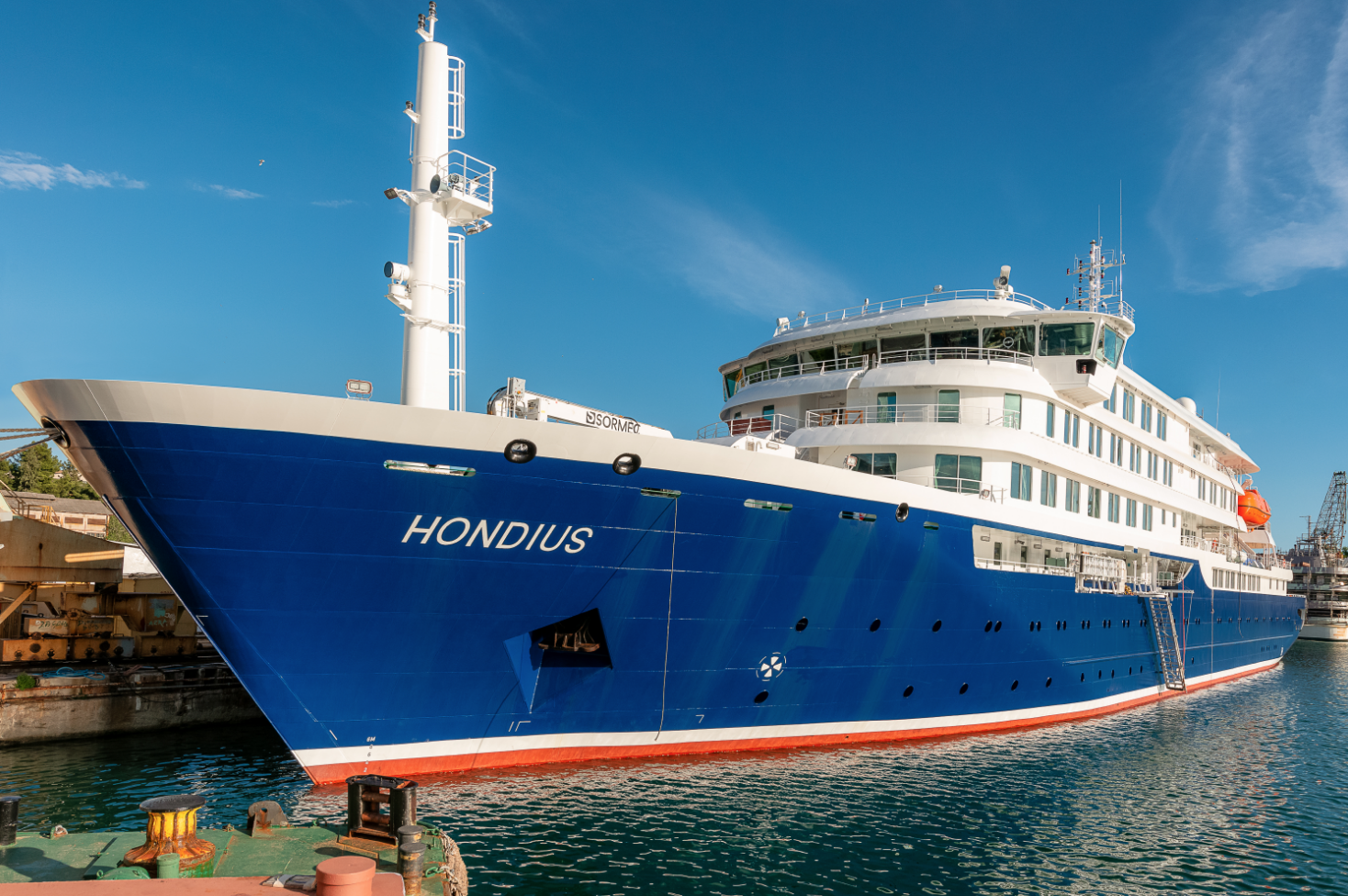 The all-new Hondius, set to launch in 2019, is designed from the ground up for rapid response to polar weather and wildlife conditions that exist nowhere else in the world. Hondius sets a standard as a structurally and technologically advanced polar cruise ship that not only meets the challenges of the polar regions but optimizes their opportunities for adventure.
As a Hondius passenger, you will enjoy cuisine, surroundings, and service that starkly contrast the rugged world just outside your window. An entire deck is dedicated to (multi-language) lectures and presentations in the presentation theater or the sizable observation lounge, and in combination with a fully provisioned bar and separate library room, provide ample opportunities to socialize and guarantee that what time you spend on board will be spent comfortably entertained. Take your pick of numerous cabins and suites, all custom-designed and impeccably outfitted in stylish mid-century modern décor.
Hondius is one of the first civilian vessels in the world to receive a Polar Class 6 notation, the most advanced category of polar cruise ship to date. When you set foot on Hondius, you are indeed choosing the best of modern marine science. Furthermore, Hondius exceeds the latest green requirements imposed by the International Maritime Organization, using only bio-degradable paints, LED lighting, steam heat, and flexible power management systems to keep fuel consumption and CO2 emission at the absolute minimum.
Highlights:
• Flexible, fast, and fortified. Capable of swift and safe response to fluctuating polar conditions.
• Ideal for land-based excursions. Sheltered Zodiac boarding zone for easier entry into the boats that will shuttle you to shore.
• Elegant, cozy, and surprising. Public areas, passenger lodgings, and cuisine that will fuel your exploration and stimulate your senses.
• Interactive, experiential, and informal. Activities that will engage and entertain you on the ship and off.
• Environmentally friendly technology to help ensure your cruise is higher impact for you, and lower impact for nature
Technical Specs
Length: 353 ft / 107.6 meters
Breadth: 25 ft / 17.6 meters
Draft: 17.4 ft / 5.30 meters
Ice class: Polar Class 6 (equivalent 1A-Super)
Displacement: 5,590 tonnes
Propulsion: 2 x ABC main engines; total 4,200 kW
Speed: 15 knots
Passengers: 176 in 83 cabins
Staff & crew: 72
Registered: The Netherlands
New build 2019
Cabins & Amenities
Large observation lounge
Fully provisioned bar
Library room
Notes
All rates are quoted per person based on twin occupancy.
Single travelers can chose between "single occupancy" at a supplement
of 1,7 x the Twin or Superior cabin rate , or "sharing basis" in Twin, Triple
or Quadruple category at no additional cost.
Adventure options must be pre-booked and paid for prior to start of the trip. Space is subject to availability. Some activities require experience. Camping – $190 per night, max 30 people. Kayaking – $465 per trip, max 14 people. Snowshoe – No charge but sign up required
All trips subject to possible fuel surcharge.
Prices
Interested in this Trip? Contact Us Now