Arctic Express: Greenland's Northern Lights – Ocean Nova, Sept. 2019
Arctic Express: Greenland's Northern Lights – Ocean Nova, Sept. 2019
Trip Summary
Dates: September 2, 2019 – September 11, 2019
Duration: 10 Days
About the Arctic Express: Greenland's Northern Lights Itinerary
For those short on time, the benefits of this expedition are many. You'll witness the delights of the world's largest fjord system of Scoresby Sund, discover the fascinating Inuit settlements and people of Ittoqqortoormiit, and have the possibility of viewing some of the world's most vivid displays of Northern Lights. As one of our more […]
Itinerary Map
About the Arctic Express: Greenland's Northern Lights Itinerary
For those short on time, the benefits of this expedition are many. You'll witness the delights of the world's largest fjord system of Scoresby Sund, discover the fascinating Inuit settlements and people of Ittoqqortoormiit, and have the possibility of viewing some of the world's most vivid displays of Northern Lights. As one of our more active adventures, you'll have the chance to trek along the tundra and at Greenland National Park, climb mountains and watch grazing musk ox and other arctic wildlife on the horizon.
Detailed Itinerary
Day 1 — Reykjavik, Iceland
Your adventure begins with an overnight stay in thoroughly modern Reykjavik, the world's northernmost capital city.
Day 2 — Embarkation Day at Constable Point
You'll fly from Reykjavik to Constable Point to board your vessel and begin your expedition. Get ready for a great adventure ahead!
Day 3 — Apelfjord
You'll cruise through breathtaking Alpefjord. Fjords punctuate the scenery all around. Your day will be spent exploring and Zodiac cruising through a multitude of dazzling icebergs, fjords and sounds in all shapes and sizes. Be on the lookout for arctic fox and musk ox, which roam free here.
Day 4 — Brogetdal and Watershausen Glacier
You'll view colorful vistas, and fascinating geology. Later, you'll travel to the impressive and rarely visited Waltershausen Glacier, an imposing ice floe at the head of Nordfjord, named after German explorer Baron Wolfgang Sartorius von Waltershausen, after his failed 1869 attempt to reach the North Pole via East Greenland.
Day 5 — Blomsterbugten and Renbugten
Blomsterbugten, the "Bay of Flowers," is home to beautiful purple and gold colored rocks that you'll view from a distance, or on a hike for those who wish. Later we'll continue to Renbugten, called "Reindeer Bay" for the herd of 12 reindeer seen on one of the first expeditions to the area. Arctic hare are a common and delightful sight in this area.
Day 6 — Ella Oya (Ella Island)
Ella Oya is a hiker's paradise. The area is surrounded by ice-choked waters, rugged cliffs and sky-blue icebergs. Challenge yourself with a climb to the top of the island—the views are worth it.
Day 7 — Ittoqqortoormiit and Hall Bredning
At the start of the sound, Itoqqortoormiit is East Greenland's most northerly community and boasts a blend of traditional and modern lifestyles. With clear skies, you'll have a great opportunity to see the northern lights.
Day 8 — Frederiksdal and Sydkap
Sailing on, deeper into Scoresby Sund you'll encounter massive icebergs and an ancient Thule settlement as we approach Sydkap. The scenery here is unforgettable, with towering mountain sides and hundreds of monumental icebergs playing tricks with your sense of perception.
Day 9 — Disembarkation at Constable Point
Arrive at Constable Point and disembark the ship. Sit back and enjoy your charter flight from Constable Point to Reykjavik, the vibrant and artistic capital of Iceland. Overnight in your comfortable Reykjavik hotel.
Day 10 — Depart Reykjavik
Make your own way to the airport for your return flight home, or spend some extra time in Reykjavik – you'll be amazed at the variety of attractions and must-see places of interests Reykjavik has to offer.
Welcome Aboard the Ocean Nova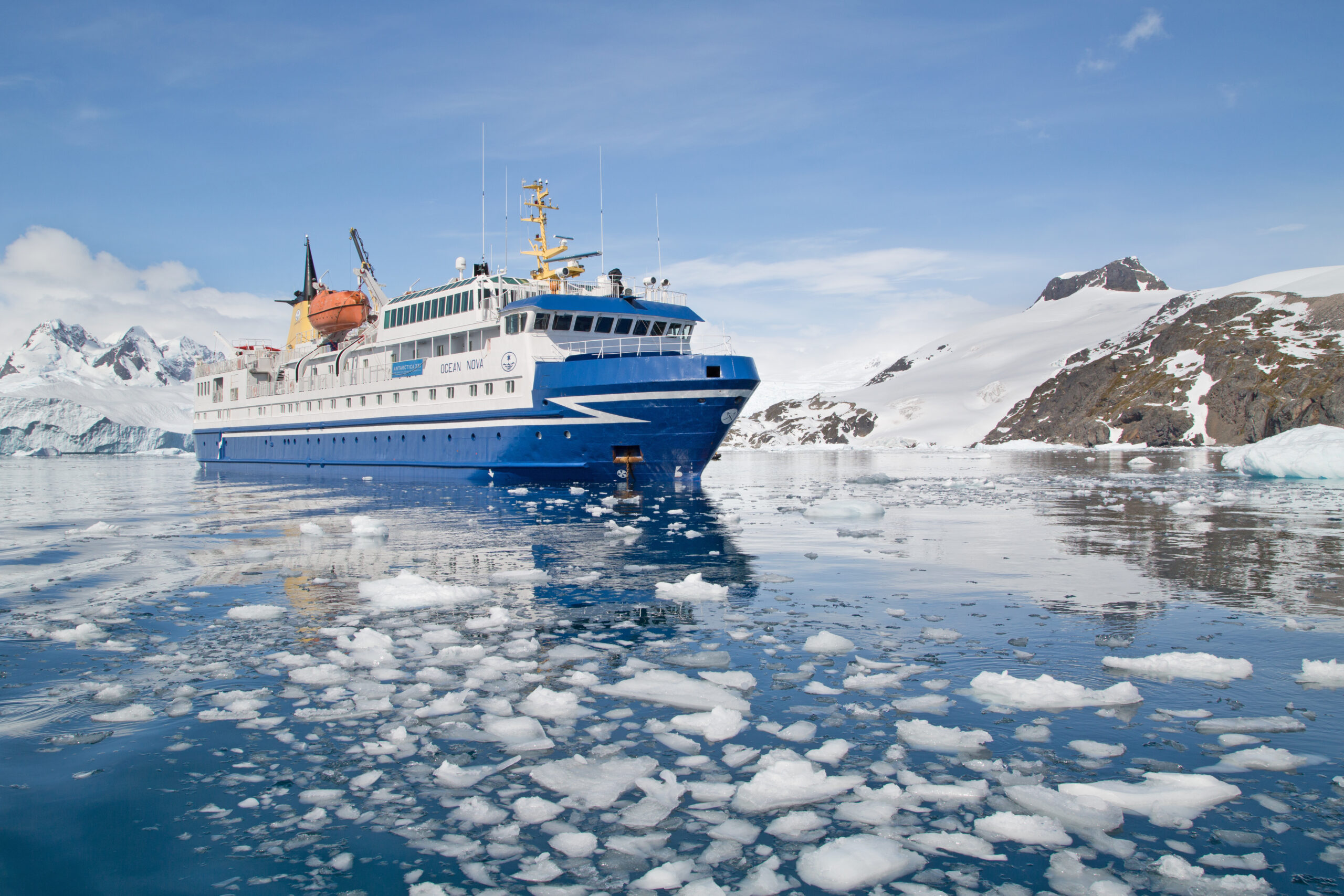 The Ocean Nova is one of the most fuel-efficient vessels operating in the Polar Regions, carrying 67 passengers in 34 cabins, each with a sea view and private facilities. The ship was completely refurbished in 2006, and it is extremely quiet and highly maneuverable. The Ocean Nova has a spectacular observation lounge with full view windows, the latest lecture and presentation equipment, and a complete bar. The aft library/lounge has wrap-around windows, comfortable chairs and a complete Polar library. The Ocean Nova operates Fly-Cruise expeditions along with the BAE-146 Airplane, which carries passengers over the Drake Passage. The BAE 146 was manufactured in the United Kingdom by British Aerospace.  It is a high-wing aircraft with very short runway requirements which makes it particularly suited for these kind of destinations. It is operated by Aerovías DAP, which has more than 20 years of experience of flying in Patagonia and Antarctica.
Technical Specs
Maximum Passengers: 67
Crew capacity: 34
Place built: Denmark
Country of registry: Bahamas
Gross tonnage: 2 183
Length: 73 metres
Width: 11 meters
Draft: 3,5 m
Two fully enclosed lifeboats
Ice Class: BV IceIB, Eo(Hull Ice 1A)
Cruising speed: 10 knots
Refurbished: 2006
Cabins & Amenities
34 outside cabins, all featuring private facilities
Spacious dining room with unreserved seating: buffet-style breakfast with table service; table- service lunch and dinner with main course choices from a changing daily menu; cakes served in mid-afternoon
Observation lounge and presentation room
Lounge and bar, open late morning, afternoon and evening with a wide selection of wines and spirits; coffee, tea available all day
Library with collection of polar-themed books
Ship-to-shore communications via Fleet 77 phone, e-mail
Clinic with licensed doctor
Exercise room
Notes
Triple cabins are available only for 3 people booking together – not for single travelers wanting to share.
A minimum of $50,000 USD worth of evacuation insurance is mandatory for these voyages.
Rates are per person in the selected cabin. Single passengers can either book a Dedicated Single cabin, or book a Twin cabin for Single use with a supplement of 1,85 to be added to the rate per person in Twin cabin.
Kayaking is offered on all voyages for $895 per person. Snowshoeing is offered on selected voyages for $195 per person.