Antarctica Special: Discovery and learning voyage – Janssonius, Dec. 2021
Antarctica Special: Discovery and learning voyage – Janssonius, Dec. 2021
Trip Summary
Dates: December 23, 2021 – January 4, 2022
Duration: 13 Days
Discovery and Learning Workshops
About the Antarctica Classic in Depth Itinerary
Like the 'Antarctica Classic', this 13-day expedition will introduce you to the magic of the South Shetland Islands and the Antarctic Peninsula, and offers you two additional days to explore the Peninsula. The In-Depth itinerary allows you to explore less-visited sites on the Peninsula and to become even more fully immersed in the Antarctic experience. […]
Itinerary Map
Pricing Information
About the Antarctica Classic in Depth Itinerary
Like the 'Antarctica Classic', this 13-day expedition will introduce you to the magic of the South Shetland Islands and the Antarctic Peninsula, and offers you two additional days to explore the Peninsula. The In-Depth itinerary allows you to explore less-visited sites on the Peninsula and to become even more fully immersed in the Antarctic experience. Encounter leopard seals lazing on ice floes and immense rookeries of penguins surrounded by towering glaciers. Expert expedition staff guides and lecturers offer knowledge and insights that really bring the nature and history of the region to life and serve to create an adventure of a lifetime.
Detailed Itinerary
Day 1: Ushuaia, Argentina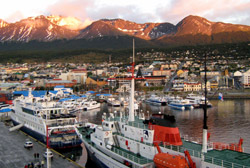 Your gateway for this expedition is Ushuaia, Argentina. Nestled within the Tierra del Fuego archipelago, Ushuaia offers you a small-town feel but has many shops, museums, cafes and restaurants to enjoy before your voyage. The nearby national park and Martial Glacier are must-sees and offer plenty of hiking and outdoor activities.
Day 2: Embarkation
Embarkation begins in the afternoon at the port in Ushuaia. Enjoy the evening sailing through the Beagle Channel.
Days 3-4: Drake Passage
The adventure begins with a 400 mile crossing of the passage that bears the name of the 16th century English explorer Sir Francis Drake. The ship is at home in this part of the Southern Ocean. Take in daily lectures from your expedition team and keep an eye out for the first sightings of icebergs, whales, and albatross following in the ship's wake.
Days 5-10: Antarctic Peninsula & South Shetland Islands
Experience some of the most unique wildlife viewing and inspiring scenery in the world as you set foot on the Antarctic continent.
Attempt two shore landings per day (weather conditions permitting), and encounter gentoo, chinstrap and Adélie penguin rookeries, Weddell, crabeater and leopard seals, and orca, humpback and minke whales in the cold Antarctic waters. The peninsula also has a remarkable human history. During the voyage you will learn about some of the most important and dramatic expeditions to this remote corner of the world.
Days 11-12: Drake Passage
Today begins the journey north to our home port of Ushuaia. Review the highlights of your Antarctic experience with our lecturers and staff. Keep your eyes open on the observation deck for some final whale sightings.
Day 13: Disembarkation
Disembark in the morning.
Welcome Aboard the Janssonius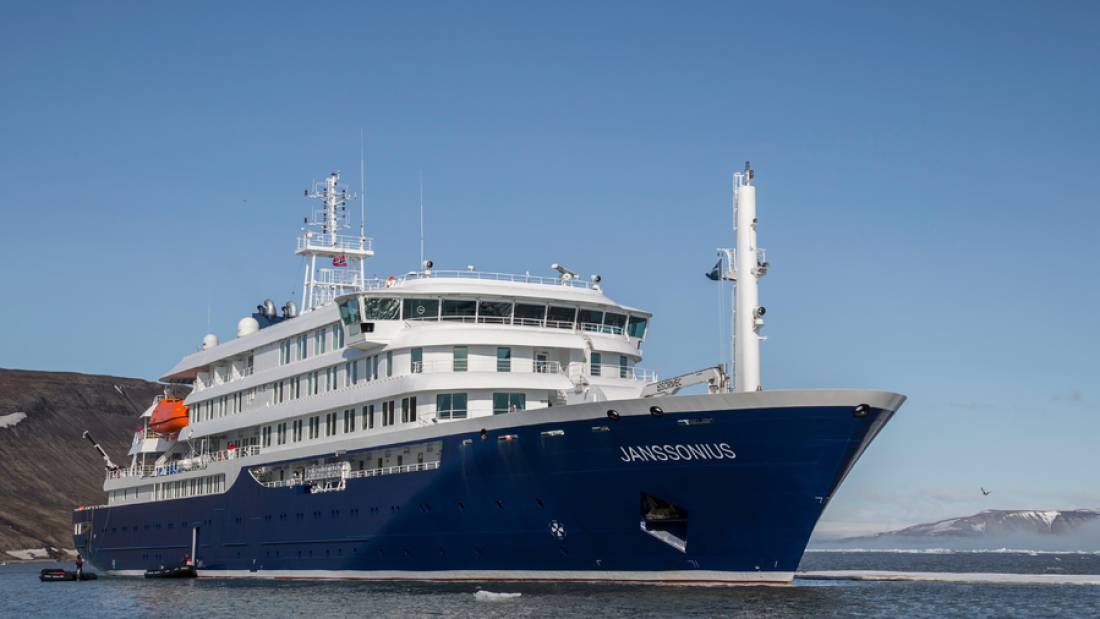 Janssonius is meeting the latest and highest Lloyd's Register standards for ice-strengthened cruise ships. Surpassing the requirements of the Polar Code adopted by the International Maritime Organization (IMO), Janssonius represents the most flexible, advanced, innovative touring vessel in the polar regions, thoroughly optimized for exploratory voyages that provide you the utmost first-hand contact with the Arctic and Antarctica.
Technical Specs
| | |
| --- | --- |
| Passengers: | 170 in 80 cabins |
| Staff & crew: | 72 |
| Length: | 107.6 meters |
| Breadth: | 17.6 meters |
| Draft: | 5.30 meters |
| Ice class: | Polar Class 6 (equivalent 1A-Super) |
| Displacement: | 5,590 tonnes |
| Propulsion: | 2 x ABC main engines; total 4,200 kW |
| Speed: | 15 knots |
Cabins & Amenities
Happier polar passengers, healthier polar environment
Not only will the numerous amenities and on-board entertainments help make your Janssonius voyage truly memorable, this ship also gives you the peace of mind that comes with choosing one of the most environmentally friendly vessel on the polar seas. Janssonius uses LED lighting, steam heating, bio-degradable paints and lubricants, and state-of-the-art power management systems that keep fuel consumption and CO2 levels minimal. This means that when you sail aboard Janssonius, you get to enjoy the exotic landscapes and wildlife as much as possible while impacting them as little as possible.
Janssonius offers high-quality accommodation for 170 passengers in six grand suites with balconies (27 square meters, 291 square feet), eight junior suites (19 to 20 square meters, 205 to 215 square feet), eight superior cabins (20 to 21 square meters, 215 to 226 square feet), 11 twin deluxe cabins, (19 to 21 square meters, 205 to 226 square feet), 14 twin window cabins (12 to 14 square meters, 129 to 151 square feet) as well as 27 twin porthole cabins, two triple porthole cabins, and four quadruple porthole cabins that vary in size from 12 to 18 square meters, or 129 to 194 square feet. The passenger capacity certificate for Janssonius is 196 persons. One deck consists of a large observation lounge and separate lecture room, which are reserved for a wide variety of interactive workshops, exhibitions, and performances particular to Janssonius.
Notes