Antarctica: Polar Circle Grand Circle – Janssonius, Feb. 2023
Antarctica: Polar Circle Grand Circle – Janssonius, Feb. 2023
Trip Summary
Dates: February 10, 2023 – February 22, 2023
Duration: 13 Days
About the Crossing the Circle: Southern Expedition Itinerary
Extend your time in Antarctica and make landings in less frequented sites south of the Antarctic Circle; Incredible icebergs Millions of penguins – Adélie, gentoo, chinstrap 5 species of seals – crabeater, Weddell, leopard, fur and southern elephant Whales – humpback, minke, orca Visit historic research stations in the area of Marguerite Bay
Itinerary Map
Pricing Information
About the Crossing the Circle: Southern Expedition Itinerary
Extend your time in Antarctica and make landings in less frequented sites south of the Antarctic Circle;
Incredible icebergs
Millions of penguins – Adélie, gentoo, chinstrap
5 species of seals – crabeater, Weddell, leopard, fur and southern elephant
Whales – humpback, minke, orca
Visit historic research stations in the area of Marguerite Bay
Detailed Itinerary
Day 1: Ushuaia, Argentina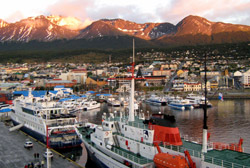 Today is the first day of your adventure in the world's southernmost city at the tip of Argentina. Embark in the afternoon. Start to become familiar with the expedition staff and ship. In the early evening, set sail and begin the voyage leaving behind Ushuaia and charting a course through the Beagle Channel.
Day 2-3: Drake Passage
Crossing the Drake Passage, there is so much excitement in the air as you get ever closer to the white continent. Guests eagerly soak up the friendly atmosphere on board as our numerous Polar experts prepare you for your adventures with presentations on everything Antarctic, from wildlife to history. Eventually, cross the Antarctic Convergence where you will notice a distinct drop in temperature as you enter the waters of the Antarctic Ocean. Along the way, witness many spectacular sights from icebergs to an array of seabirds and even several whale species some of which are known on occasion to fully breach from the sea.
Days 4-8: Antarctic Peninsula & South Shetland Islands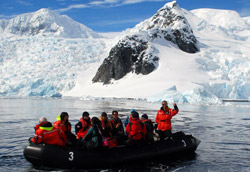 In the waterways of the Antarctic Peninsula, the goal is to make as much time as possible to explore by inflatable Zodiac boats and marvel up close at nature's glory. The first goal will be to sail south of the Antarctic Circle and into Matha Strait or Marguerite Bay. Given favorable ice conditions, the captain will push our exploration even further southward, looking for historic and wildlife sites. From the most southerly point (south of the Antarctic Circle), we will make our way north along the Antarctic Peninsula, cruising through the narrow waterways and channels of the Antarctic Peninsula. Spectacular waterways such as Crystal Sound, the Lemaire Channel, the Neumeyer Channel and the Gerlache Strait will all feature in the itinerary. Landing sites might include Neko Harbour, Wilhelmina Bay, Petermann Island and the Yalours, where you will observe Weddell, crabeater and elephant seals, skuas and other seabirds as well as an abundance of penguins including some very large colonies of the comical Adelie penguin.
At Half Moon Island you will visit a breeding colony of chinstrap penguins that share their territory with fur seals and blue-eyed shags. The team also hopes to see the gentle humpback whale dining on krill in its feeding grounds and possibly have an opportunity to spot orcas and Minke whales as the trip goes. The expedition staff plan on walking ashore on the continent of Antarctica at Paradise Harbour or Neko Harbour. Although it will not be your first glimpse of the Antarctic, a walk ashore on the Continent will evoke emotions to carry with you for the rest of your life. The scenery here is amazing. In particular the oddly shaped icebergs looking like sculptures, as well as the colossal 'tabular' icebergs that break away from the continent's ice shelf. Expect to feel transformed as you experience twilight from the very bottom of the planet.
Days 9-10: Crossing the Antarctic Circle
By now, your knowledge of Adélie, chinstrap and gentoo penguins will be matched by your ability to differentiate between a leopard, fur or Weddell seal. Terms like bergy bits and pancake ice will seem normal, yet there are still many tales to be told. As you head north, Zodiac excursions will fill your days, and your Expedition Team will continue offering presentations while giving you time to reflect on everything you've experienced.
Days 11-12: Drake Passage
As you leave this magical place and make your way north, heading again across the Antarctic Convergence and the Drake Passage before rounding Cape Horn, time will be spent sharing and reflecting on the wonderful experiences of the last few days. Sailing down the Beagle Channel, celebrate the conclusion of the Polar expedition at a special dinner.
Day 13: Ushuaia
In the early morning, arrive back in Ushuaia. It is time to say farewell to your crew and fellow travelers. Guests will be transported to their hotels or to the airport for return flights home.
Welcome Aboard the Janssonius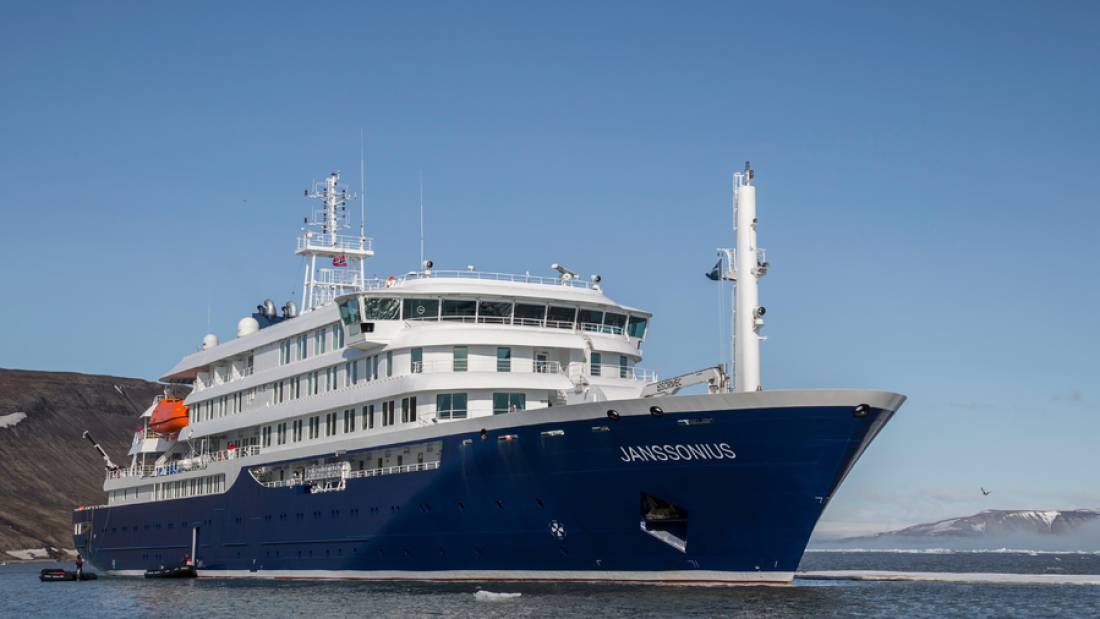 Janssonius is meeting the latest and highest Lloyd's Register standards for ice-strengthened cruise ships. Surpassing the requirements of the Polar Code adopted by the International Maritime Organization (IMO), Janssonius represents the most flexible, advanced, innovative touring vessel in the polar regions, thoroughly optimized for exploratory voyages that provide you the utmost first-hand contact with the Arctic and Antarctica.
Technical Specs
| | |
| --- | --- |
| Passengers: | 170 in 80 cabins |
| Staff & crew: | 72 |
| Length: | 107.6 meters |
| Breadth: | 17.6 meters |
| Draft: | 5.30 meters |
| Ice class: | Polar Class 6 (equivalent 1A-Super) |
| Displacement: | 5,590 tonnes |
| Propulsion: | 2 x ABC main engines; total 4,200 kW |
| Speed: | 15 knots |
Cabins & Amenities
Happier polar passengers, healthier polar environment
Not only will the numerous amenities and on-board entertainments help make your Janssonius voyage truly memorable, this ship also gives you the peace of mind that comes with choosing one of the most environmentally friendly vessel on the polar seas. Janssonius uses LED lighting, steam heating, bio-degradable paints and lubricants, and state-of-the-art power management systems that keep fuel consumption and CO2 levels minimal. This means that when you sail aboard Janssonius, you get to enjoy the exotic landscapes and wildlife as much as possible while impacting them as little as possible.
Janssonius offers high-quality accommodation for 170 passengers in six grand suites with balconies (27 square meters, 291 square feet), eight junior suites (19 to 20 square meters, 205 to 215 square feet), eight superior cabins (20 to 21 square meters, 215 to 226 square feet), 11 twin deluxe cabins, (19 to 21 square meters, 205 to 226 square feet), 14 twin window cabins (12 to 14 square meters, 129 to 151 square feet) as well as 27 twin porthole cabins, two triple porthole cabins, and four quadruple porthole cabins that vary in size from 12 to 18 square meters, or 129 to 194 square feet. The passenger capacity certificate for Janssonius is 196 persons. One deck consists of a large observation lounge and separate lecture room, which are reserved for a wide variety of interactive workshops, exhibitions, and performances particular to Janssonius.
Notes