Antarctica Peninsula & The Extreme Weddell Sea – Ocean Victory, Dec. 2023
Antarctica Peninsula & The Extreme Weddell Sea – Ocean Victory, Dec. 2023
Trip Summary
Dates: December 16, 2023 – December 26, 2023
Duration: 11 Days
About the Weddell Sea Quest Itinerary
The Weddell Sea is a rarely visited, heavily iced and beautiful area of Antarctica that holds penguin rookeries and is home to many seals and marine birds. These trips combine the 'classic' West side of the Antarctic Peninsula with the less visited eastern Weddell Sea. Famous for the ill-fated polar expedition led by British explorer […]
Itinerary Map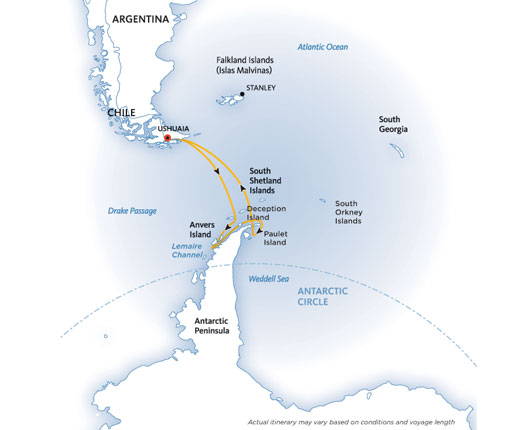 Pricing Information
About the Weddell Sea Quest Itinerary
The Weddell Sea is a rarely visited, heavily iced and beautiful area of Antarctica that holds penguin rookeries and is home to many seals and marine birds. These trips combine the 'classic' West side of the Antarctic Peninsula with the less visited eastern Weddell Sea. Famous for the ill-fated polar expedition led by British explorer Ernest Shackleton, the Weddell Sea is known for amazing ice formations and a variety of wildlife. Take this trip to journey to a little-known part of Antarctica and pass through the route of Ernest Shackleton. In brief:
Visit the pristine, icy Weddell Sea on the eastern side of the Antarctic Peninsula, as well as the highlights of the western side of the peninsula and the South Shetland Islands
Sail in the waters of the 1914 Ernest Shackleton expedition
Learn about the environment and wildlife from onboard lecturers and specialists
Witness the abundant wildlife – penguins, seals, whales and more!
Detailed Itinerary
Day 1: Embarkation
Arriving at the ship in the afternoon, you will be greeted by the Expedition Team and ships officers at a safety and orientation briefing followed by the Captains' welcome dinner. After dinner, relax and take in the mountainous scenery on our early evening sail down the Beagle Channel past Magellanic Penguin, Rock Cormorant, and Sea Lion colonies.
Days 2-3: Drake Passage
Among the wildlife spotting opportunities as we sail south are the Albatrosses, Prions, and Petrels that frequently follow the ship. The Expedition Team will be out on deck as well, looking for the Whales and Dolphins that may also be seen in the area. The team will begin presentations with informative and entertaining lectures on the wildlife, history, and geology of Antarctica. Helpful briefings on environmental regulations and expedition safety will also be held.
Days 4-6: Weddell Sea
The Weddell Sea is known for its abundance of huge tabular icebergs . In some years, the Erebus & Terror Gulf and Weddell Sea are chock-a-block full with ice, making for exciting ice navigation.  Get up at 3:30 in the morning for sunrises unlike anything you've ever seen. Huge tabular bergs break from the Larsen, Ronne, and Filchner ice shelves and combine with one-year-old and multi-year sea ice to produce a floating, undulating panorama of rugged ice scenery.  Hope Bay and the Argentine Station Esperanza, located on the western side of the Antarctic Sound, are possible landing sites. The Weddell Sea represents the center of the Peninsulas' Adelie penguin population. Devil Island and Paulet Island are excellent location to see Adelie penguins.
Days 7-9: Antarctica Peninsula & South Shetland Islands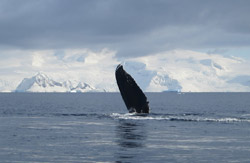 The remarkable history of the  Antarctic Peninsula will also provide you with a type of excitement often only associated with the early explorers. You will have plenty of time to explore this pristine wilderness of snow, ice, mountains and waterways and a wide variety of wildlife. Apart from Gentoo and Chinstrap penguins and other seabirds you are likely to encounter Weddell, crabeater and leopard seals as well as Minke whales and orcas at close range. Expeditions hope to navigate some of the most beautiful waterways: the Gerlache Strait, Errera Channel and Neumayer Channel. Possible landing sites include: Paradise Bay, an aptly named place with its impressive glacial fronts and mountains, Cuverville Island, home of the biggest Gentoo Penguin colony in the Peninsula surrounded by glaciers and castellated icebergs, and the British Museum and Post office at Port Lockroy. Further exploration will lead you to the South Shetland Islands, where you may visit Deception Island or Half Moon Island.
Days 10-11: Drake Passage
Say goodbye to Antarctica and head north across the Drake Passage. Join lecturers and naturalists on deck as searching for seabirds and whales and enjoy some final lectures. Take the chance to relax and reflect on the fascinating adventures of the past days on the way back to Ushuaia.
Day 12: Disembarkation
Arrive to Ushuaia in the early morning and disembark after breakfast.
Welcome Aboard the Ocean Victory
The Ocean Victory started operating the polar regions in NOVEMBER 2021, becoming one of the most modern small ship vessels in the market.
This stylish cruise ship, ideally suited for small ship expeditions, will be deployed and dedicated to varied Antarctic region voyages.
With a total of 93 comfortable cabins for our guests, all with ocean view, (and 90% with their own balcony), several restaurants, a wellness area, a Nordic Bar, an open deck dining facility, a modern lecture lounge, and other amenities, the vessel is also be environmentally-friendly onboard, with an implementation of the Green Initiative Program, ensuring both absolute comfort and sustainability for our guests.
Technical Specs
With the highest Polar code 6 and Ice class 1A, Ocean Victory is the ideal vessel for small-ship cruising due. She is an X-Bow®-Infinity class, which provides high stability in rough weather and allows for the smoothest movements on high waves, and a Solas 2012 classification which facilitates a safe return to port.
The vessel is part of a brand new generation of low-energy vessels, with 4 diesel engines and 2 electro engines, all controlled electronically to optimize speed and fuel consumption.
Cabins & Amenities
Dinner always starts with delicious hot soups, cold cuts and crisp, fresh salads. Several choices of entrees are offered each evening, to accommodate different tastes and dietary requirements; always including a meat choice, fish choice and vegetarian choice.
After dinner, freshly prepared desserts, including ship-made ice cream or cakes are a great way to end a meal and satisfy any sweet tooth.
A selection of wines and beers is available to perfectly compliment your visit to our restaurant… and if you're interested in relaxing during your time off from activities and landings, delight onboard Ocean Atlantic by raising your glass to the experience of a lifetime!
Our bar is fully equipped with a variety of cocktails, beers, non-alcoholic beverages and more, to quench your thirst and reward the explorer in you.
LUXURIOUS CABINS & WELLNESS ONBOARD OCEAN VICTORY
Ocean Victory is the perfect addition to our fleet, due to its nautical technology and innovative low-energy usage fulfilling with Nordic standards of service.
Our objective for safe and transformational experiences, distinguished lectures and programs, and superior-quality stays on our vessels, can now also manifest through more gentle sea crossings and a luxurious experience onboard.
Her X-BOW™ – Infinity class provides high stability in rough weather and high waves, and the spacious cabins allow for comfort and leisure between locations. Several restaurants, a wellness center and all the commodities to complete a dream voyage to the Antarctic region.
There are private balconies in approx. 90% of the staterooms, allowing you to behold the magnitude of the open ocean all around you.
Notes
The Ocean Victory is the started operating the polar regions in NOVEMBER 2021.