Antarctica – Highlights of the Frozen Continent – MS Fridtjof Nansen, Feb. 2021
Antarctica – Highlights of the Frozen Continent – MS Fridtjof Nansen, Feb. 2021
Trip Summary
Dates: February 15, 2021 – March 3, 2021
Duration: 17 Days
Includes pre voyage hotel night in Buenos Aires + Roundtrip flights Buenos Aires- Ushuaia
About the Antarctica Classic in Depth Itinerary
Like the 'Antarctica Classic', this 13-day expedition will introduce you to the magic of the South Shetland Islands and the Antarctic Peninsula, and offers you two additional days to explore the Peninsula. The In-Depth itinerary allows you to explore less-visited sites on the Peninsula and to become even more fully immersed in the Antarctic experience. […]
Itinerary Map
About the Antarctica Classic in Depth Itinerary
Like the 'Antarctica Classic', this 13-day expedition will introduce you to the magic of the South Shetland Islands and the Antarctic Peninsula, and offers you two additional days to explore the Peninsula. The In-Depth itinerary allows you to explore less-visited sites on the Peninsula and to become even more fully immersed in the Antarctic experience. Encounter leopard seals lazing on ice floes and immense rookeries of penguins surrounded by towering glaciers. Expert expedition staff guides and lecturers offer knowledge and insights that really bring the nature and history of the region to life and serve to create an adventure of a lifetime.
Detailed Itinerary
Day 1: Ushuaia, Argentina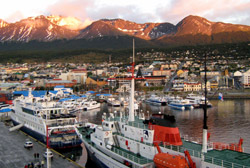 Your gateway for this expedition is Ushuaia, Argentina. Nestled within the Tierra del Fuego archipelago, Ushuaia offers you a small-town feel but has many shops, museums, cafes and restaurants to enjoy before your voyage. The nearby national park and Martial Glacier are must-sees and offer plenty of hiking and outdoor activities.
Day 2: Embarkation
Embarkation begins in the afternoon at the port in Ushuaia. Enjoy the evening sailing through the Beagle Channel.
Days 3-4: Drake Passage
The adventure begins with a 400 mile crossing of the passage that bears the name of the 16th century English explorer Sir Francis Drake. The ship is at home in this part of the Southern Ocean. Take in daily lectures from your expedition team and keep an eye out for the first sightings of icebergs, whales, and albatross following in the ship's wake.
Days 5-10: Antarctic Peninsula & South Shetland Islands
Experience some of the most unique wildlife viewing and inspiring scenery in the world as you set foot on the Antarctic continent.
Attempt two shore landings per day (weather conditions permitting), and encounter gentoo, chinstrap and Adélie penguin rookeries, Weddell, crabeater and leopard seals, and orca, humpback and minke whales in the cold Antarctic waters. The peninsula also has a remarkable human history. During the voyage you will learn about some of the most important and dramatic expeditions to this remote corner of the world.
Days 11-12: Drake Passage
Today begins the journey north to our home port of Ushuaia. Review the highlights of your Antarctic experience with our lecturers and staff. Keep your eyes open on the observation deck for some final whale sightings.
Day 13: Disembarkation
Disembark in the morning.
Welcome Aboard the MS Fridtjof Nansen
Highlights
All cabins and suites enjoy outside views
Science Center with advanced microscopes
Wellness Center with massage and spa treatments
Expedition Team
Three restaurants
Indoor and outdoor gyms with on-deck running track
Outdoor infinity pool and two hot tubs
Sauna with a panoramic outside view
Explorer Lounge and Bar
Indoor and outdoor observation decks
Expedition launch/Tender pit
On board shop
Lecture hall and group room
50% of all cabins are suites with a private balcony
Technical Specs
General
| | |
| --- | --- |
| Year built | 2019 |
| Speed | 15 knots |
| Ship yard | Kleven Yards (NO) |
| Ice class | Polar Class 6 |
Dimensions
| | |
| --- | --- |
| Length | 459 ft |
| Gross tonnage | 20,889 t |
| Beam | 77 ft |
Machinery
| | |
| --- | --- |
| Main engine type | Bergen B33:45 |
| Number of engines | 4 |
| Output | 3600 kw (each) |
Hybrid system
| | |
| --- | --- |
| Battery storage | 2 x 627 kWh |
| Discharge | 2 x 1750 kW |
Cabins & Amenities
Facilities onboard
Every element of the new ship is designed to enhance the journey and create a warm and informal atmosphere. Join us in premium onboard surroundings as we explore some of the most beautiful places on Earth.
Decks and cabins
The decks serve different purposes such as observation decks, pool, gym and running track. The cabins feature fine Scandinavian materials and provide premium comfort. All cabins are outside for excellent views.
Expedition Suite
These suites are large, well-appointed cabins with expansive windows and most have balconies. Some have a private outdoor hot tub. The suites feature flexible sleeping arrangements with comfortable sofas, sitting areas and TV. They can accomodate up to four people.
Expedition suites are exclusively in upper and mid-deck locations. Our Expedition Suite concept includes a bathrobe, espresso maker, and more. An exciting welcome gift awaits all suite guests in their cabin.
Arctic Superior
Arctic Superior class cabins are comfortable and roomy accommodation and most have balconies. Flexible sleeping arrangements, sofa beds, TV and other features make this one of our most popular categories. Our Arctic Superior concept includes a kettle, tea and coffee. Can accommodate two to four passengers.
Polar Outside
The Polar Outside cabins are primarily on the middle decks with windows, most are spacious, have flexible sleeping arrangements and TV for excellent and high standard accommodation. Can accommodate two to four passengers.
Restaurants
MS Fridtjof Nansen's three restaurants will host a variety of dining options, with menus drawn from our rich Norwegian and Nordic tradition, as well as international cuisine and local inspiration.
Whether enjoying your meal at Aune Main Dining, Fredheim – the informal international meeting place, or the specialty restaurant Lindstrøm, you will indulge in low key yet refined, modern Norwegian Nordic cooking – where our honest and delicious cuisine reflects our destinations.
Wellness & Recreation
A Hurtigruten expedition cruise features superb onboard facilities designed to help you stay active and indulge in luxurious spa treatments as you explore
Gym & running track
Excellent indoor and outdoor workout facilities, featuring advanced equipment
Panoramic sauna
The elegant saunas feature floor-to-ceiling windows offering spectacular views.
Infinity pool & hot tubs
Swim, soak and truly relax with amazing views of glaciers, icebergs and wildlife.
Wellness Center
In the Wellness Center, you will find professional highly trained therapists who offer spa treatments including aromatherapy massages, tension release, face treatments and body scrubs.
Nansen Science Center
The Science Center serves as the learning and social hub of the expedition and a venue for guests and crew to meet to create a deeper understanding of the areas we explore. Nansen Science Center will also be the onboard headquarters for the Expedition Team
Passenger areas
| | |
| --- | --- |
| Gym & fitness center | 2 |
| Infinity pool | 1 |
| Lounge & bar | 2 |
| Sauna | 1 |
| Restaurants | 3 |
| Wellness center | 1 |
| Science center | 1 |
| Observation decks | 2 |