Antarctica Express – Ocean Nova, Jan. 2024
Antarctica Express – Ocean Nova, Jan. 2024
Trip Summary
Dates: January 14, 2024 – January 19, 2024
Duration: 6 Days
Express Air Cruise Starts in Ushuaia - Ends in Punta Arenas
About the Express Air Cruise Itinerary
For those who are limited by time but want a taste of Antarctica, this is the voyage for you.  Experience the best of both worlds with one-way cruise and one-way flight, from Ushuaia and ending in Punta Arenas, Chile. This voyage adds in the bonus of a landing on mythical Cape Horn, if conditions allow. Experience […]
Itinerary Map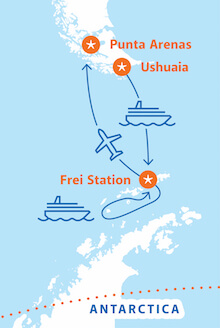 About the Express Air Cruise Itinerary
For those who are limited by time but want a taste of Antarctica, this is the voyage for you.  Experience the best of both worlds with one-way cruise and one-way flight, from Ushuaia and ending in Punta Arenas, Chile. This voyage adds in the bonus of a landing on mythical Cape Horn, if conditions allow. Experience the southernmost reaches of the world in an "express" version.
Detailed Itinerary
Day 1: Ushuaia, Argentina
Your journey begins in Ushuaia, Argentina, the southernmost 'city' in the world. Board in the afternoon and sail along the Beagle Channel towards Puerto Williams, Chile, the southernmost 'town' in the world. Explore the surroundings before setting sail to Cape Horn.
Day 2: Cape Horn
After an overnight crossing of Nassau Bay, you awake in full view of legendary Cape Horn! Weather permitting, board a Zodiac and be one of the few privileged adventurers to step foot on this famous and rarely visited island. Back on board, set sail towards Antarctica and cross the famous passage named in honour of Sir Francis Drake, the great 16th century British explorer.
Day 3: Drake Passage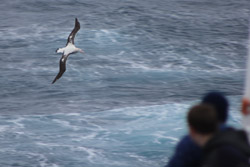 As you sail through the Drake Passage en route to King George Island, in the South Shetland Islands, attend an engaging program of lectures and presentations. In the company of expert guides, watch for wildlife from the glass-enclosed lounge or from the outside decks. You may spot magnificent sea birds, such as albatrosses and petrels, as well as different species of whales on their way south to Antarctica.
Day 4: Arrival to South Shetland Islands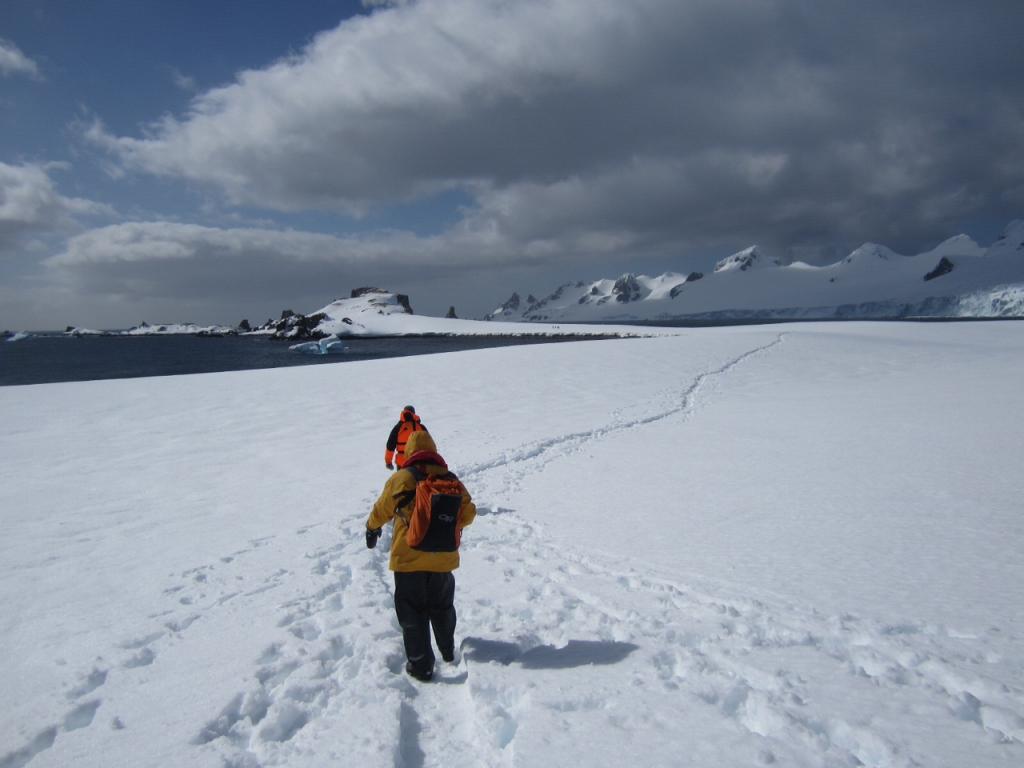 After crossing the Antarctic Convergence, the environment changes noticeably. Keep your camera ready, as this is the time to watch for the first icebergs and the first sight of Antarctic land. Reaching the South Shetland Islands, sail in ice-filled bays, while enjoying the company of sea birds, penguins, seals and whales. Board a Zodiac for your first memorable shore visit to a penguin colony. Taking advantage of the endless Antarctic daylight, exploration will continue well into the evening.
Day 5: South Shetland Islands & Flight to Punta Arenas
Upon reaching King George Island, disembark at Fildes Bay and explore the area, such as the Chilean Base Frei and the Russian Base Bellingshausen. Bid farewell to Antarctica before boarding the flight back to Punta Arenas, Chile. Upon arrival, transfer to your hotel for the night. (Note: Meals in Punta Arenas are at your leisure and not included in the program.).
Day 6: Punta Arenas departure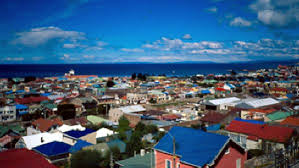 After breakfast, transfer to the Punta Arenas airport for your onward flight.
Welcome Aboard the Ocean Nova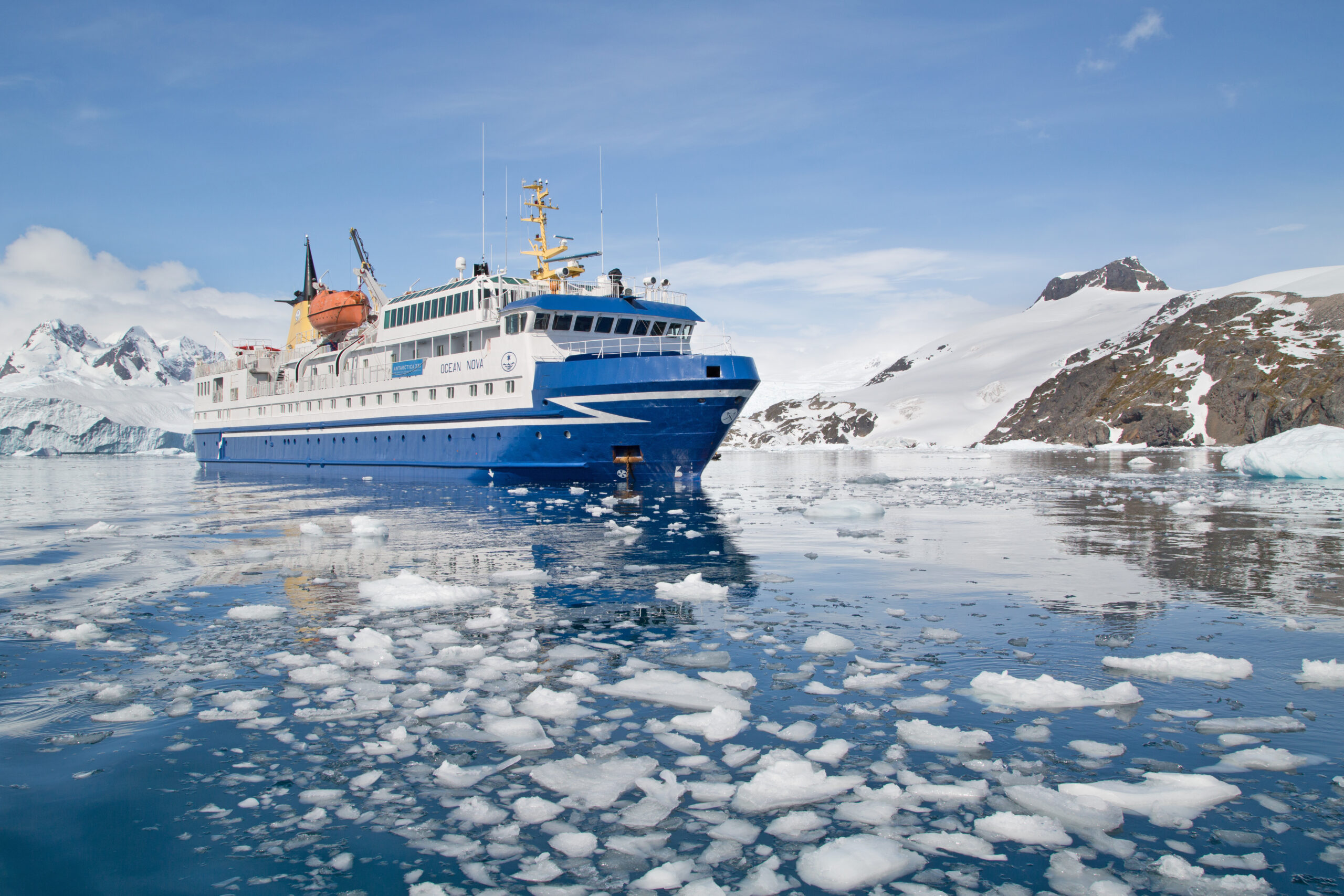 The Ocean Nova is one of the most fuel-efficient vessels operating in the Polar Regions, carrying 67 passengers in 34 cabins, each with a sea view and private facilities. The ship was completely refurbished in 2006, and it is extremely quiet and highly maneuverable. The Ocean Nova has a spectacular observation lounge with full view windows, the latest lecture and presentation equipment, and a complete bar. The aft library/lounge has wrap-around windows, comfortable chairs and a complete Polar library. The Ocean Nova operates Fly-Cruise expeditions along with the BAE-146 Airplane, which carries passengers over the Drake Passage. The BAE 146 was manufactured in the United Kingdom by British Aerospace.  It is a high-wing aircraft with very short runway requirements which makes it particularly suited for these kind of destinations. It is operated by Aerovías DAP, which has more than 20 years of experience of flying in Patagonia and Antarctica.
Technical Specs
Maximum Passengers: 67
Crew capacity: 34
Place built: Denmark
Country of registry: Bahamas
Gross tonnage: 2 183
Length: 73 metres
Width: 11 meters
Draft: 3,5 m
Two fully enclosed lifeboats
Ice Class: BV IceIB, Eo(Hull Ice 1A)
Cruising speed: 10 knots
Refurbished: 2006
Cabins & Amenities
34 outside cabins, all featuring private facilities
Spacious dining room with unreserved seating: buffet-style breakfast with table service; table- service lunch and dinner with main course choices from a changing daily menu; cakes served in mid-afternoon
Observation lounge and presentation room
Lounge and bar, open late morning, afternoon and evening with a wide selection of wines and spirits; coffee, tea available all day
Library with collection of polar-themed books
Ship-to-shore communications via Fleet 77 phone, e-mail
Clinic with licensed doctor
Exercise room
Notes
Triple cabins are available only for 3 people booking together – not for single travelers wanting to share.
A minimum of $50,000 USD worth of evacuation insurance is mandatory for these voyages.
Rates are per person in the selected cabin. Single passengers can either book a Dedicated Single cabin, or book a Twin cabin for Single use with a supplement of 1,85 to be added to the rate per person in Twin cabin.
Kayaking is offered on all voyages for $895 per person. Snowshoeing is offered on selected voyages for $195 per person.