Antarctica BaseCamp — Ortelius, Dec. 2023
Antarctica BaseCamp — Ortelius, Dec. 2023
Trip Summary
Dates: December 24, 2023 – January 5, 2024
Duration: 13 Days
About the Base Camp Antarctic Peninsula Itinerary
The classic Antarctica voyage with an adventure twist. Explore the Antarctic Peninsula, one of the world's most pristine and unforgettable natural environments, and participate in extra activities every day. Each day the expedition team offers a variety of activities, including kayaking, mountaineering, hiking, zodiac cruising, photography workshop, snowshoeing & camping.  The ship will stay at […]
Itinerary Map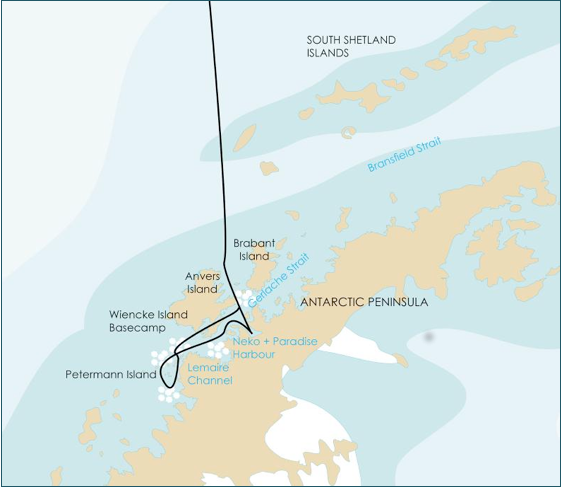 Pricing Information
About the Base Camp Antarctic Peninsula Itinerary
The classic Antarctica voyage with an adventure twist. Explore the Antarctic Peninsula, one of the world's most pristine and unforgettable natural environments, and participate in extra activities every day. Each day the expedition team offers a variety of activities, including kayaking, mountaineering, hiking, zodiac cruising, photography workshop, snowshoeing & camping.  The ship will stay at one landing site for an extended period to allow for more in-depth exploration of the area. The trip will be highlighted by penguins, seals and whales accompanying the ship during your journey along the Antarctic coast.  Your first steps on the continent will be unforgettable as you visit breathtaking sights and historic places. In brief:
Perfect for first time visitors to Antarctica who are interested in extra activities
Witness and explore the highlights of the Antarctic Peninsula and South Shetland Islands
Participate in kayaking, camping, mountaineering & more!
Learn about the environment and wildlife from onboard lecturers and specialists
Witness the abundant wildlife – penguins, seals, whales, birds
* Itineraries on our website are intended only as a guide and you should consult our team for detailed itineraries on specific voyages.
Detailed Itinerary
Day 1: Embarkation
Embark in the afternoon after a morning exploring the world's Southernmost city.
Days 2-3: Drake Passage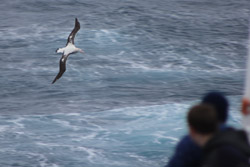 Among the wildlife spotting opportunities as we sail south are the Albatrosses, Prions, and Petrels that frequently follow the ship. The Expedition Team will be out on deck as well, looking for the Whales and Dolphins that may also be seen in the area. The team will begin presentations with informative and entertaining lectures on the wildlife, history, and geology of Antarctica. Helpful briefings on environmental regulations and expedition safety will also be held.
Days 4-8: Antarctic Peninsula & South Shetland Islands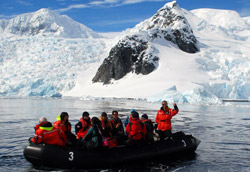 We will sail directly to "High Antarctica", passing the Melchior islands and the Schollaert Channel between Brabant and Anvers Island. We will sail to the Neumayer Channel, where we position our ship for the multi activity base camp. The protected waters around Wiencke Island will become our playground for all activities. In this alpine environment there are great opportunities to scout the region on foot, per zodiac and during kayak trips. Walkers will find opportunities to use snowshoes on hikes near the shore lines and the mountaineers will find their challenge by climbing hills and view points further inland, i.e. Jabet Peak (540 m). All climbs and excursions can only be conducted in good weather conditions.
We plan to stay two overnights at anchor in order to implement two camp nights and two full activity days. We will visit the British research station and the post office Port Lockroy on Goudier Island. Close to Port Lockroy we may also offer a landing on Jougla Point with Gentoo Penguins and Imperial Shags. We look out for leopard seals, crabeater seals and whales .
In good conditions and time allowing we sail through the spectacular Lemaire Channel to Booth Island, Pleneau and Petermann Island where we can find Adelie Penguins and Blue-eyed Shags. In this area there are good chances to encounter Humpback Whales, Minke Whales and Fin Whales. We choose another camp site which is suitable and close to next day's activity.
Days 9-10: Drake Passage
The lecture series and wildlife spotting will continue on the return trip to Ushuaia and while the team will reflect on beautiful Antarctica and its fragile future.
Day 11: Disembarkation
Morning disembarkation allows you catch a flight to Buenos Aires or stay in Ushuaia for more sights and adventure.
Welcome Aboard the Ortelius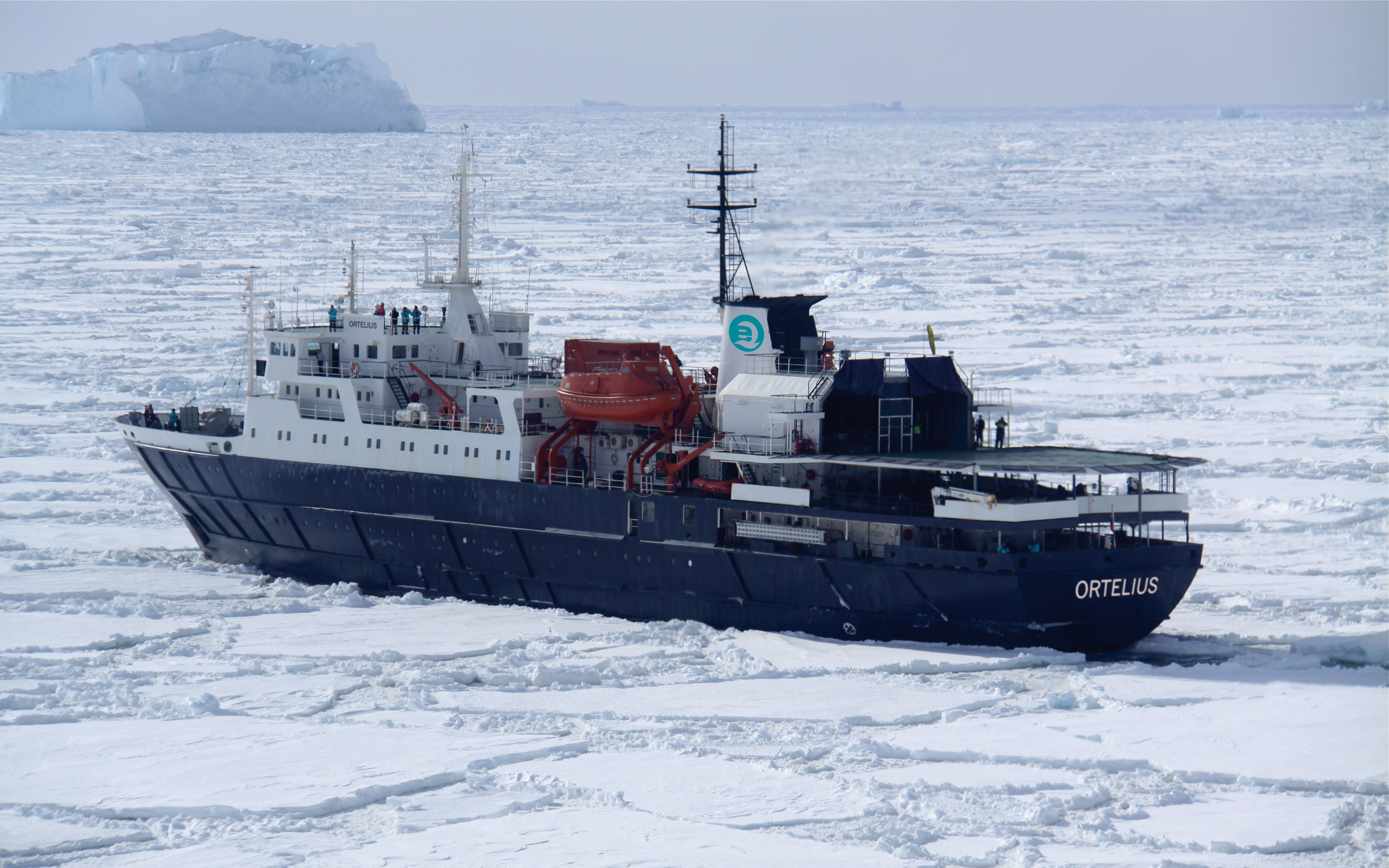 The ice-strengthened vessel Ortelius is an excellent vessel for Polar expedition cruises in the Arctic and Antarctica, capable of visiting  remote locations such as the Ross Sea and Franz Josef Land in the Arctic. Ortelius was built in Poland in 1989 and worked as a special purpose vessel for the Russian Academy of Science.
The vessel has the highest ice-class notation (UL1 equivalent to 1A) and is therefore very suitable to navigate in solid one-year sea ice and loose multi-year pack ice. Ortelius is a great expedition vessel for 100 passengers with lots of open-deck spaces and a very large bridge which is accessible to the passengers. Ortelius offers a comfortable hotel standard, with two restaurants, a bar, lecture room and a sauna.
Though our voyages are primarily meant to offer our passengers an exploratory wildlife program with as much time ashore as possible, Ortelius offers all the comforts of a standard hotel ― along with a bar and lecture room. Flexibility assures maximum wildlife opportunities. As such, Ortelius carries 10 Zodiacs with 60hp Yamaha engines.
Technical Specs
Passengers: 116
Staff & Crew: 47
Length: 91.25 meters
Breadth: 17.61 meters
Draft: 5.8 meters
Ice class: UL1 (equivalent to 1A)
Displacement: 4575 tonnes
Engines: 6 ZL 40/48 SULZER
Speed: 12 knots (14.3 knots max)
Ortelius can accommodate up to 116-123 passengers and has an abundance of open-deck spaces. It is manned by 22 highly experienced nautical crew members, 19 hotel staff, eight expedition specialists (one expedition leader, one assistant, and six lecturer-guides), and one doctor.
Cabins & Amenities
Two restaurants with open seating
Bar / observation lounge
Elevator
Internet access
Private facilities – sink, toilet shower, hairdryer and bathrobes in every cabin
Multi-purpose presentation room with state-of-the-art equipment
Stabilizers for smooth sailing
10 zodiacs onboard
Notes
Rates are per person, based on twin share. Single Supplement for twin cabins is 1.7 times the twin rate.
Mandatory Emergency Evacuation insurance is required on all trips.
Camping – From USD$190 per night, max 30 people
Kayaking – From USD$465 per trip, max 14 people
Snowshoe – no charge but sign up required
Adventure Activities for the "Base Camp" voyages are free of charge
There is always a possibility of an added fuel surcharge if marine oil prices raise significantly.
SHIP CAPACITY UPDATE: Starting with 2020 Arctic & 2020-2021 Antarctica Season, the ship capacity will be reduced to 108 passengers  & no triple cabins will be available. We can accommodate three passengers traveling together in a Superior Cabin + a sofa bed.