Trip Summary
Dates: November 20, 2019 – November 30, 2019
Duration: 11 Days
%5 off until Sept 1, 2019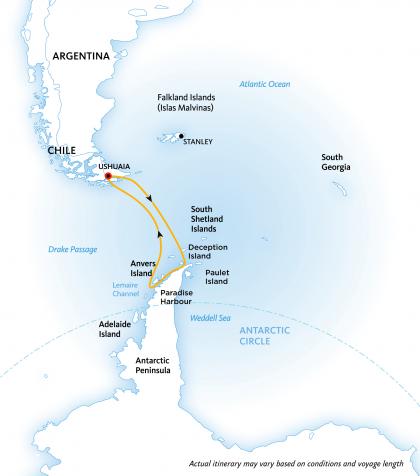 About the Antarctica Classic Itinerary
Perfect for first time visitors to Antarctica
Witness and explore the highlights of the Antarctic Peninsula and South Shetland Islands
Learn about the environment and wildlife from onboard lecturers and specialists
Witness the abundant wildlife – penguins, seals, whales and more!
Detailed Itinerary
Day 1: Embarkation
Arriving at the ship in the afternoon, you will be greeted by Expedition Team and ships' officers at a safety and orientation briefing followed by the Captain's welcome dinner. After dinner, relax and take in the mountainous scenery on our early evening sail down the Beagle Channel past Magellanic Penguin, Rock Cormorant, and Sea Lion colonies.
Days 2-3: Drake Passage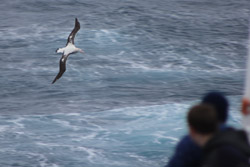 Among the wildlife spotting opportunities as we sail south are the Albatrosses, Prions, and Petrels that frequently follow the ship. The Expedition Team will be out on deck as well, looking for the Whales and Dolphins that may also be seen in the area. The team will begin presentations with informative and entertaining lectures on the wildlife, history, and geology of Antarctica. Helpful briefings on environmental regulations and expedition safety will also be held.
Days 4-8: Antarctic Peninsula & South Shetland Islands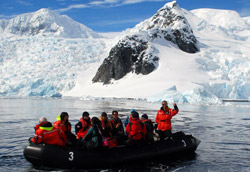 Arrival to the White Continent, the land of extremes! The most common first reaction to the white continent is a sense of reverence and awe. The experience is hard to put into words, as few places are as untouched, unique and enduring as Antarctica. The Expedition Leader and Captain will create a flexible itinerary based on weather, ice, and opportunity. The route will stress the most scenic bays and channels of the Peninsula with stops at penguin rookeries, seal wallows, bird colonies and whale feeding areas. Guided hikes with the Expedition Team will have you trekking up a glacier, visiting a research station, or consorting with penguin colonies. Chinstrap, Gentoo and Adélie penguins are found here, along with Fur, Weddell, Crabeater and Leopard Seals. Curious whales, such as Minkes and Humpbacks, are often attracted to Zodiacs as well, giving you a chance to get within reaching distance of these majestic animals. Each day and each landing will present a new collection of creatures to entertain you and keep your camera shutter busy.
The trip may include picturesque Neko Harbor, sheltered Paradise Harbor, the Humpback Whale favored Wilhelmina Bay, the striking Lemaire Channel, the wildlife-filled Penola Channel, or the majestic Neumayer Channel. A visit may be possible to an active scientific base such as Ukraine's Vernadsky as well as an historic base such as U.K.'s Port Lockroy or Wordie House.
Days 9-10: Drake Passage
The lecture series and wildlife spotting will continue on the return trip to Ushuaia and while the team will reflect on beautiful Antarctica and its fragile future.
Day 11: Disembarkation
Morning disembarkation allows you catch a flight to Buenos Aires or stay in Ushuaia for more sights and adventure.
---
Welcome Aboard the Plancius
The Plancius was originally built as a hydrographic research vessel in the service of the Dutch government. In 2007, the current owner purchased her and since then she has undergone a total refit and refurbishment to prepare her for carrying passengers on polar expeditions. All of the cabins have outside views and are comfortable and well-appointed with private facilities and all lower beds (either twin or double). All cabins have ample storage facilities and a writing desk and chair, as well as a flat screen TV for viewing movies. The Plancius is equipped with state-of-the-art safety systems,  including new radar, communication, and other navigation equipment, as well as the most modern fire and flood prevention systems.
Technical Specs
Passenger Capacity: 110 passengers max
Staff & Crew: 45
Ice class: 1D
Length: 89 metres (267 feet)
Breadth: 14.5 meters (43 feet)
Max Draft: 4.5 metres (15 feet)
Speed: 10-12 knots maximum
Cabins & Amenities
All cabins have exterior views (porthole or window) and private facilities
Library stocked with polar books
Observation lounge / Bar
Adventure options on most departures
Leica Akademie Photo Workshop
Notes
Single Supplement is 1.7 times the standard rate.
Mandatory Emergency Evacuation insurance is required. Airfare is not included in these prices.
Adventure options must be pre-booked and paid for prior to start of the trip. Space is subject to availability. Some activities require experience.
Camping – $190 per night, max 30 people
Kayaking – $465 per voyage, max 14 people
Snowshoeing – no charge but sign-up required
Photo Workshop – $420 per trip or Free during "Basecamp Plancius" and Whales, Wildlife and Photography voyage.
Max 14 people. All photo workshops are powered by renowned Leica Akademie.
All trips subject to possible fuel surcharge.
SHIP CAPACITY UPDATE: Starting with 2020 Arctic & 2020-2021 Antarctica Season, the ship capacity will be reduced to 108 passengers  & no triple cabins will be available. We can accommodate three passengers traveling together in a Superior Cabin + a sofa bed.
Prices
Interested in this Trip? Contact Us Now
Related Trips
Adventure Options

Adventure Options

Adventure Options