Antarctic Fly-Sail Expedition
Antarctic Fly-Sail Expedition
Trip Summary
Dates: January 16, 2018 – January 31, 2018
Duration: 16 Days
$12,120 USD (Promotion valid until July 31, 2017)
About the Antarctic Fly in-Fly out Sail Expedition Itinerary
Fly-In Fly-Out Options – Skip Sailing Across The Drake Passage! The best of all worlds – an intimate up-close Antarctica experience on an Expedition Sailing Yacht combined with the convenience and time-saving travel of Flying across the Drake! Explore Antarctica on an Expedition Sailboat where we will encounter penguin colonies, breaching whales, and leopard Seals. […]
Itinerary Map
Pricing Information
About the Antarctic Fly in-Fly out Sail Expedition Itinerary
Fly-In Fly-Out Options - Skip Sailing Across The Drake Passage!
The best of all worlds – an intimate up-close Antarctica experience on an Expedition Sailing Yacht combined with the convenience and time-saving travel of Flying across the Drake!
Explore Antarctica on an Expedition Sailboat where we will encounter penguin colonies, breaching whales, and leopard Seals.
Each day is something new – we take in what Antarctica gives to us, which the flexibility of a small yacht allows us to do. We will visit penguin colonies, watch many types of seals.
Explore from eye level with zodiac tours and kayaks. Plus if the weather allows anyone interested can sleep a night ashore!
Detailed Itinerary
Day 1
Depart from Punta Arenas and fly across the Drake Passage. Join the Expedition sailing yacht at King George Island and start your Antarctic Adventure
Day 2 - 12
Explore Antarctica on an Expedition sailing yacht. each day will be different and can include zodiac tours, landings at penguin colonies, exploring historic scientific bases and whaling sites, kayaking. The flexibility allows you to take full advantage of whatever Antarctica gives to us – be it an incredible southern sunset or a breaching whale. We can stop and enjoy.
While South there will be an Active scientist onboard, so all guests are invited to participate in real Antarctic research. In the evenings the scientist will present on their research, as well as pressing current Antarctic issues. The scientist will be a part of the team and ready to answer questions at dinner, or on deck!
Day 13
Return to King George Island and board your flight to Punta Arenas. Look out your window and get a last glimpse at the white continent.
Luckily your adventure doesn't end yet! Spend an included night in Punta Arenas and explore this historic city known both as stopover for famous Antarctic Explorers and the home base of old sheep barons.
Day 14-15
Fly to Puerto Williams, Chile, a small naval outpost that can truly claim the title of southern most town. Stay two nights at the Lakutaia Lodge. Explore famed Navarino island and learn about the flora, fauna, and history of the native Yaghans. An excellent museum in town, as well as excellent half day and day hikes are easily accessed from the lodge.
Day 16
Fly back to Punta Arenas over the spectacular Darwin Range – have your cameras ready as you fly over glaciers plunging into the Beagle Channel! Return to Punta Arenas and say goodbye to your fellow Antarctic Adventurers of the last two weeks and get ready to share your experiences and photos with friends and family back home.
Welcome Aboard the Ocean Tramp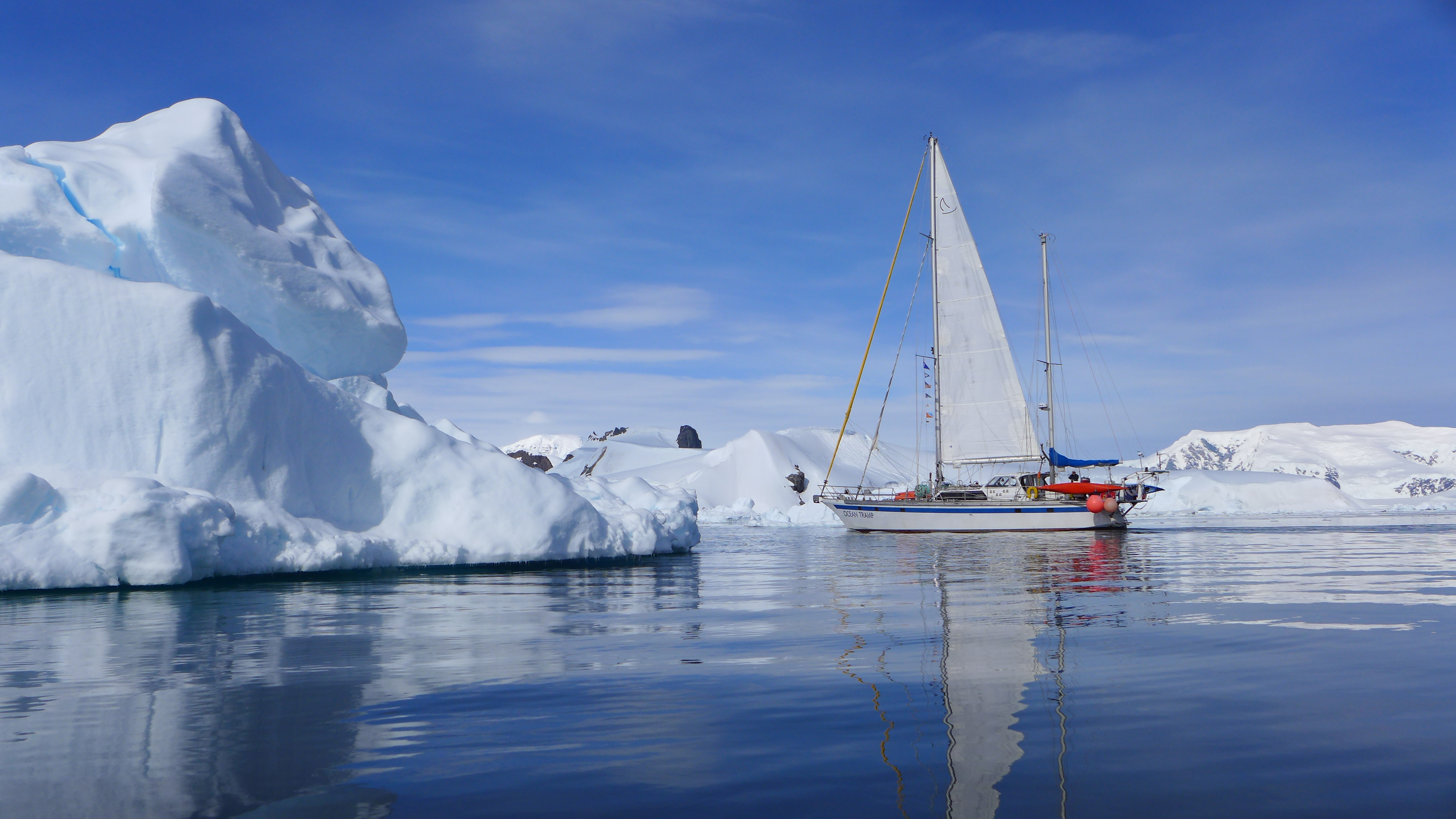 Ocean Tramp is a 66 feet ketch rigged sailboat, with 5 cabins. She very comfortably can carry 8/10 guest plus two crew members. She is a very fast sailboat thanks to her long length, making for a short passage the sailing across the Drake. She is ideal for photographers, hikers, divers, scientists and all sort of expeditions that need a large capacity vessel with plenty of storage as well as the needed comfort when living on a sailboat for longer periods of time.
We Explore The World's Southern Ocean And Journey Into Some Of The Last Wild Places In An Intimate. Small Boat Setting Of Maximum 12 Passengers. We Take Keen Travelers, Adventurers, Scientists, And Mountaineers Where They Want To Go!
Technical Specs
Designer: Horst Glacer & Kurt Reinke.
Type: Hydra Duo 66.
Shipyard: Alu Yachtbau gmb, Germany
Built: 1997.
LOA: 19.55 m.
LWL: 17.10 m.
Beam: 5.35 m.
Draft: 2.20 m.
Engine: Perkins Sabre 215 HP.
Genset Fisher Panda 5 KW & Portable 2KW Honda generator
Displacement: 32.00 tons.
Fully protected Bridge for safety and comfort when sailing in rough/cold weather.
State-of-the-Art navigation electronics, with sailing information available on smart phones and tablets over a wifi network.
4000 lts fresh water capacity.
Diesel Capacity 3200 Lts – 2500 miles range @ 7 knots.
Black and Grey Water holding tank.Wifi printer and wifi internal net for sharing files.
Ample back and forward deck for scientific activities and diving support.
Cabins & Amenities
5 Cabins, 4 heads with running water and hot showers.
Wifi printer and wifi internal net for sharing files.
LED Projector with 54″ screen in main saloon for presentations and movies.
All cabins equipped with 12 volts plug.
Charging station for electronics, with 12v, 110v and 220 volts.
Cozy double cabins for privacy and relax, with double and single bunks.
Ample library including Glaciology, Geology, Birds, Mammals, Plants, Fuegian history and local related books.
Ample back and forward deck for scientific activities and diving support.
Diving compressor.
Eco-Friendly Features
All LED Lights throughout the boat
Wind Generator
Solar Panel
Motion Sensor faucets
Flow restrictors on faucets
Sail!
Notes
What's included:
All Inclusive onboard the Expedition Yacht Ocean Tramp -including landings, zodiac cruises, hikes, kayaking, one night camping on shore, visit to Antarctic bases.
Accommodation is a bunk/bed in private double cabin with share bathroom. Duvets, towel, linen and pillows are provided. Limited storage space for personal clothe in the cabin.
All meals -while onboard: breakfast, tea and coffee mid-morning, lunch, tea and coffee midafternoon, happy hour, dinner. Wine or beers on dinners except if the boat is underway. While in the lodge/hotel: breakfast, lunch and dinner with drinks.
Antarctic boots while onboard the Yacht
Flight from King George Island, South Shetlands, to Punta Arenas, Chile.
1 night in Punta Arenas (hotel to be confirmed, share room with your same roommate as onboard)
Flight from Punta Arenas to Puerto Williams, including transfers.
2 nights all inclusive in Lakutaia Lodge. Share room with your same roommate as onboard
Transfer from Puerto Williams to Puerto Navarino and Ferry boat from Puerto Navarino toUshuaia.
What's not included:
Required Antarctic Medical Evacuation Insurance
Personal gear/cloth minus boots (overboots will be provided onboard)
Transfers from/to Airports (unless specified)