Trip Summary
Dates: December 18, 2019 – December 28, 2019
Duration: 11 Days
Early Bird Deals until April 30th, 2019! Includes pre & post voyage hotel nights - Departs from and Ends in Punta Arenas!
About the Antarctica Classic in Depth Itinerary
Like the 'Antarctica Classic', this 13-day expedition will introduce you to the magic of the South Shetland Islands and the Antarctic Peninsula, and offers you two additional days to explore the Peninsula. The In-Depth itinerary allows you to explore less-visited sites on the Peninsula and to become even more fully immersed in the Antarctic experience. Encounter leopard seals lazing on ice floes and immense rookeries of penguins surrounded by towering glaciers. Expert expedition staff guides and lecturers offer knowledge and insights that really bring the nature and history of the region to life and serve to create an adventure of a lifetime.
Detailed Itinerary
Day 1: Ushuaia, Argentina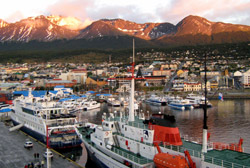 Your gateway for this expedition is Ushuaia, Argentina. Nestled within the Tierra del Fuego archipelago, Ushuaia offers you a small-town feel but has many shops, museums, cafes and restaurants to enjoy before your voyage. The nearby national park and Martial Glacier are must-sees and offer plenty of hiking and outdoor activities.
Day 2: Embarkation
Embarkation begins in the afternoon at the port in Ushuaia. Enjoy the evening sailing through the Beagle Channel.
Days 3-4: Drake Passage
The adventure begins with a 400 mile crossing of the passage that bears the name of the 16th century English explorer Sir Francis Drake. The ship is at home in this part of the Southern Ocean. Take in daily lectures from your expedition team and keep an eye out for the first sightings of icebergs, whales, and albatross following in the ship's wake.
Days 5-10: Antarctic Peninsula & South Shetland Islands
Experience some of the most unique wildlife viewing and inspiring scenery in the world as you set foot on the Antarctic continent.
Attempt two shore landings per day (weather conditions permitting), and encounter gentoo, chinstrap and Adélie penguin rookeries, Weddell, crabeater and leopard seals, and orca, humpback and minke whales in the cold Antarctic waters. The peninsula also has a remarkable human history. During the voyage you will learn about some of the most important and dramatic expeditions to this remote corner of the world.
Days 11-12: Drake Passage
Today begins the journey north to our home port of Ushuaia. Review the highlights of your Antarctic experience with our lecturers and staff. Keep your eyes open on the observation deck for some final whale sightings.
Day 13: Disembarkation
Disembark in the morning.
---
Welcome Aboard the Ocean Adventurer
The 132-passenger Ocean Adventurer is one of the very few vessels in the world purpose-built for expedition voyages to remote polar regions like Antarctica. Formerly known as the Sea Adventurer, she underwent a multi-million dollar refurbishment in 2017. The Adventurer has an ice-strengthened hull that allows the ship to navigate safely through icy waters that are not accessible to conventional cruise vessels.
This small expedition ship has advanced communications and navigation equipment, and two new Rolls Royce motors, not to mention excellent stabilizers. The Adventurer has a contemporary look after its refurbishment, with all new furniture and carpeting, as well as six new cabins.  It has two bars, a lounge, library, gym, sauna, gift shop and beauty salon.
Technical Specs
Passengers: 132
Staff & Crew: 72
Length: 100.58 m
Breadth: 16.31 m
Draft: 4.72 m
Propulsion: Rolls Royce Diesel Twin Engines, 6 cylinder, 5400 horsepower
Ice Class: A-1
Cruising Speed: 12 knots in open water
Cabins & Amenities
65 outside cabins, all featuring private facilities, individual temperature controls, and in-room music.
Decks 4 and 5 provide exterior access, with outside seating.
Window-lined dining room on Deck 4 with unreserved seating: buffet-style breakfast or table service; table-service or buffet lunch, and table-service dinner. Main course choices from changing daily menu; cakes served in mid-afternoon.
Lounge/Presentation Room that accommodates all guests.
2 bars.
Library stocked with nautical books and board games.
Gift shop.
24 hour beverage station
Ship-to-shore communications via satellite, with email, and wireless, Internet access.
Clinic with licensed doctor.
Exercise room with elliptical trainer, hand weights, bike and floor mats.
Massage therapist.
Please note: there is no passenger elevator between decks.
Notes
Cruise Price does not include international airfare. Port charges are included. All cabins have two lower beds and private shower and toilet. Rates are per person based on double occupancy.
Single cabin prices are 1.7 times the cost of the appropriate twin-share prices listed above except for superior and above which are 2X the price listed above. All cabins are smoke-free.
Smoking is only permitted in designated areas only, as outlines by the Expedition Leader at the Initial Briefing.
Rates include mandatory emergency evacuation insurance for all passengers to a maximum of $100.000,00 per person.
Adventure options: Kayaking $950, Camping $225, Snowshoe is included. Adventure options must be pre-booked and paid for prior to start of the trip. Space is subject to availability. Some activities require experience.
All trips subject to possible fuel surcharge.
Prices
Related Trips
Adventure Options

Adventure Options

Adventure Options