Antarctic Explorer: Discovering the 7th Continent – Ocean Endeavour, Nov. 2019
Antarctic Explorer: Discovering the 7th Continent – Ocean Endeavour, Nov. 2019
Trip Summary
Dates: November 5, 2019 – November 15, 2019
Duration: 11 Days
Early Bird Discount until Sept 30, 2019! 20% OFF selected cabins!
About the Antarctica Classic with Charter Flights Itinerary
Antarctica has been inspiring explorers for centuries. And this expedition offers you the chance to discover why, with an unforgettable journey through the spectacular wilderness of the South Shetland Islands and Antarctic Peninsula. You'll encounter a world where nature creates the rules, her unpredictable temperament making each trip unique, exciting and personal. Imagine cruising in […]
Itinerary Map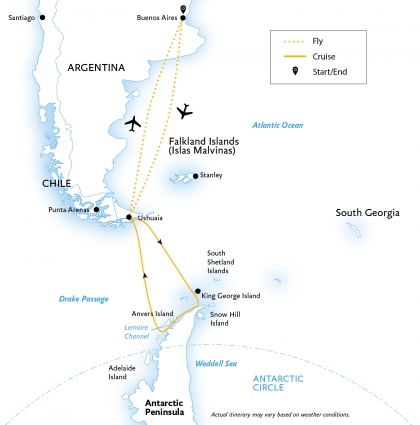 Pricing Information
About the Antarctica Classic with Charter Flights Itinerary
Antarctica has been inspiring explorers for centuries. And this expedition offers you the chance to discover why, with an unforgettable journey through the spectacular wilderness of the South Shetland Islands and Antarctic Peninsula. You'll encounter a world where nature creates the rules, her unpredictable temperament making each trip unique, exciting and personal. Imagine cruising in a Zodiac through crackling sea ice like shattered glass, witnessing penguins building their nests, or navigating through a maze of icebergs, each one uniquely shaped by its journey through the sea. You'll enjoy iconic Antarctic highlights, exhilarating adventures and be rewarded with memories to last a lifetime. This voyage starts in Buenos Aires, with a hotel night included. One day 2, take a charter flight with your shipmates to the Southernmost City in the World. Embark in the afternoon and begin your adventure south to Antarctica!
Perfect for first time visitors to Antarctica;
Witness and explore the highlights of the Antarctic Peninsula;
Learn about the environment and wildlife from onboard lecturers and specialists; and
Witness the abundant wildlife - penguins, seals, whales and more!
Arrive in Buenos Aires, Argentina, the tango capital of the world, and let us take care of the rest of the journey
Detailed Itinerary
Day 1: Buenos Aires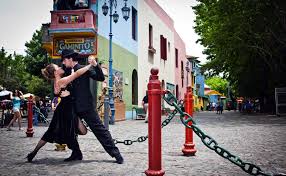 You may arrive in Buenos Aires at any time during Day 1 of your itinerary. Upon arriving in this splendid city, known for its soaring architecture and rich European heritage, you will independently transfer to the group hotel (pre-night hotel included).
Day 2: Embarkation in Ushuaia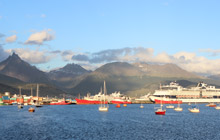 After breakfast at the hotel, the group will transfer to the airport and board our private charter flight to Ushuaia, Argentina.
Upon arrival, you will have a little time to explore this quaint port town before heading to the pier.
Embarkation will occur in the late afternoon, after which your vessel will sail down the historic Beagle Channel. This famous channel transects the Tierra del Fuego archipelago in the extreme south of South America. Expect an air of anticipation as you depart—the next time you'll see land you'll be in the world's most southern continent!
Days 3-4: Crossing the Drake Passage
Prepare yourself for potentially rough water, but hope for a smooth sailing, as the Drake is unpredictable and always changing. You'll spend these first days getting to know your shipmates while your Expedition Team provides safety briefings and insights into what excitement lies ahead.
Among the wildlife spotting opportunities as we sail south are the Albatrosses, Prions, and Petrels that frequently follow the ship. The Expedition Team will be out on deck as well, looking for the Whales and Dolphins that may also be seen in the area. The team will begin presentations with informative and entertaining lectures on the wildlife, history, and geology of Antarctica. Helpful briefings on environmental regulations and expedition safety will also be held.
Days 5-8: Antarctic Peninsula & South Shetland Islands
Once the Antarctic Convergence is left in our wake, you will truly begin your Antarctic adventure. It is perhaps the first sight of land itself that is embraced as the true beginning of any Antarctic expedition. You will begin to appreciate why this region has long captivated the attention of explorers and travelers alike. Every time we visit Antarctica, we witness something new or unexpected, which means that your expedition will be unlike any other—creating a unique, personal experience.
Each day, you will take Zodiac excursions from the ship to explore local bays, channels and landing sites. With wildlife always at the forefront of our minds, you will visit penguin rookeries, scout for humpback and minke whales, and search for a number of southern seal species, including the cunning leopard seal.
The majesty of the Antarctic Peninsula's mountains will enchant as you scramble up snowy pathways to vantage points offering you 360° views of your surroundings. One of these in particular, in Orne Harbour, affords us the opportunity to visit a chinstrap penguin colony high up on a ridge. Here, you'll have the choice between mountain hiking or spending time sitting quietly on a pebbled beach, enjoying the antics of curious penguins. If you're feeling extra adventurous, participating in the Polar Plunge swim is about as crazy as it gets!
Amid the serene silence of Antarctica, noisy interludes become indelible memories, such as penguins squabbling over prized pebbles, or the boom and crack of a calving glacier in Neko Harbor.
Each day will be different, having been carefully crafted by your Expedition Team to entertain and educate you about this wonderful part of the world.
Days 9-10: Crossing the Drake Passage
The journey back across the Drake Passage provides final opportunities to enjoy the crisp Antarctic air. Spend time on the deck, watching for seabirds and scouting for whales, enjoy presentations by your Expedition Team, or simply relax and reminisce about your experiences.
Day 11: Disembarkation in Ushuaia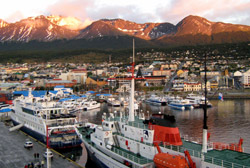 You will arrive in Ushuaia in the morning, after breakfast. After disembarking, you will get a little taste of Patagonia, touring Tierra del Fuego National Park before transferring to the airport for the return group charter flight to Buenos Aires.
Welcome Aboard the Ocean Endeavour

The Ocean Endeavour allows you to explore Antarctica while enjoying the class and comfort of a four-star hotel. Featuring one expedition team member for every eight travellers, you can take full advantage of one of the best staff-passenger ratios in Antarctica, with a greater level of personal service and more time with our onboard experts. Complete with contemporary interiors, lounges for learning and reflection, Zodiacs for remote exploration, breath taking 360° views from the deck, an emphasis on sustainability and exciting activities, the Ocean Endeavour is ideally suited for polar expedition cruising.
Technical Specs
Name of Vessel: The Ocean Endeavor
Type of Vessel: Ice strengthened expedition vessel
MAIN DIMENSIONS
Built: Poland 1981
Ice Class: 1B Length: 137m (332ft)
Breadth: 11m (36ft)
Max Draft: 5.6m (18ft)
Cruising Speed: 15 knots
Propulsion: 4 Skoda Sulzer engines (4,355 horsepower per engine)
Electricity: 220 volts/60Hz
Passenger Capacity: 200 (maximum) Crew: 124
SAFETY EQUIPMENT Lifeboats: 6 / Life rafts: 8
The Ocean Endeavour carries six fully enclosed lifeboats and eight life rafts. The capacity for which exceeds SOLAS requirements, with at least 25% more space than the number of passengers and crew on board. It also has an ice-strengthened hull.
Cabins & Amenities
Amenities
Restaurant • Nautical lounge • Polar library • Gym • Swimming pool • Saunas • Spa facilities • Lecture theatre • Polar boutique • Sun deck and plenty of deck space for observation • Elevator access (Decks 4, 5 and 6) • Clinic with licensed Doctor • Wi-Fi in certain public areas (charges apply) • 24-hour tea and coffee available • Onboard laundry service (charges apply)
Often recommended for its unrivalled sense of space, the Ocean Endeavour has plenty of open and airy communal areas that allow travellers to bask in the unrivalled beauty of passing polar scenery. Housing 10 different categories of cabin, the Ocean Endeavour appeals to clients of all ages and budgets. From smaller single occupancy cabins (with no single supplement) to larger double suites, there's plenty of choice. All cabins also come with a hairdryer, bathrobe(s), climate control, a TV, radio and safe.
Notes
Travellers will enjoy one of the best expedition staff to passenger ratio (1:8) in Antarctica.
Book a single occupancy cabin for the price of an interior twin share berth.
 Our strict sustainable travel policy means these cruises are double carbon offset, all seafood is sustainably sourced and we aim to avoid single-use plastic on board.
 A large fleet of Zodiacs enables all passengers to be off the ship at one time. There are also two gangways on each side of the vessel to minimise queuing.
Forward facing photography Zodiacs are available. These Zodiacs are designed for comfort and uninterrupted views.
Passengers can enjoy educational lectures from our expert expedition team on the history, ecology and geology of the area.
 A variety of health and wellness activities are available on board, including a sauna, saltwater swimming pool, spa and gym.
 A wide range of optional outdoor activities are on offer, including snowshoeing, camping and kayaking.
 Chef-prepared meals.
One night in a hotel in Ushuaia included at the start of the trip. • Extensive amenities including a restaurant, polar boutique, expedition lounges, bar, sun deck and library.
---