Antarctic Explorer: Discovering the 7th Continent – Ocean Endeavour, Mar. 2020
Antarctic Explorer: Discovering the 7th Continent – Ocean Endeavour, Mar. 2020
Trip Summary
Dates: March 7, 2020 – March 17, 2020
Duration: 11 Days
Black Friday Offer Save 35% - Offer expires Dec 3rd
About the Antarctica Classic with Charter Flights Itinerary
Antarctica has been inspiring explorers for centuries. And this expedition offers you the chance to discover why, with an unforgettable journey through the spectacular wilderness of the South Shetland Islands and Antarctic Peninsula. You'll encounter a world where nature creates the rules, her unpredictable temperament making each trip unique, exciting and personal. Imagine cruising in […]
Itinerary Map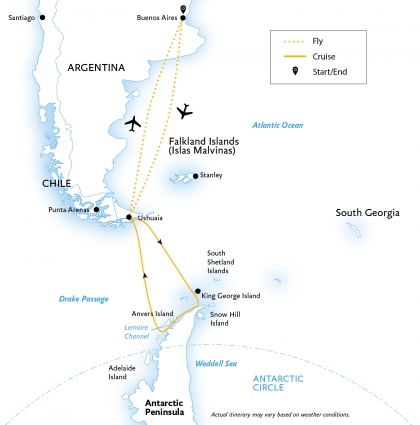 Pricing Information
About the Antarctica Classic with Charter Flights Itinerary
Antarctica has been inspiring explorers for centuries. And this expedition offers you the chance to discover why, with an unforgettable journey through the spectacular wilderness of the South Shetland Islands and Antarctic Peninsula. You'll encounter a world where nature creates the rules, her unpredictable temperament making each trip unique, exciting and personal. Imagine cruising in a Zodiac through crackling sea ice like shattered glass, witnessing penguins building their nests, or navigating through a maze of icebergs, each one uniquely shaped by its journey through the sea. You'll enjoy iconic Antarctic highlights, exhilarating adventures and be rewarded with memories to last a lifetime. This voyage starts in Buenos Aires, with a hotel night included. One day 2, take a charter flight with your shipmates to the Southernmost City in the World. Embark in the afternoon and begin your adventure south to Antarctica!
Perfect for first time visitors to Antarctica;
Witness and explore the highlights of the Antarctic Peninsula;
Learn about the environment and wildlife from onboard lecturers and specialists; and
Witness the abundant wildlife - penguins, seals, whales and more!
Arrive in Buenos Aires, Argentina, the tango capital of the world, and let us take care of the rest of the journey
Detailed Itinerary
Day 1: Buenos Aires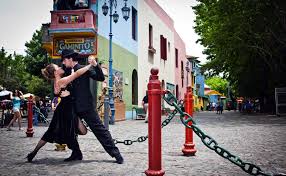 You may arrive in Buenos Aires at any time during Day 1 of your itinerary. Upon arriving in this splendid city, known for its soaring architecture and rich European heritage, you will independently transfer to the group hotel (pre-night hotel included).
Day 2: Embarkation in Ushuaia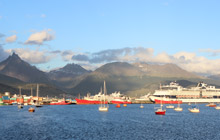 After breakfast at the hotel, the group will transfer to the airport and board our private charter flight to Ushuaia, Argentina.
Upon arrival, you will have a little time to explore this quaint port town before heading to the pier.
Embarkation will occur in the late afternoon, after which your vessel will sail down the historic Beagle Channel. This famous channel transects the Tierra del Fuego archipelago in the extreme south of South America. Expect an air of anticipation as you depart—the next time you'll see land you'll be in the world's most southern continent!
Days 3-4: Crossing the Drake Passage
Prepare yourself for potentially rough water, but hope for a smooth sailing, as the Drake is unpredictable and always changing. You'll spend these first days getting to know your shipmates while your Expedition Team provides safety briefings and insights into what excitement lies ahead.
Among the wildlife spotting opportunities as we sail south are the Albatrosses, Prions, and Petrels that frequently follow the ship. The Expedition Team will be out on deck as well, looking for the Whales and Dolphins that may also be seen in the area. The team will begin presentations with informative and entertaining lectures on the wildlife, history, and geology of Antarctica. Helpful briefings on environmental regulations and expedition safety will also be held.
Days 5-8: Antarctic Peninsula & South Shetland Islands
Once the Antarctic Convergence is left in our wake, you will truly begin your Antarctic adventure. It is perhaps the first sight of land itself that is embraced as the true beginning of any Antarctic expedition. You will begin to appreciate why this region has long captivated the attention of explorers and travelers alike. Every time we visit Antarctica, we witness something new or unexpected, which means that your expedition will be unlike any other—creating a unique, personal experience.
Each day, you will take Zodiac excursions from the ship to explore local bays, channels and landing sites. With wildlife always at the forefront of our minds, you will visit penguin rookeries, scout for humpback and minke whales, and search for a number of southern seal species, including the cunning leopard seal.
The majesty of the Antarctic Peninsula's mountains will enchant as you scramble up snowy pathways to vantage points offering you 360° views of your surroundings. One of these in particular, in Orne Harbour, affords us the opportunity to visit a chinstrap penguin colony high up on a ridge. Here, you'll have the choice between mountain hiking or spending time sitting quietly on a pebbled beach, enjoying the antics of curious penguins. If you're feeling extra adventurous, participating in the Polar Plunge swim is about as crazy as it gets!
Amid the serene silence of Antarctica, noisy interludes become indelible memories, such as penguins squabbling over prized pebbles, or the boom and crack of a calving glacier in Neko Harbor.
Each day will be different, having been carefully crafted by your Expedition Team to entertain and educate you about this wonderful part of the world.
Days 9-10: Crossing the Drake Passage
The journey back across the Drake Passage provides final opportunities to enjoy the crisp Antarctic air. Spend time on the deck, watching for seabirds and scouting for whales, enjoy presentations by your Expedition Team, or simply relax and reminisce about your experiences.
Day 11: Disembarkation in Ushuaia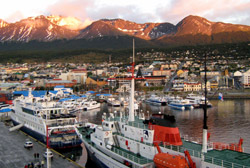 You will arrive in Ushuaia in the morning, after breakfast. After disembarking, you will get a little taste of Patagonia, touring Tierra del Fuego National Park before transferring to the airport for the return group charter flight to Buenos Aires.
Welcome Aboard the Ocean Endeavour
Ocean Endeavour is a comfortable, well-appointed small expedition ship expertly engineered to explore the Polar Regions. The ship has an ice-strengthened hull, zodiacs for exploration and remote landings, generous deck space and advanced navigation equipment.
The ship offers a superb guest experience with a nautical lounge, two restaurants, sundeck, and plenty of deck space for observation of polar landscapes, and lounges for learning and reflection. The ship's interiors have a contemporary aesthetic that provides a bright and spacious feel to the cabins and common spaces.
Endeavour is focused on health and wellness. From the newly-built saunas, to the pool, gym, hot tub and wellness café with a juice bar, the ship will offer guests onboard services and amenities that will enhance their Polar expedition experience. The ship also has a Polar Boutique, where guests can buy gifts as well as gear they might need for the voyage.
Technical Specs
Guests: 199
Staff & Crew: 124
Length: 137 meters
Draft: 5.6 meters
Ice Class: 1B
Cruising speed: 15 knots
Lifeboats: 6 fully enclosed
Cabins & Amenities
Two restaurants
Nautical lounge
Polar library
Gym
Newly built saunas and spa facilities
Wellness café
Lecture Theatre
Polar Boutique
Sundeck and plenty of deck space for observation
Notes
Required Flight and Hotel Package – $950 (1 Night in Buenos Aires including breakfast, Group Transfer from Hotel to airport for charter flight to Ushuaia, Group Transfer to Ship. Combined Airport Transfer and express Bus Tour of Tierra del Fuego National Park after disembarkation, Charter Flight to Buenos Aires.)
Cruise Price does not include international airfare. Port charges are included. All cabins are outside, with two lower beds and private shower and toilet. Rates are per person based on double occupancy.
Single cabin prices are 1.7 times the cost of the appropriate twin-share prices listed above except for superior and above which are 2x the price listed above.
Twin Portholes and windows can be shared. Superior Twin and above can not be booked as a shared berth cabin.
All trips subject to possible fuel surcharge.
Adventure Options:
Kayaking – $995 (for those who want to kayak during entire voyage & have previous experience) OR
Paddling – $225 (for those w/o experience who want to kayak one time during the voyage),
Camping – $295
X Country Ski – $575
Mountaineering – $575
Adventure options must be pre-booked and paid for prior to start of the trip. Space is subject to availability. Some activities require experience.
---
Voyages Include:
Shipboard accomodation with daily housekeeping
All shore landings per the daily program
Leadership throughout the voyage by our experienced Expedition Leader
All Zodiac transfers and cruising per the daily program
Formal and informal presentations by our Expedition Team and guest speakers as scheduled
Photographic Journal on DVD, documenting the voyage
A pair of waterproof expedition boots on loan for shore landings
An official Quark Expeditions parka to keep
Coffee, tea and cocoa available around the clock
Hair dryer and bathrobes in every cabin
Comprehensive pre-departure materials, including a map and an informative Antarctic Reader
All miscellaneous service taxes and port charges throughout the program
All luggage handling aboard the ship
Emergency Evacuation Insurance for all passengers to a maximum benefit of US$100,000 per person
Pre-night hotel in Ushuaia with breakfast included
Group transfer to hotel upon arrival in Ushuaia