Adventures In Antarctica
Adventures In Antarctica
Trip Summary
Dates: Nov 29, 2024 – Dec 10, 2024
Duration: 12 Days
Includes 2 pre - nights hotel
About the Antarctica Classic 12-day (with hotel) Itinerary
Perfect for first time visitors to Antarctica Witness and explore the highlights of the Antarctic Peninsula and South Shetland Islands Learn about the environment and wildlife from onboard lecturers and specialists Witness the abundant wildlife – penguins, seals, whales and more! * Itineraries on our website are intended only as a guide and you […]
Itinerary Map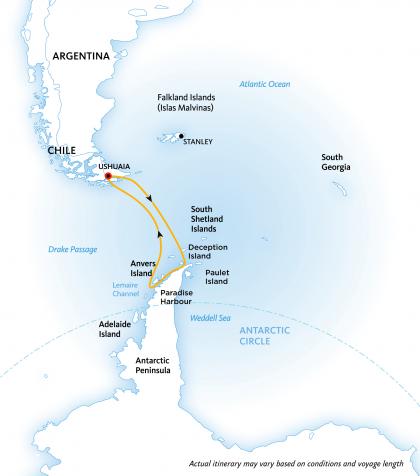 Pricing Information
Prices are discounted until: December 31, 2023
About the Antarctica Classic 12-day (with hotel) Itinerary
Perfect for first time visitors to Antarctica
Witness and explore the highlights of the Antarctic Peninsula and South Shetland Islands
Learn about the environment and wildlife from onboard lecturers and specialists
Witness the abundant wildlife – penguins, seals, whales and more!
* Itineraries on our website are intended only as a guide and you should consult our team for detailed itineraries on specific voyages.
Detailed Itinerary
Day 1: Ushuaia, Argentina
Enjoy the "World's Southernmost City" and explore the city center and nearby Tierra del Fuego National Park. Highlights of Ushuaia include the mountains surrounding the city with the popular "Train at the End of the World" and an award-winning museum. Delight in Argentinean leather markets and succulent lamb dishes that make Patagonia famous as you explore this growing city.
Day 2: Embarkation
Arriving at the ship in the afternoon, you will be greeted by Expedition Team and ships' officers at a safety and orientation briefing followed by the Captain's welcome dinner. After dinner, relax and take in the mountainous scenery on our early evening sail down the Beagle Channel past Magellanic Penguin, Rock Cormorant, and Sea Lion colonies.
Days 3-4: Drake Passage
Among the wildlife spotting opportunities as we sail south are the Albatrosses, Prions, and Petrels that frequently follow the ship. The Expedition Team will be out on deck as well, looking for the Whales and Dolphins that may also be seen in the area. The team will begin presentations with informative and entertaining lectures on the wildlife, history, and geology of Antarctica. Helpful briefings on environmental regulations and expedition safety will also be held.
Days 5-9: Antarctic Peninsula & South Shetland Islands
Arrival to the White Continent, the land of extremes! The most common first reaction to the white continent is a sense of reverence and awe. The experience is hard to put into words, as few places are as untouched, unique and enduring as Antarctica. The Expedition Leader and Captain will create a flexible itinerary based on weather, ice, and opportunity. The route will stress the most scenic bays and channels of the Peninsula with stops at penguin rookeries, seal wallows, bird colonies and whale feeding areas. Guided hikes with the Expedition Team will have you trekking up a glacier, visiting a research station, or consorting with penguin colonies. Chinstrap, Gentoo and Adélie penguins are found here, along with Fur, Weddell, Crabeater and Leopard Seals. Curious whales, such as Minkes and Humpbacks, are often attracted to Zodiacs as well, giving you a chance to get within reaching distance of these majestic animals. Each day and each landing will present a new collection of creatures to entertain you and keep your camera shutter busy.
The trip may include picturesque Neko Harbor, sheltered Paradise Harbor, the Humpback Whale favored Wilhelmina Bay, the striking Lemaire Channel, the wildlife-filled Penola Channel, or the majestic Neumayer Channel. A visit may be possible to an active scientific base such as Ukraine's Vernadsky as well as an historic base such as U.K.'s Port Lockroy or Wordie House.
Days 10-11: Drake Passage
The lecture series and wildlife spotting will continue on the return trip to Ushuaia and while the team will reflect on beautiful Antarctica and its fragile future.
Day 12: Disembarkation
Morning disembarkation allows you catch a flight to Buenos Aires or stay in Ushuaia for more sights and adventure.
Welcome Aboard the Seaventure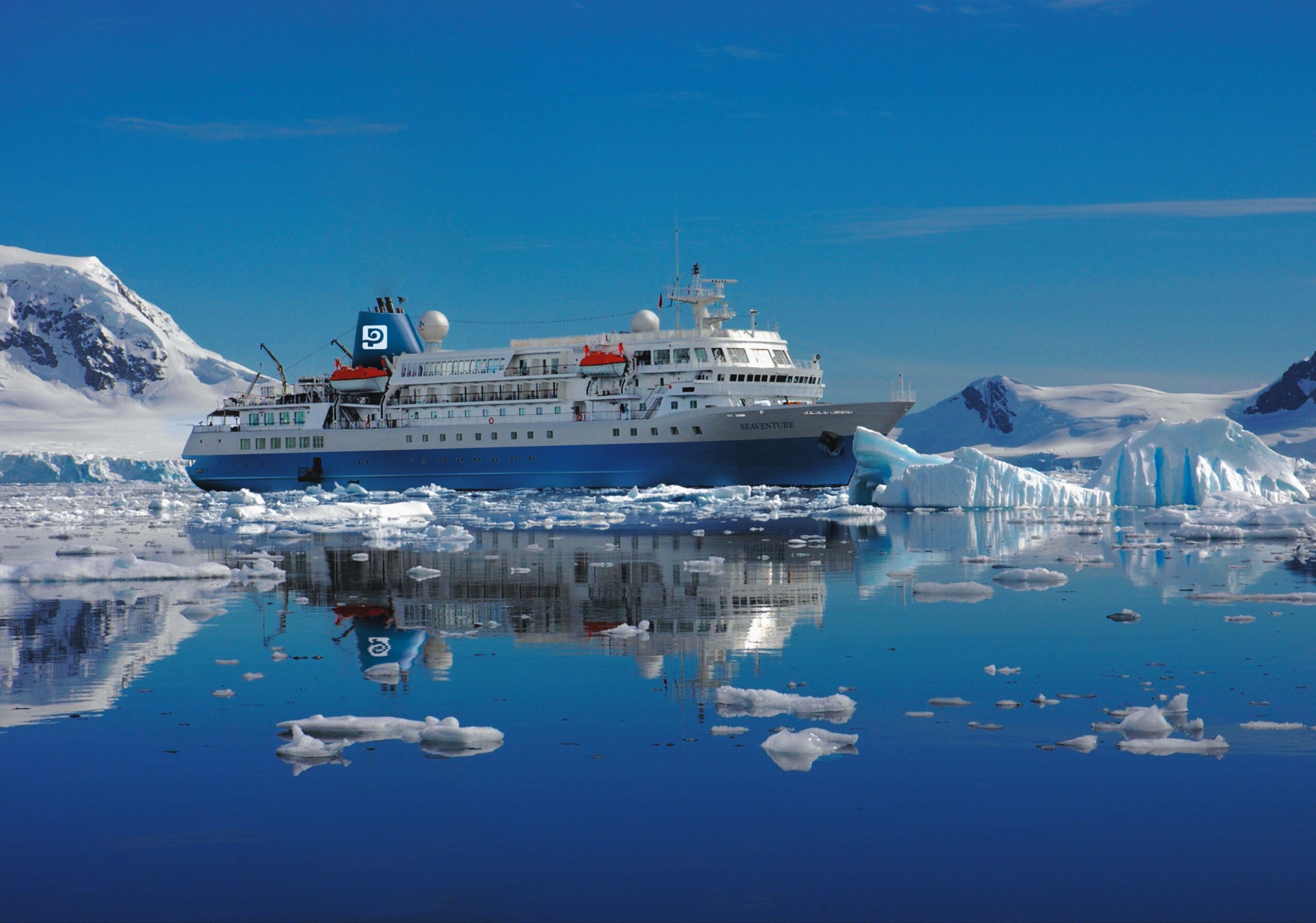 Seaventure features a 1-A Super ice class rating — the highest ice class awarded to passenger vessels. This means that we will be able to explore coves, bays, and channels that would previously have been forbidden to us.
The ship also offers a host of new activities. There's a sauna, a fitness center, and a custom-built citizen science lab. There is more storage space, which is important because it means we can carry more equipment, so that more of our guests can participate in activities like kayaking, snowshoeing, and camping.
The common areas are larger and beautifully appointed, and the ship has two
kitchens, one on the Lido deck for al fresco dining when weather permits.
Technical Specs
Passengers: 139
Crew: 90 (includes Staff)
Registered in: Nassau, Bahamas
Built by: Mitsubishi Shipyard, Kobe (Japan)
Built in: 1990
Reimagined: 2019
Length: 111,5 m
Width: 17,0 m
Depth: 6,61 m
Tonnage: 6 752 GRT
Class: B.V. Ice Class 1A Super
Stabilization: Sperry Marine retractable Fin Stabilizers
Zodiacs: 12 Mark 5s (2 spares)
Cabins & Amenities
Exterior views
Sitting area with chairs or sofa and table
Complimentary Mini-Bar
Flat Screen TV
Telephone
Safe to store your valuables
Independent temperature controls
Luxury toiletries
Hair dryer
Ship Facilities:
Two Elevators serving all passenger decks
Library with computers
Fitness Center and Sauna
Citizen Science Laboratory
Notes
Two pre-voyage hotel nights in Ushuaia for all departures which embark in Ushuaia

Transfer from airport in embarkation city to group hotel if arriving on Day 1 of itinerary, and providing we have your confirmed air itinerary at least 30 days prior to departure

Transfer from group hotel to ship for embarkation

Shipboard accommodations

All meals on board

All alcoholic and non-alcoholic beverages (some super premium brands excluded)

Coffee/Tea/Cocoa 24 hours a day

All scheduled landings and excursions

Our Citizen Science program: participation in a variety of scientific activities that support important research projects

Expedition jacket (yours to keep)

A pair of loaner boots for use during the voyage

WiFi from the public computers

200 MB WiFi card for use on your personal devices

Daily international news service

All port fees

All landing fees

Digital Voyage Log

Group transfer from ship (Please note we cannot drop at Airbnb / private homes which are often inaccessible for our transfer vehicles).

Adventure activities: Sea Kayaking (USD $895 per person) & Discover Kayaking (one-time kayaking – USD $250 per person) & Camping (USD 295 per person – available until January).